Realidad de las comunidades rurales de Costa Rica
Erika Bonilla Houdelatth

Universidad Nacional
Keywords:
rural community, rural development, quality of life
Abstract
The purpose of this article is to reflect about current reality experimented in rural communities in our country in order to look for solutions to their problems that allow them to reach a better quality of life. Analyses are made from different perspectives.
Within this context, we take into account the role that rural communities have in the development of a country as well as the part education plays in the fight for the achievement of a better quality of life.
References
Aguilar, M. E. y Monge, M. (2000). Hacia una pedagogía rural. Heredia: EUNA.
Costa Rica: Ministerio de Agricultura y Ganadería [MAG]. (2001). Memoria 2000. Presentada a la
Asamblea Legislativa por el Ministro Ing. Alberto Dent Zeledón. San José: Autor.
Costa Rica. Ministerio de Planificación Nacional y Política Económica [MIDEPLAN].(2001). Plan
nacional de desarrollo humano. La ruta hacia un nuevo modelo de desarrollo. San José: Autor.
Gaviria, A. (2002). Grupos organizados. OIMT. Actualidad forestal tropical. 10/4, 14-15. Consultado
el día, mes, año de http://www.itto.or.jp/live/Live_Server/187/tfu.2002.04(14-15).s.pdf
Instituto Interamericano de Cooperación para la Agricultura [IICA]. Dirección de desarrollo rural
sostenible. (1999). Desarrollo rural sostenible en el marco de una nueva lectura de la ruralidad.
Nueva ruralidad. San José, Costa Rica: Autor.
Instituto Nacional de Estadística y Censos (2001). "IX Censo Nacional de Población y V de
Vivienda: Resultados generales". Consultado el 22, junio de 2006 de en http://www.inec.go.cr/
INEC_DIS/Publicaciones/archivos%20SerieCensal%20xls/ResulCenso2000.pdf
Ooijens, J. (1997). La educación para la paz, la democracia y los derechos humanos. Elemento
básico para la cultura de la paz en Centroamérica. Conferencia. San José, Costa Rica:
UNESCO.
Programa Estado de la Nación en Desarrollo Humano Sostenible. (2000). Sexto Informe del
Estado de la Nación en Desarrollo humano sostenible. San José: Programa del Estado de la
Nación.
Programa Estado de la Nación en Desarrollo Humano Sostenible. (2003). Noveno Informe del Estado de la Nación. San José, Costa Rica: Programa Estado de la Nación.Programa Estado
de la Nación en Desarrollo Humano Sostenble. (2004). Informe sobre desarrollo humano en
Centroamérica y Panamá. Conozcamos más de Centroamérica. Desafíos económicos y de
la integración. San José, Costa Rica: Autor.
Proyecto de Educación para el Trabajo. (1991). Comayagua, Honduras: POCET.
Román, I. (1997). Tendencias de cambio social en el proceso de modernización agrícola costarricense
(1980-1996). Revista Perspectivas Rurales 1. Programa regional de Maestría en Desarrollo
Rural, Heredia, Costa Rica: Universidad Nacional.
van der Bijl, B. (2000). Adecuación al contexto rural. División de Educación Rural, Universidad
Nacional.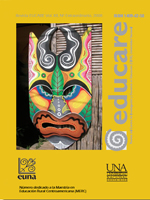 How to Cite
Bonilla Houdelatth, E. (2008). Realidad de las comunidades rurales de Costa Rica. Revista Electrónica Educare, 12, 47-59. https://doi.org/10.15359/ree.12-Ext.5
Section
Articles (Peer Reviewed Section)
1. In case the submitted paper is accepted for publication, the author(s) FREELY, COSTLESS, EXCLUSIVELY AND FOR AN INDEFINITE TERM transfer copyrights and patrimonial rights to Universidad Nacional (UNA, Costa Rica). For more details check the Originality Statement and Copyright Transfer Agreement
2. REUTILIZATION RIGHTS: UNA authorizes authors to use, for any purpose (among them selfarchiving or autoarchiving) and to publish in the Internet in any electronic site, the paper´'s final version, both approved and published (post print), as long as it is done with a non commercial purpose, does not generate derivates without previous consentment and recognizes both publisher's name and authorship.
3. The submission and possible publication of the paper in the Educare Electronic Journal is ruled by the Journal's editorial policies, the institutional rules of Universidad Nacional and the laws of the Republic of Costa Rica. Additionally, any possible difference of opinion or future dispute shall be settled in accordance with the mechanisms of Alternative Dispute Resolution and the Costa Rican Jurisdiction.
4. In all cases, it is understood that the opinions issued are those of the authors and do not necessarily reflect the position and opinion of Educare, CIDE or Universidad Nacional, Costa Rica.
5. The papers published by Educare Electronic Journal use a Creative Commons License: