Consideraciones básicas del pensamiento complejo de Edgar Morin, en la educación
José Miguel Pereira Chaves

Universidad Nacional, Costa Rica
Keywords:
thinking, complexity, knowledge, education, system
Abstract
This essay consists of a brief description and analysis of Edgar Morin´s complex thinking. For that reason, it focuses on the systematic approach that refers to the interconnection and interactions of objects, people, and environment as a whole, which serve as the basis of the educational proposal, where knowledge must be regarded as an integrated fashion and not as something fragmented. Thus, human knowledge should raise awareness that we are just a component of a more general system (complex and in constant interaction), where education can be an effective source for students to develop the capacity of understanding other complex systems, besides living organisms, where also there is a big influence from "new sciences" and humanities. Therefore, the purpose of this work is to develop those ideas proposed by Edgar Morin.
References
Morin, E. (1999). Los siete saberes necesarios para la educación del futuro (Trad. Mercedes
Vallejos Gómez). París, Francia: Santillana/UNESCO.
Morin, E. (2007). La cabeza bien puesta (Trad. Paula Mahler). Buenos Aires, Argentina: Ediciones
Buena Visión.
Morin, E. (2002). La mente bien ordenada. (2ª ed.). Barcelona, España: Seix Barral.
Morín, E. (2004). Introducción al pensamiento complejo. México, D. F.: Editorial Gedisa.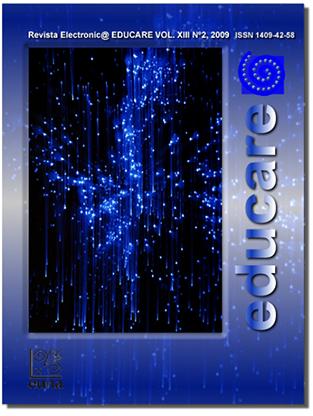 How to Cite
Pereira Chaves, J. (2010). Consideraciones básicas del pensamiento complejo de Edgar Morin, en la educación. Revista Electrónica Educare, 14(1), 67-75. https://doi.org/10.15359/ree.14-1.6
Section
Articles (Peer Reviewed Section)
1. In case the submitted paper is accepted for publication, the author(s) FREELY, COSTLESS, EXCLUSIVELY AND FOR AN INDEFINITE TERM transfer copyrights and patrimonial rights to Universidad Nacional (UNA, Costa Rica). For more details check the Originality Statement and Copyright Transfer Agreement
2. REUTILIZATION RIGHTS: UNA authorizes authors to use, for any purpose (among them selfarchiving or autoarchiving) and to publish in the Internet in any electronic site, the paper´'s final version, both approved and published (post print), as long as it is done with a non commercial purpose, does not generate derivates without previous consentment and recognizes both publisher's name and authorship.
3. The submission and possible publication of the paper in the Educare Electronic Journal is ruled by the Journal's editorial policies, the institutional rules of Universidad Nacional and the laws of the Republic of Costa Rica. Additionally, any possible difference of opinion or future dispute shall be settled in accordance with the mechanisms of Alternative Dispute Resolution and the Costa Rican Jurisdiction.
4. In all cases, it is understood that the opinions issued are those of the authors and do not necessarily reflect the position and opinion of Educare, CIDE or Universidad Nacional, Costa Rica.
5. The papers published by Educare Electronic Journal use a Creative Commons License: