The Acknowledgment of the Education in the Construction of the School Project
Cecilia Dobles Trejos

Universidad Nacional

Dora María Hernández Vargas

Universidad Nacional

Heidy León Arce

Universidad Nacional
Keywords:
Identity, school identity, school project, teaching training, diversity
Abstract
This article collects the main ideas constructed during a research process that allowed an approach to the study of the construction of school identities. The approach undertaken starts off not only from an analysis of the way in which the identities that converge in the dynamics of an educational institution and their relationship with the national educational proposal are constructed and articulated, but also the identification, starting from that analysis, of some possible lines of action on the formation of education professionals.
References
Cordero, T. (2001). Desencuentros entre prácticas escolares y vivencias familiares. En Actualidades
investigativas en educación. Vol. 2, N° 2, Año 2001. IIMEC, UCR. Versión electrónica: http://
revista.inie.ucr.ac.cr/articulos/2-2002/archivos/desencuentros.pdf. Consultada enero 2007.
Costa Rica. Ministerio de Educación Pública. (1996). Programa de Estudios. Ciclo de Transición,
Educación Preescolar. San José: El Ministerio.
De Lucas, J. (2003) Globalización e identidades. Barcelona, España: Editorial Icaria-Antrazyt.
Espinoza, S., Fuentes, I., Hernández, M. & Jiménez, G. (2004). Modelo pedagógico institucional.
Documento no publicado.
Montero, M. (1987). Psicología política latinoamericana. Caracas Venezuela: Editorial Panapo.
Moschen, J. C. (1997) La escuela con proyecto propio. (2ª ed.) Buenos Aires, Argentina: El
Ateneo.
Pérez, Á. (2000) La cultura escolar en la sociedad neoliberal. Madrid, España: Editorial Morata.
Quesada, Juan Rafael (2000) La educación en Costa Rica: 1821-1914. En: Costa Rica, Estado,
economía, sociedad y cultura: desde las sociedades autóctonas hasta 1914. Botey, Ana
María, Coordinadora. Ed. Universidad de Costa Rica.
Sacristán, J. G. (2001). Educar y convivir en la cultura global. Madrid, España: Editorial Morata.
Villoro, L. (1998). Del Estado homogéneo al Estado plural. En: Estado plural, pluralidad de
culturas (pp. 13-62). México: Paidós / UNAM.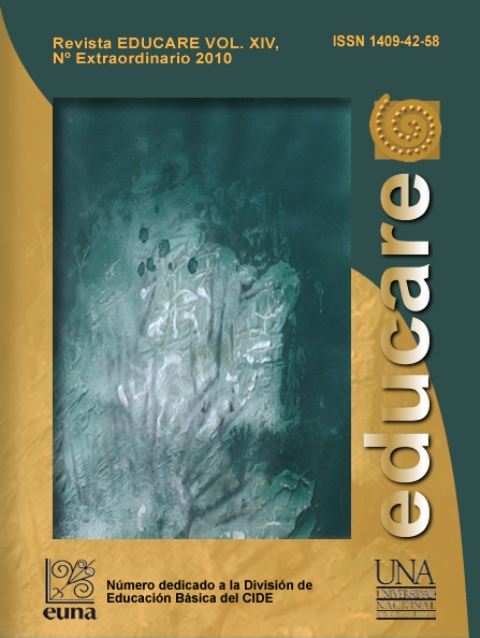 How to Cite
Dobles Trejos, C., Hernández Vargas, D., & León Arce, H. (2010). The Acknowledgment of the Education in the Construction of the School Project. Revista Electrónica Educare, 14, 63-73. https://doi.org/10.15359/ree.14-Ext.5
Section
Articles (Peer Reviewed Section)
1. In case the submitted paper is accepted for publication, the author(s) FREELY, COSTLESS, EXCLUSIVELY AND FOR AN INDEFINITE TERM transfer copyrights and patrimonial rights to Universidad Nacional (UNA, Costa Rica). For more details check the Originality Statement and Copyright Transfer Agreement
2. REUTILIZATION RIGHTS: UNA authorizes authors to use, for any purpose (among them selfarchiving or autoarchiving) and to publish in the Internet in any electronic site, the paper´'s final version, both approved and published (post print), as long as it is done with a non commercial purpose, does not generate derivates without previous consentment and recognizes both publisher's name and authorship.
3. The submission and possible publication of the paper in the Educare Electronic Journal is ruled by the Journal's editorial policies, the institutional rules of Universidad Nacional and the laws of the Republic of Costa Rica. Additionally, any possible difference of opinion or future dispute shall be settled in accordance with the mechanisms of Alternative Dispute Resolution and the Costa Rican Jurisdiction.
4. In all cases, it is understood that the opinions issued are those of the authors and do not necessarily reflect the position and opinion of Educare, CIDE or Universidad Nacional, Costa Rica.
5. The papers published by Educare Electronic Journal use a Creative Commons License:
Most read articles by the same author(s)