Talent in first, second, and third graders: teachers' perspectives vs. educational reality
Diana Castro Rodríguez

Profesional Independiente

Zulay Pereira Pérez

Universidad Nacional

Jéssica Solís Campos

Profesional Independiente

Kenneth Ureña Rodríguez

Universidad Metropolitana Castro Carazo

Belbeth Villalobos Obando

Profesional Independiente
Keywords:
children from first to third level of primary school, talent, teachers' practices, educational reality, teachers' beliefs
Abstract
The article addresses the subject of talent by emphasizing different conceptions about talent and by proposing an approach to this theme, from the point of view of talent in boys and girls. It also provides an analysis of research conducted with first, second, and third graders in public and private schools of the Costa Rican Education System. Using questionnaires and observations of the dynamics of the classroom as measurement tools, this study contrasts teachers` expectations about their students' talent with the reality of the class environment, pointing out the existing abyss between teachers' beliefs and their professional practices.
References
Agüero, H., Solano G y Valdivia, S. (2002). Propuesta Didáctica para Estimular el Desarrollo
de las Inteligencias en la Enseñanza de la Unidad "La Célula" del Programa de Ciencias
de Noveno Año. Tesis inédita de Licenciatura no publicada. Universidad Nacional, Heredia,
Costa Rica.
Alvarado, A. (1993). Talleres de creatividad, talento y recreación: la enseñanza de la guitarra como
una opción metodológica en los colegios urbanos del país. Tesis inédita de Licenciatura no
publicada, Universidad Nacional, Heredia, Costa Rica.
Beirute, L. y de Bravo, O. (1984). El niño talentoso en Costa Rica: La adecuación de un currículum
para el fomento de su creatividad en el aula regular. Tesis inédita de Licenciatura no
publicada, Universidad de Costa Rica, San José, Costa Rica: Instituto Educativo Moderno.
Beirute, L. (2008). El IEM en Costa Rica: una experiencia enriquecedora de atención al talento
en el aula regular. Ponencia presentada en el I Congreso internacional incursiones educativas
en superdotación y talentos sobresalientes. San José, Costa Rica: UNED. Disponible en http://
www.iemonline.org/talento.pdf
Benavides, M., Maz, A., Castro, E. y Blanco, R. (2004). La educación de niños con talento
en Iberoamérica. Santiago, Chile: UNESCO. Disponible en: http://unesdoc.unesco.org/
images/0013/001391/139179s.pdf
Cascante, V. y Meléndez, V. (1993). Los estudiantes talentosos de los colegios científicos
costarricenses. Propuesta para su atención en la reorientación profesional. Tesis inédita de
Licenciatura no publicada, Universidad Nacional, Heredia, Costa Rica.
Castro, D., Solís, J., Ureña, K. y Villalobos, B. (2007). Talento en niños y niñas del I ciclo de
la Educación General Básica: la perspectiva docente. Tesis inédita de Licenciatura de
Licenciatura no publicada. Heredia: Universidad Nacional.
Chávez, H. y Van Browne, M. (1997). Técnicas educacionales para los (as) docentes de escuelas
públicas urbanas que tienen en sus aulas a niños (as) talentosos (as). Tesis inédita de
Licenciatura no publicada, Universidad Nacional, Heredia, Costa Rica.
Delgado, R. (s. f.). El talento. Recuperado de http://www.terra.es/personal/asstib/talento.htm
Lapalma, F. (2005). Las inteligencias múltiples y el talento. En línea: Recuperado de http://www.
rieoei.org/deloslectores/1100Lapalma.pdf
Lorenzo, R. (2006, Enero-Marzo). ¿A que se le denomina talento? Estado del arte acerca de
su conceptualización. Intangible Capital, N° 11, Vol. 2, 72-163. Recuperado http://www.
intangiblecapital.org/index.php/ic/article/viewFile/47/49
Méndez, Z. (2005). Aprendizaje y cognición. San José, Costa Rica: Editorial Universidad Estatal a
Distancia.
Morales, M. E. y Salas, N. (Enero-Junio, 2005). Cruzando fronteras, un caso de talento desde la
escasez: una experiencia comunicacional con un niño "gifted" (Superdotado y Talentoso).
Revista Latina de Comunicación Social. Vol. 8, Número 059. Recuperado de http://redalyc.
uaemex.mx/redalyc/pdf/819/81985909.pdf
Soriano, E. (1996). La escuela y el desarrollo del talento creativo. Un desafío para las Américas. Portal
Educativo de las Américas. Colección: La Educación. Número (123-125) I, III. Disponible en
http://www.educoas.org/portal/bdigital/contenido/laeduca/laeduca_123125/articulo9/index.aspx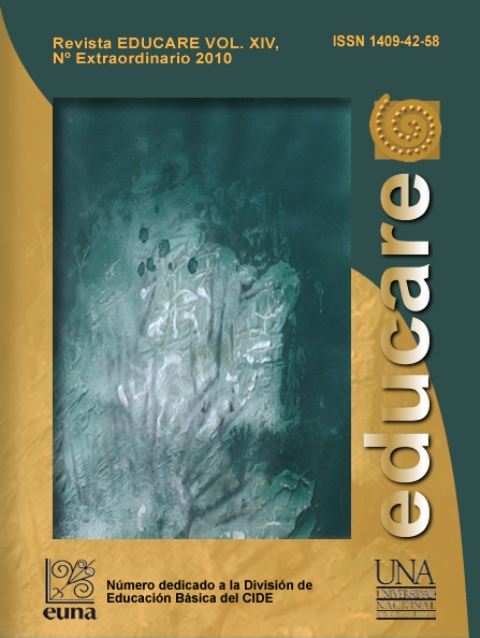 How to Cite
Castro Rodríguez, D., Pereira Pérez, Z., Solís Campos, J., Ureña Rodríguez, K., & Villalobos Obando, B. (2010). Talent in first, second, and third graders: teachers' perspectives vs. educational reality. Revista Electrónica Educare, 14, 97-112. https://doi.org/10.15359/ree.14-Ext.7
Section
Articles (Peer Reviewed Section)
1. In case the submitted paper is accepted for publication, the author(s) FREELY, COSTLESS, EXCLUSIVELY AND FOR AN INDEFINITE TERM transfer copyrights and patrimonial rights to Universidad Nacional (UNA, Costa Rica). For more details check the Originality Statement and Copyright Transfer Agreement
2. REUTILIZATION RIGHTS: UNA authorizes authors to use, for any purpose (among them selfarchiving or autoarchiving) and to publish in the Internet in any electronic site, the paper´'s final version, both approved and published (post print), as long as it is done with a non commercial purpose, does not generate derivates without previous consentment and recognizes both publisher's name and authorship.
3. The submission and possible publication of the paper in the Educare Electronic Journal is ruled by the Journal's editorial policies, the institutional rules of Universidad Nacional and the laws of the Republic of Costa Rica. Additionally, any possible difference of opinion or future dispute shall be settled in accordance with the mechanisms of Alternative Dispute Resolution and the Costa Rican Jurisdiction.
4. In all cases, it is understood that the opinions issued are those of the authors and do not necessarily reflect the position and opinion of Educare, CIDE or Universidad Nacional, Costa Rica.
5. The papers published by Educare Electronic Journal use a Creative Commons License:
Most read articles by the same author(s)