Cambios en la composición de aves en diferentes fisionomías de vegetación en un enclave seco en Colombia
Palabras clave:
Avifauna; bosque seco tropical; conservación; gradiente altitudinal; valle del río Chicamocha.
Resumen
[Introducción]: La marcada estacionalidad del enclave seco favorece endemismos y especies de distribución restringida, aunque durante el periodo de lluvias esta distribución puede variar, siendo más amplia para aprovechar recursos de otros ecosistemas. [Objetivo]: El presente trabajo tiene el propósito de estudiar las variaciones que ocurren en la avifauna diferentes fisionomías en un gradiente altitudinal en un bosque seco durante las lluvias. [Metodología]: Se utilizaron 72 unidades muestrales simultáneas para aves y plantas en nueve sitios pertenecientes a tres fisionomías de vegetación (bosques riparios, de ladera y matorrales) en tres franjas de altitud, establecimos dos variables dependientes, abundancia y riqueza; y cuatro variables independientes: riqueza de árboles, área basal, franja de altitud y sitio. [Resultados]: Se encontró que la franja alta corresponde con el bioma azonal del zonobioma húmedo y tiene mayor riqueza de avifauna y menor riqueza florística, mientras que la zona baja representa un zonobioma alternohídrico tropical, con menor diversidad de avifauna y alta diversidad florística. La menor riqueza de aves se encuentra en los bosques riparios y la mayor en los bosques de ladera, con un bajo recambio en esta última fisionomía. [Conclusiones]: Durante el periodo de lluvias hay un bajo recambio altitudinal de especies en los bosques de ladera y esto puede explicarse por la heterogeneidad florística, así mismo, los bosques riparios merecen atención por su baja riqueza de aves y plantas, aspectos que podrían considerarse en el establecimiento de áreas protegidas en ecosistemas secos.
Citas
Albesiano, S., Fernández-Alonso, J. L. (2006). Catálogo comentado de la flora vascular de la franja tropical (500-1200m) del cañón del río Chicamocha (Boyacá-Santander, Colombia). Primera parte. Caldasia, 28(1), 23-44.

Albesiano, S., Rangel-Ch, J. O. (2006). Estructura de la vegetación del Cañón del río Chicamocha, 500-1200m; Santander-Colombia: Una herramienta para la conservación. Caldasia, 28(2), 307-325.

Almazán-Núñez, R. C., Eguiarte, L. E., Arizmendi, M. del C., Corcuera, P. (2016). Myiarchus flycatchers are the primary seed dispersers of Bursera longipes in a Mexican dry forest. PeerJ, 4, e2126. https://doi.org/10.7717/peerj.2126

Anderson, M. J., Crist, T. O., Chase, J. M., Vellend, M., Inouye, B. D., Freestone, A. L., Sanders, N. J., Cornell, H. V., Comita, L. S., Davies, K. F., Harrison, S. P., Kraft, N. J. B., Stegen, J. C., Swenson, N. G. (2011). Navigating the multiple meanings of β diversity: A roadmap for the practicing ecologist: Roadmap for beta diversity. Ecology Letters, 14(1), 19-28. https://doi.org/10.1111/j.1461-0248.2010.01552.x

Banda-R, K., Delgado-Salinas, A., Dexter, K. G., Linares-Palomino, R., Oliverira-Filho, A., Prado, D., Pullan, M., Quintana, C., Riina, R., Rodríguez, G. M., Weintritt, J. (2016). Plant diversity patterns in neotropical dry forests and their conservation implications. Science, 353(6306), 1383-1387. https://doi.org/10.1126/science.aaf5080

Bennett, A. F., Nimmo, D. G., Radford, J. Q. (2014). Riparian vegetation has disproportionate benefits for landscape-scale conservation of woodland birds in highly modified environments. Journal of Applied Ecology, 51(2), 514-523. https://doi.org/10.1111/1365-2664.12200

Blake, J. G., Loiselle, B. A. (2000). Diversity of Birds Along an Elevational Gradient in The Cordillera Central, Costa Rica. The Auk, 117(3), 663-686. https://doi.org/10.1093/auk/117.3.663

Bregman, T. P., Sekercioglu, C. H., Tobias, J. A. (2014). Global patterns and predictors of bird species responses to forest fragmentation: Implications for ecosystem function and conservation. Biological Conservation, 169, 372-383. https://doi.org/10.1016/j.biocon.2013.11.024

Brown, D. R., Sherry, T. W. (2005). Behavioral Response of Resident Jamaican Birds to Dry Season Food Supplementation1. Biotropica, 38(1), 991-999. https://doi.org/10.1111/j.1744-7429.2006.00108.x

Chaparro-Herrera, S., Echeverry-Galvis, M. Á., Córdoba-Córdoba, S., Sua-Becerra, A. (2013). Listado actualizado de las aves endémicas y casi-endémicas de Colombia. Biota Colombiana, 14(2), Article 2. http://revistas.humboldt.org.co/index.php/biota/article/view/289

Chazdon, R., L., Colwell, R., K., Denslow, J., S., Guariguata, M., R. (1998). Statistical methods for estimating species richness of woody regeneration in primary and secundary rain forest of notheastern Costa Rica. En Forest Biodiversity Research, Monitoring and Modeling. Conceptual Background and Old World Case Studies (Vol. 20). UNESCO Paris and The Parthenon Publishing Group.

Collazos-González, S. A., Echeverry-Galvis, M. Á. (2017). Comunidad de aves del bosque seco tropical en la Mesa de Xñeridas, Santander, Colombia. Ornitología Neotropical, 28, 223-235.

Collazos-González, S. A., Zuluaga-Carrero, J., Cortés-Herrera, J. O. (2020). Aves del Cañón del Chicamocha, Colombia: Un llamado para su conservación. Biota Colombiana, 21(1). https://doi.org/10.21068/c2020.v21n01a05

Corcuera, P., Zavala-Hurtado, J. A. (2014). The influence of vegetation on bird distribution in dry forests and oak woodlands of western Mexico. Revista de Biología Tropical, 54(2), 657. https://doi.org/10.15517/rbt.v54i2.13969

Gillies, C. S., St. Clair, C. C. (2008). Riparian corridors enhance movement of a forest specialist bird in fragmented tropical forest. Proceedings of the National Academy of Sciences, 105(50), 19774-19779. https://doi.org/10.1073/pnas.0803530105

Gillies, Cameron S., Beyer, H. L., Clair, C. C. St. (2011). Fine-scale movement decisions of tropical forest birds in a fragmented landscape. Ecological Applications, 21(3), 944-954. https://doi.org/10.1890/09-2090.1

Gotelli, N., J., Graves, G., R. (1996). Null models in Ecology. Smithsonian Institution Press.

Izsák, J., Pavoine, S. (2012). Links between the species abundance distribution and the shape of the corresponding rank abundance curve. Ecological Indicators, 14(1), 1-6. https://doi.org/10.1016/j.ecolind.2011.06.030

Jansen, A., Robertson, A. (2001). Riparian bird communities in relation to land management practices in floodplain woodlands of south-eastern Australia. Biological Conservation, 100, 173-185. https://doi.org/10.1016/S0006-3207(00)00235-4

Kim, J.-Y., Seo, C., Hong, S., Lee, S., Eo, S. H. (2019). Altitudinal range-size distribution of breeding birds and environmental factors for the determination of species richness: An empirical test of altitudinal Rapoport's rule and non-directional rescue effect on a local scale. PLOS ONE, 14(1), e0203511. https://doi.org/10.1371/journal.pone.0203511

Koleff, P., Gaston, K. J., Lennon, J. J. (2003). Measuring beta diversity for presence–absence data. Journal of Animal Ecology, 72(3), 367-382. https://doi.org/10.1046/j.1365-2656.2003.00710.x
Losada-Prado, S., Molina-Martínez, Y. (2011). Avifauna del Bosque Seco Tropical en el departamento del Tolima (Colombia): Análisis de la comunidad. Caldasia, 33(1), Article 1. https://revistas.unal.edu.co/index.php/cal/article/view/36390

McKinnon, E. A., Rotenberg, J. A., Stutchbury, B. J. M. (2015). Seasonal change in tropical habitat quality and body condition for a declining migratory songbird. Oecologia, 179(2), 363-375. https://doi.org/10.1007/s00442-015-3343-1

Melo, M. A., Da Silva, M. A. G., Piratelli, A. J. (2020). Improvement of vegetation structure enhances bird functional traits and habitat resilience in an area of ongoing restoration in the Atlantic Forest. Annals of the Brazilian Academy of Sciences, 92(Supple.2), e20191241. https://doi.org/10.1590/0001-3765202020191241

Müller, J., Stadler, J., Brandl, R. (2010). Composition versus physiognomy of vegetation as predictors of bird assemblages: The role of lidar. Remote Sensing of Environment, 114(3), 490-495. https://doi.org/10.1016/j.rse.2009.10.006

Murphy, P. G., Lugo, A. E. (1987). Ecology of Tropical Dry Forest. Annual Review of Ecology and Systematics, 17, 67-88.

Pizano, C., García, H. (Eds.). (2014). El bosque seco tropical en Colombia. Instituto de Investigación de Recursos Biológicos Alexander von Humboldt (IAvH).

Poulin, B., Lefebvre, G., McNeil, R. (1993). Variations in bird abundance in tropical arid and semi-arid habitats. Ibis, 135, 432-441. https://doi.org/10.1111/j.1474-919X.1993.tb02116.x

Ralph, C. J., Geupel, G. R., Pyle, P., Martin, T. E., DeSante, D. F., Milá, B. (1996). Manual de métodos de campo para el monitoreo de aves terrestres (PSW-GTR-159; p. PSW-GTR-159). U.S. Department of Agriculture, Forest Service, Pacific Southwest Research Station. https://doi.org/10.2737/PSW-GTR-159

Renjifo, L. M., Amaya-Villarreal, Á. M., Burbano-Girón, J., Velásquez-Tibatá, J. (2017). Libro Rojo de Aves de Colombia.Volumen II. Pontificia Universidad Javeriana. http://repository.humboldt.org.co/handle/20.500.11761/34285

Rodríguez, N., Armentares, D., Morales, M., Romero, M. (2006). Ecosistemas de los andes colombianos (2.da ed.). Instituto de Investigación Alexander von Humboldt. https://www.researchgate.net/profile/Dolors-Armenteras/publication/236173774_Ecosistemas_de_los_andes_Colombianos/links/547b439c0cf205d16881c3f0/Ecosistemas-de-los-andes-Colombianos.pdf

RStudio Team. (2020). RStudio: Integrated Development for R. RStudio, PBC. http://www.rstudio.com/

Sáenz, J. C., Villatoro, F., Ibrahim, M., Fajardo, D., Pérez, M. (2006). Relación entre las comunidades de aves y la vegetación en agropaisajes dominados por la ganadería en Costa Rica, Nicaragua y Colombia. Agroforestería en las Américas, 45, 37-48.

Santamaría-Rivero, W., Leyequién, E., Hernández-Stefanoni, J. L., Wood, P. (2016). Influence of landscape structure and forest age on the richness and abundance of different bird feeding guilds and forest-dependent birds in a seasonal dry tropical forest of Yucatan, Mexico. Tropical Ecology, 57, 313-332.

Sitters, H., York, A., Swan, M., Christie, F., Di Stefano, J. (2016). Opposing Responses of Bird Functional Diversity to Vegetation Structural Diversity in Wet and Dry Forest. PLOS ONE, 11(10), e0164917. https://doi.org/10.1371/journal.pone.0164917

Vázquez, L., Moya, H., Arizmendi, M. del C. (2009). Avifauna de la selva baja caducifolia en la cañada del río Sabino, Oaxaca, México. Revista Mexicana de Biodiversidad, 80, 535-549. https://doi.org/10.22201/ib.20078706e.2009.002.626

Vázquez, L., Renton, K. (2015). High Density of Tree-Cavities and Snags in Tropical Dry Forest of Western Mexico Raises Questions for a Latitudinal Gradient. PLoS ONE, 10(1), e0116745. https://doi.org/10.1371/ journal.pone.0116745

Wang, Y., Xu, J., Chen, J., Wu, B., Lu, Q. (2014). Influence of the habitat change for birds on community structure. Acta Ecologica Sinica, 34(1), 1-6. https://doi.org/10.1016/j.chnaes.2013.09.003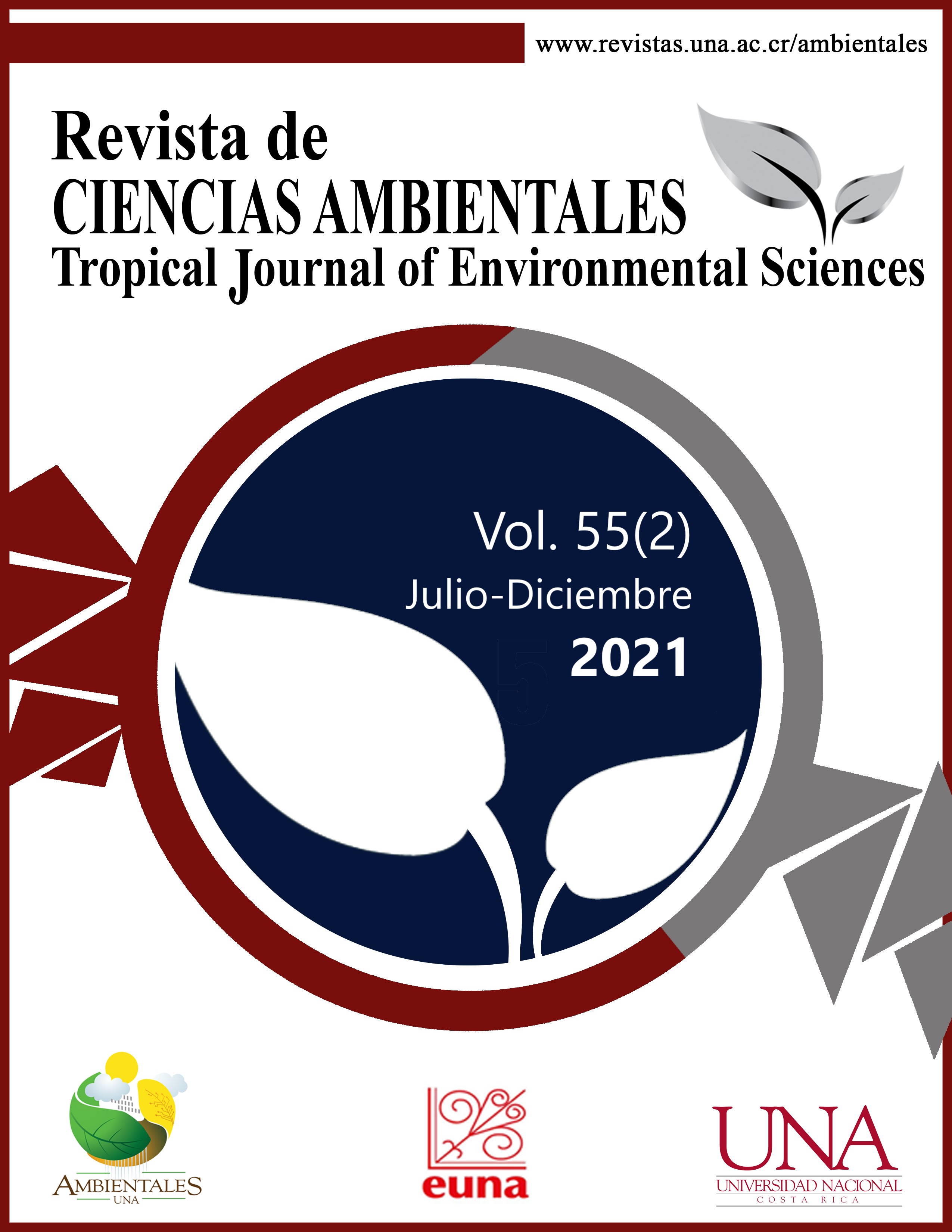 Cómo citar
Zuluaga-Carrero, J., & Renjifo Martínez, L. (2021). Cambios en la composición de aves en diferentes fisionomías de vegetación en un enclave seco en Colombia. Revista De Ciencias Ambientales, 55(2), 197-228. https://doi.org/10.15359/rca.55-2.10
A partir del 17 de mayo del 2018 la licencia ha sido actualizada a:

Esta obra está bajo una Licencia Creative Commons Atribución-NoComercial-CompartirIgual 4.0 Internacional.