Institutional economics and its relationship with productive sectors
Keywords:
Institutional Economics, development, productive sectors, public policies, regulation
Abstract
Institutional economics theory regarding its relationship with productive sectors is discussed in this article. The main objective of the paper is to clarify the main contributions of institutionalism theory in the formulation of policies to support the productive sectors of developing countries. To this end, the article discusses the role of the State as a regulatory entity, public goods, and the importance of institutions in the socio-economic order of the country. From this analysis, it is concluded that one of the routes to strengthen the productive development of developing countries is having greater institutional development for two purposes: first towards the promotion of the integral development of people, who make up the society and are part of the workforce, and second towards the promotion of innovative dynamics that would include the implementation of new technologies.
Downloads
Download data is not yet available.
References
Caballero, G & Soto Oñate, D. (2015). The Diversity and Rapprochement of Theories of Institutional Change: Original Institutionalism and New Institutional Economics. Journal of economics issues, 4(49), 947-977. Doi: http://dx.doi.org/10.1080/00213624.2015.1105021
Caselet, M. (2004). Construcción institucional del mercado en la economía del conocimiento. Economía UNAM, 2(1). 52-63, Recuperado de:
http://www.scielo.org.mx/scielo.php?pid=S1665-952X2004000200005&script=sci_abstract
Chetty, R. (2015). Behavioral Economics and Public Policy: A Pragmatic Perspective. American Economic Review: Papers & Proceedings, 5(105), 1-33. Doi: https://doi.org/10.1257/aer.p20151108
Coase, R. H. (1960). The problem of social cost. Journal of Law and Economics, 3, 1-44. Recuperado de: http://www2.econ.iastate.edu/classes/tsc220/hallam/Coase.pdf
Commons, J. R. (1931). Institutional Economics. American Economic Review: History of Economic Thought Articles, (21), 648-657. Recuperado de: http://la.utexas.edu/users/hcleaver/368/368commonsoninstitutionalecontable.pdf
Comisión para la Promoción de la Competencia (2017). Comisión para promover la Competencia: ¿Quiénes somos? Recuperado de: https://www.coprocom.go.cr/acerca_coprocom/quienes%20somos.html
Égert, B. (2016). Regulation, Institutions, and Productivity: New Macroeconomic Evidence from OECD Countries. American Economic Review: Papers & Proceedings, 106 (5), 109-113. URL; http://dx.doi.org/10.1257/aer.p20161026.
Esser, K., Hillebrand, W., Messner, D., & Meyer-Stamer, J. (1996). Competitividad Sistémica: Nuevo Desafío para las Empresas y la Política. CEPAL Review, 59, 11-38. Recuperado de: https://repositorio.cepal.org/bitstream/handle/11362/10568/59039053I.pdf?sequence=1
Godard, J. (2002). Institutional Environments, Employer Practices, and States in Liberal Market Economies. Industrial Revolutions: A Journal of economy and society, 2(41), 249-286. Doi: https://doi.org/10.1111/1468-232X.00245
Heritier, A., Mueller-Debus, A. & Thauer, C. (2009) The Firm as an Inspector: Private Ordering and Political Rules, Published by The Berkeley Electronic Press. Recuperado de: https://www.cambridge.org/core/journals/business-and-politics/article/firm-as-an-inspector-private-ordering-and-political-rules/503B58B82C021C5E198455BBC933E72F
Hovenkamp, H. (2010). Coasean markets. Published online Springer Science Business Media. European Journal of Law and Economics, 1(31), 63-90. Doi: https://doi.org/10.1007/s10657-010-9197-4
Hirshleifer, J. & Glazer, A. (1992). Microeconomía, Teoría y Aplicaciones. 5ta ed. Distrito Federal, México: Prentice Hall.
Knoedler, J., T. (1995). "Transaction Cost Theories of Business Enterprise from Williamson and Veblen: Convergence, Divergence, and Some Evidence". Journal of Economic Issues, 2(29), 2-29. Doi: https://doi.org/10.1080/00213624.1995.11505675
Ministerio de Economía, Industria y Comercio de Costa Rica. (2017). MEIC: Mejora regulatoria. Recuperado de: https://www.meic.go.cr/meic/web/42/mejora-regulatoria.php
North, D. C. (1981). Structure and Change in Economic History. Politics & Society, 4(11), 511-512. DOI: https://books.google.co.cr/books/about/Structure_and_Change_in_Economic_History.html?id=_WDAQgAACAAJ&redir_esc=y
North, D. C. (1990). Instituciones, Cambio Institucional y Desempeño Económico. (Primera Edición,). Chile: Fondo de Cultura Económica. Recuperado de: https://es.scribd.com/doc/212845951/Douglass-North-Instituciones-Cambio-Institucional-y-Desempeno-Economico-parte-Primera
North, D. C. (1994). Economic Performance Through Time. The American Economic Review, 3(84), 359-368. Recuperado de: http://www.jstor.org/stable/2118057
Parada, J. J. (2003). Economía institucional original y nueva economía institucional: semejanzas y diferencias. Revista de Economía Institucional, 8(5), 92-116. Recuperado de: https://revistas.uexternado.edu.co/index.php/ecoins/article/view/206
Robles, G. A. (1998). El Pensamiento Económico de Douglass C. North. Revista de la Facultad de Ciencias Económicas: Laissez Faire, 9, pp-pp 13-32. Recuperado de: http://www.eumed.net/cursecon/textos/Prado_North.pdf
Varian, H. R. (2010). Un enfoque actual Microeconomía Intermedia. (9na ed, Pp-pp). Barcelona, España: Antoni Bosch.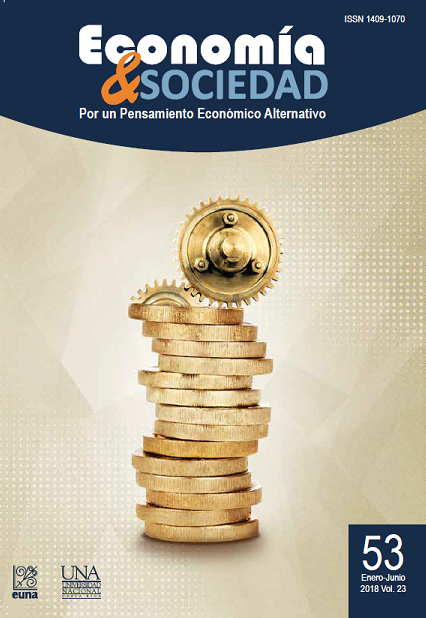 How to Cite
Artavia Jiménez, M., Benavides Vindas, S., & Parada Gómez, Álvaro. (2018). Institutional economics and its relationship with productive sectors. Economía Y Sociedad, 23(53), 84-102. https://doi.org/10.15359/eys.23-53.5
Section
Articles (Arbitrated section)
This publication is subject to the Creative Commons License; therefore, its attributions and restrictions must be respected.
Authors publishing in this Journal accept the following conditions:
Authors retain copyright ownership and give the Journal first publication right of the paper, which is registered with the Creative Commons Attribution-NonCommercial-ShareAlike 4.0 International License. This license allows third parties to use the published work provided it is sourced as firstly published in this Journal.
Authors may enter into other independent and additional contractual agreements for the non-exclusive distribution of the article published in this Journal (e.g., to be included in an institutional repository or published in a book) provided it is clearly stated that the work was published in this Journal for the first time.
Authors are allowed and recommended to publish their work on the Internet (for example, on institutional or personal pages) before and during the review and publication process, as it can lead to productive exchanges and a greater and faster dissemination of work published.
The Economía & Sociedad Journal, published by Universidad Nacional, is licensed under a Creative Commons Reconocimiento-NoComercial-CompartirIgual 4.0 Internacional License. Based on http://www.revistas.una.ac.cr/index.php/economia.
Most read articles by the same author(s)