EL CICLO ECONÓMICO EN COSTA RICA: 1980-1999
José Francisco Pacheco Jiménez

Profesor de la Escuela de Economía, Universidad Nacional
Palabras clave:
Ciclo económico, Costa Rica, expansiones, Teoría de los Ciclos de Negocios, recesiones.
Resumen
Prácticamente todas las escuelas del pensamiento económico reconocen que las economías no se mueven de forma lineal sino que siguen un patrón cíclico recurrente que alterna periodos de altos con bajos niveles de actividad. El análisis de la naturaleza, causas y consecuencias de tales expansiones y contracciones es el principal objetivo de la Teoría de los Ciclos de Negocios (CN).
A pesar que la comprensión de la naturaleza, causas y dinámica de un ciclo es vital tanto para los formuladores de política como para el sector privado, son pocos los intentos por brindar una interpretación económica de tales fluctuaciones en países pequeños y abiertos como Costa Rica. Así, queda aun una importante brecha teórica y empírica que explique las regularidades cíclicas presenten a estas naciones.
El presente artículo es un intento en ese sentido. El trabajo busca evaluar si el patrón observado en la economía costarricense pertenece a un CN, y si así fuese, explorar en la causa y origen de los impulsos que dan lugar a esos movimientos. Con ello se amplía y complementa algunas investigaciones hechas anteriormente por autores como Azofeifa y otros (1995) y Gaba y otros (1993), de corte más estadístico.
La principal conclusión del artículo es que, efectivamente, el patrón cíclico de Costa Rica puede ser considerado como un CN cuya causa se encuentra en las variaciones de la inversión. Los cambios experimentados en ella están alta, pero no exclusivamente, condicionados por el ciclo de los Estados Unidos, el cual canaliza sus fluctuaciones por medio de cambios en exportaciones y tasas de interés. Para tal efecto, el trabajo La investigación se apoya en un modelo kaleckiano/keynesiano que describe la secuencia impulso, causa y ciclo. Empíricamente, se utilizan herramientas econométricas varias tales como Modelos ARIMA y Vectores Autorregresivos para extraer el componente cíclico y probar la relación entre EEUU y Costa Rica.
Descargas
La descarga de datos todavía no está disponible.
Citas
Agenor, P., McDermott, J. and Prasad, E. (1999) Macroeconomic Fluctuations in Developing Countries: some stylized facts. Washington: IMF Working Paper WP/99/35.

Ahmed, Shaghil and Park, Jae (1994) Sources of Macroeconomic Fluctuations in Small Open Economies, Journal of Macroeconomics, 16 (1): 1-36.

Azofeifa, Ana (1983) Una Metodología para el Pronostico de puntos de cambio cíclico de la economía. San Jose: Lic. Thesis, School of Economics of University of Costa Rica.

Azofeifa, Ana et al (1995) Patrones Ciclicos de la Economia Costarricense. San Jose, Costa Rica: Department of Social Accounting, Central Bank of Costa Rica.

Backus, David and Kehoe, Patrick (1992) International Evidence on the Historical Properties of Business Cycles, American Economic Review, 82 (4): 864-888.

Bagliano, Fabio and Favero, Carlo (1997) Measuring Monetary Policy with VAR Models: an Evaluation. Paper presented at the 20th annual International Seminar on Macroeconomics, June 15-17, 1997 Switzerland.

Bergman, Michael, Bordo, Michael and Jonung, Lars (1998) Historical Evidence on Business Cycles: the International Experience. Boston: Federal Reserve Bank of Boston Conference Series [Proceedings] No.42-05.

Berk, Jan Marc (1997) Trade Flows as a Channel for the Transmission of Business Cycles. Banca Nazionale del Lavoro Quarterly Review, L(201): 187-212.

Bernanke, Ben and Gertler (1995) Inside the Black Box: The Credit Channel of Monetary Policy Transmission. Massachusetts: NBER Working Papers 5146.

Box, G.E.P and Jenkins, G.M (1970) Time Series Analysis: Forecasting and Control. San Francisco: Holden Day.

Burns, A.F. and Mitchell, W. (1946). Measuring Business Cycles. New York: NBER.

Canova, Fabio (1993) Trade interdependence and the international business cycles. Journal of International Economics, 34: 23-47.

Carrera, Jorge, Feliz, Mariano and Panigo, Demian (1999) Una Medición de los Canales de Transmisión de las Fluctuaciones Económicas: el caso de Argentina y los Estados Unidos. Argentina: CACES/UNLP/PIETTE.

Chrystal, K.A. (1986) Controversies in Macroeconomics. Great Britain: Philip Allan. Second Edition.

COMEX (2000) Informacion Estadistica sobre Inversion Extranjera Directa y Empleo Directo 1985-1999. San Jose, Costa Rica: Ministry of Foreign Trade.

Danthine, Jean Pierre and Girardin, Michel (1989) Business Cycles in Switzerland: a Comparative Study. European Economic Review, 33: 31-50

de Roos, Nicolas and Russell, Bill (1996) Towards an understanding of Australia's Co-movement with Foreign Business Cycles. Australia: Reserve Bank of Australia Research Discussion Paper 9607.

Espinosa, Julio Cesar (1998) La Reforma Financiera en Costa Rica: errores, aciertos y la etapa por venir. In: Conejo et al (eds) Costa Rica hacia el Siglo XXI: Balance de las Reformas Economicas 1983-1998. Heredia, Costa Rica: Editorial Fundacion UNA.

Estey, James Arthur (1950) Business Cycles: Their Nature, Cause and Control. New York: Prentice-Hall, Inc.

EUROSTAT (1999) Seasonal Adjustment Interface DEMETRA for TRAMO/SEATS and X-12- ARIMA: User Manual. Luxembourg: EUROSTAT.

Fischer, Bjorn (1995) Decomposition of Time Series: Comparing Different Methods in Theory and Practice. Luxembourg: EUROSTAT.

Franses, Philip (1998) Time Series Models for business and economic forecasting. United Kingdom: Cambridge University Press.

Friedman, Milton and Schwartz, Anna (1966) Money and Business Cycles. The Review of Economics and Statistics (supplement), 45 (1): 32-64.

Gaba, Ernesto et al (1993) Entendiendo el Ciclo Economico de Costa Rica. San, Jose: Central Bank of Costa Rica, Comentarios sobre Asuntos Economicos No. 118.

Granger, C.W.J. and Watson, Mark (1984) Time Series and Spectral Methods in Econometrics. In: Griliches, Z. and Intriligator, M.D. (eds) Handbook of Econometrics, volume II. Amsterdam: Elsevier Science Publishers.

Greene, William (2000) Econometric Analysis. USA: Prentice Hall International, Fourth Edition.

Greenwald, Bruce and Stiglitz, Joseph (1988) Examining Alternative Macroeconomic Theories. Brooking Papers of Economic Activity, Vol. 1. Washington: The Brookings Institution.

Haberler, Gottfried (1932) Money and the Business Cycle. Ludwig von Mises Institute, web page www.cepa.newschool.edu/het.

Haberler, Gottfried (1946) Prosperity and Depression: a theoretical analysis of cyclical movements. New York: United Nations. Third Edition.

Hall, Thomas (1990) Business Cycles: the Nature and Causes of Economic Fluctuations. Connecticut: Praeger Publishers.

Hansen, Alvin (1951) Business Cycles and National Income. New York: WW Norton and Company, Inc.

Harvey, Andrew (1990) The Econometric Analysis of Time Series. England: Philip Allan, second edition.

Harvey, Andrew (1993) Time Series Models. Great Britain: Harvester Wheatsheaf, Second Edition.

Herrera, Paulina., Montero, Ileana. and Blanco, Carlos (1994) Uso del IMAE en el Analisis Coyuntural y Estructural de la Actividad Economica Costarricense. San Jose, Costa Rica: Series "Comentarios sobre Asuntos Economicos" no. 131, Banco Central de Costa Rica.

Hoffmaister, Alexander, Roldos, Jorge and Wickman, Peter (1998) Macroeconomic Fluctuations in Sub-Saharan Africa. Washington: IMF Staff Papers, 45 (1), March: 132- 160.

IADB, Inter-American Development Bank (1995) Overcoming Volatility. Economic and Social Progress in Latin America: 1995 Report. Washington: The Johns Hopkins University Press.

International Monetary Fund (1998) The Business Cycle International Linkages and Exchange Rates. Washington: IMF World Economic Outlook I.

Kamil, Herman and Lorenzo, Fernando (1998) Business Cycle Fluctuations in a Small Open Economy: The Case of Uruguay. Montevideo, Uruguay: CINVE.

Kose, M. Ayhan and Reizman, Raymond (1999) Trade Shocks and Macroeconomic Fluctuations in Africa. Munich: CESifo Working Paper Series No. 203

Kydland, Finn and Zarazaga, Carlos (1997) Is the Business Cycle of Argentina "Different"?. Federal Reserve Bank of Dallas Economic Review, fourth quarter: 21-36.

Lucas, Robert (1977) Understanding Business Cycles. In: Karl Brunner and Allan Metzler (eds) Stabilization of the Domestic and international economy. Carnegie-Rochester Conference Series on Public Policy 5: 7-29 Amsterdam: North-Holland.

Mankiw, Gregory (1989) Real Business Cycles: a New Keynesian Perspective. Journal of Economic Perspectives, 3 (3): 79-90.

Matthews, RCO. (1962) The Business Cycle. USA: Cambridge Economic Handbooks, the University of Chicago Press. Second Impression.

MIDEPLAN, Ministry of Planning of Costa Rica. Sistema de Indicadores para el Desarrollo Sostenible. web page: www.mideplan.go.cr.

Mitchell, Wesley (1913) Business Cycles. Berkeley: University of California Press.

Mitchell, Wesley (1923) Business Cycles. In: American Economic Association, Readings in Business Cycle Theory. London: George Allen and Union LTD, 1950.

Mitchell, Wesley (1954) Business Cycles. The Problem and Its Setting. New York: National Bureau of Economic Research, 14th printing.

Muellbauer, John (1997) The Assessment: Business Cycles. Oxford Review of Economic Policy, 13 (3): 1-18.

Muñoz, Juan y Pacheco, José (1998) Desempeño Industrial en Costa Rica durante el Ajuste Estructural: Políticas, Logros y Limitaciones. In: Conejo et al (eds) Costa Rica hacia el Siglo XXI: Balance de las Reformas Económicas 1983-1998. Heredia, Costa Rica: Editorial Fundación UNA.

Norrbin, Stefan and Schlagenhauf, Don (1996) The Role of International Factors in the Business Cycle: A multi-country study. Journal of International Economics, 40: 85-104.

Planas, Christophe (1997) Applied Time Series Analysis: Modelling, Forecasting, Unobserved Components Analysis and the Wiener-Kolmogorov Filter. Luxembourg: Eurostat.

Prescott, Edward (1986) Theory Ahead of Business Cycle Measurement. Federal Reserve Bank of Minneapolis Quarterly Review, 10 (4): 9-22.

Schmitt-Grohe, Stephanie (1998) The international transmission of economic fluctuations: effects of U.S business cycles on the Canadian economy. Journal of International Economics, 44: 257-287.

Sherman, H. and Kolk, D. (1996) Business Cycles and Forecasting. USA: Harper Collins Publishers.

Sherman, Howard (1987) The Business Cycle of Capitalism. International Review of Applied Economics, 1 (1): 72-85.

Sims, Christopher (1980) Macroeconomics and Reality. Econometrica, 48 (1): 1-48.

Todd, Richard (1990) Vector Autoregression Evidence on Monetarism: Another Look at the Robustness Debate. USA: Federal Reserve Bank of Minneapolis Review Online, 14 (2).

U.S. Census Bureau, Foreign Trade Division (2000) US Trade Balance with Costa Rica. www.census.gov/foreigntrade/balance/c2230.html.

Zarnowitz, Victor (1985) Recent Work on Business Cycles in Historical Perspective: A Review of Theories and Evidence. Journal of Economic Literature, Vol. XXIII: 523-580.

Zarnowitz, Victor (1992) Business Cycles: Theory, History, Indicators and Forecasting. Chicago and London: The University of Chicago Press, Studies in Business Cycles, volume 27, NBER.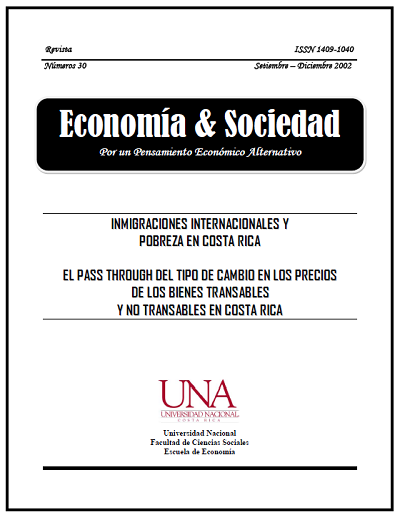 Cómo citar
Pacheco Jiménez, J. (2002). EL CICLO ECONÓMICO EN COSTA RICA: 1980-1999. Economía Y Sociedad, 7(20). Recuperado a partir de https://www.revistas.una.ac.cr/index.php/economia/article/view/1182
Sección
Artículos (Sección arbitrada)
Esta publicación está adscrita a Creative Commons; deben respetarse sus atribuciones y restricciones.
Los autores/as que publiquen en esta revista aceptan las siguientes condiciones:
Los autores/as conservan los derechos de autor y ceden a la revista el derecho de la primera publicación, con el trabajo registrado con la Licencia Creative Commons Atribución-NoComercial-CompartirIgual 4.0 Internacional, que permite a terceros utilizar lo publicado siempre que mencionen la autoría del trabajo y a la primera publicación en esta revista.
Los autores/as pueden realizar otros acuerdos contractuales independientes y adicionales para la distribución no exclusiva de la versión del artículo publicado en esta revista (p. ej., incluirlo en un repositorio institucional o publicarlo en un libro) siempre que indiquen claramente que el trabajo se publicó por primera vez en esta revista.
Se permite y recomienda a los autores/as a publicar su trabajo en Internet (por ejemplo en páginas institucionales o personales) antes y durante el proceso de revisión y publicación, ya que puede conducir a intercambios productivos y a una mayor y más rápida difusión del trabajo publicado.
Revista Economía y Sociedad by Universidad Nacional is licensed under a Creative Commons Reconocimiento-NoComercial-CompartirIgual 4.0 Internacional License.
Creado a partir de la obra en http://www.revistas.una.ac.cr/index.php/economia