MODELO PARA EL ANÁLISIS DEL FORTALECIMIENTO SOCIOECONÓMICO DE LAS MIPYMES EN COSTA RICA
Álvaro Martín Parada Gómez

Escuela de Economía, Universidad Nacional de Costa Rica., Costa Rica
Abstract
Resumen
El efecto de múltiples variables sobre el bienestar social y económico en las pequeñas y medianas empresas puede ser analizado tomando en cuenta las condiciones sistémicas en el modelo propuesto. Este artículo ofrece un marco teórico o modelo para comprender y explicar la relación entre las variables independientes tales como el crédito, mercados, empresariedad, entre otras, y la variable dependiente tal como los ingresos, la producción o el empleo. El propósito fundamental es organizar la mayoría de variables para determinar porqué los ingresos y el empleo no es sostenible par alas pequeñas y medianas empresas. Por lo tanto, factores sociales, económicos así como culturales e institucionales han sido incluidos en el análisis. El modelo desarrollado puede ayudar a mejorar el diseño de estrategias para lograr el éxito de las pequeñas y medianas empresas y el marco de política pública para el gobierno en Costa Rica.
Abstract
The effect of multiples variables on the social and economic welfare in the Small and medium size enterprises can be analized taking in account systemic conditions in this model.
This paper offers a theoretical framework or model to understand and explain the relationship between independent variables such as credit, markets, entrepreneurship, among others, and dependent variable such as incomes, production or employment rate. The main idea is organize the all variables to determine why the income or employment level is not sustainable for SMEs. Therefore, social and economic factors as well as cultural and institutional components have been included in this analysis. The developed model can help to improve design and management of competitiveness strategies for SMEs and policy framework for the government in Costa Rica.
Downloads
Download data is not yet available.
References
Bain,J.(1951). Relation of Profit Rate to Industry Concentration: American Manufacturing: 1936-1940. Quaterly Journal of Economics. Vol.65,pp293-334.

Bain,J.(1956). Barriers to New Competition. Cambrige, Mass: Harvard University Press.

Chaves Fernando (2007). Dirección General para la Pequeña y Mediana Empresa de Costa Rica. Ministerio de Economía Industria y Comercio. Conferencia presentada en la Universidad Nacional (25 abril 2007). Heredia, Costa Rica.

Di Tommaso M y Dubbini S (2000). "Towards a Theory of the Small Firm: Theoretical Aspects and Some Policy Implications". CEPAL. Division of Production, Productivity and Management. Santiago, Chile.

Esseer Klaus, Wolfgang, Messner Dirik y Mayer – Stamer Jôrg (1996)a. Sistemic Competitiveness: New governance patterns for industrial development. Editorial FRANK CASS and German Development Institute of Berlin.

Heilbrum James y Gray Charles(1997). The Economics of Art and Culture: An America Perspective. CAMBRIGE UNIVERSITY PRESS. United States of America.

Henk Thomas, Uribe Francisco y Romijn Henny (1991). Small-scale Production: Strategies for industrial restructuring. IT PUBLICATIONS. Southampton Row, London. UK.

Messner Dirk, Meyer-Stamer Jorg (1994). Competitividad Sistémica. Pautas de Gobierno y Desarrollo. Revista Nueva Sociedad, No.133. Setiembre-Octubre. Pp.72-87.

Messner Dirk(1996). Latinoamérica Hacia la Economía Mundial: Condiciones para el Desarrollo de la "Competitividad Sistémica". Instituto de Paz y Desarrollo de Duisburg. Alemania.

Levitt Theodore (1975). Marketing Myopia. Harvard Business Review. SeptemberOctober.

Parada Gómez (2002). "La Competitividad de la Industria de la Confección de Prendas de Vestir en Costa Rica". Informe de Proyecto de Competitividad. Escuela de Economía, UNA. Heredia, Costa Rica.

Parada Gómez, M. y J. Navarro. 2004. Diagnóstico de la Competitividad de las Pequeñas y Medianas Empresas del Textil de Costa Rica. Proyecto de Competitividad de la Escuela de Economía e Instituto Nacional de Aprendizaje. Heredia, Costa Rica.

Parada Gómez Martín (2006). El Desarrollo Institucional y el Fortalecimiento de las Capacidades Competitivas de las Pequeñas y Medianas Empresas Costarricenses en la Cadena Global de Prendas de Vestir. Tesis doctoral, cap.8. IVO. Tilburg University. Holland.

Porter M (1990). "The Competitive Advantage of Nations". MACMILLAN. First edition. London. 1-178.

Ramos J. (1997) "Industrial policy and competitiveness in open economies". ECLAC Serie Desarrollo Productivo. No.34. 1-23,. Santiago de Chile.

Romijn,H.(1999). Acquisition of Technological Capabilities in Small Firms in Developing Countries. Macmillan, London.January.

Rynning Marjo-Riita and Andersen Otto (1991). An Empirical Illustration of an Alternative Approach to Measuring the Market Power and High Profits Hypothesis. International Journal of Industrial Organization. Volume 9. 239- 249. North-Holland.

Schmalensee, Richard. "Industrial Economics: An Overview." Economic Journal.,Vol.98, September, 1988.

Stigler, G.J (1968). The Organization of Industry. Homewood.

Varian, Hall (1994). Microeconomía Intermedia: Un Enfoque Moderno. Tercera Edición. Antoni Bosch Editor. Barcelona, España.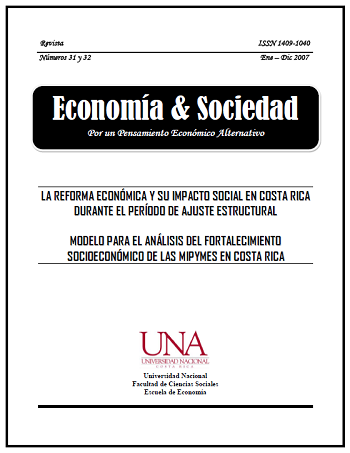 How to Cite
Parada Gómez, Álvaro M. (2007). MODELO PARA EL ANÁLISIS DEL FORTALECIMIENTO SOCIOECONÓMICO DE LAS MIPYMES EN COSTA RICA. Economía Y Sociedad, 12(31-32), 101-116. Retrieved from https://www.revistas.una.ac.cr/index.php/economia/article/view/176
Section
Articles (Arbitrated section)
This publication is subject to the Creative Commons License; therefore, its attributions and restrictions must be respected.
Authors publishing in this Journal accept the following conditions:
Authors retain copyright ownership and give the Journal first publication right of the paper, which is registered with the Creative Commons Attribution-NonCommercial-ShareAlike 4.0 International License. This license allows third parties to use the published work provided it is sourced as firstly published in this Journal.
Authors may enter into other independent and additional contractual agreements for the non-exclusive distribution of the article published in this Journal (e.g., to be included in an institutional repository or published in a book) provided it is clearly stated that the work was published in this Journal for the first time.
Authors are allowed and recommended to publish their work on the Internet (for example, on institutional or personal pages) before and during the review and publication process, as it can lead to productive exchanges and a greater and faster dissemination of work published.
The Economía & Sociedad Journal, published by Universidad Nacional, is licensed under a Creative Commons Reconocimiento-NoComercial-CompartirIgual 4.0 Internacional License. Based on http://www.revistas.una.ac.cr/index.php/economia.