OPORTUNIDADES PARA LA ECONOMÍA ECOLÓGICA Y LA ECOLOGÍA POLÍTICA EN COSTA RICA: La Zona Protectora Cerros de la Carpintera y Otros Parques de Papel en el Valle Central.
Bernardo Aguilar González

Fundación Neotrópica, San José, Costa Rica., Costa Rica
Abstract
Resumen
Por muchos años la llamada exitosa conservación en Costa Rica ha sido impulsada prevalentemente por grupos académico-científicos y se ha basado en modelos públicos verticales, de ONG ambientalista tradicional o de libre mercado. Estos enfoques no han sido insuficientes tratándose del modelo de conservación llamado Zona Protectora (ZP), el cual, sobre todo en áreas urbanas y semi-urbanas, ha sido un fracaso. Sin embargo, abarca el 15% del territorio en protección en el país. Al igual que en otros lugares en América Latina, se observa hoy en Costa Rica una tendencia a la aparición de los que la ecología política llamaría  "ambientalismo de los pobres." Este trabajo explora la utilidad de los conceptos de esta tendencia ambientalista para la solución de los problemas de las ZP. Específicamente se enfoca en el caso de La Carpintera y reflexiona sobre la posibilidad de usar conceptos como la valoración económico-ecológica alternativa y la deuda ecológica producto de la experiencia del autor con su propia investigación y cursos de campo.
Abstract
For many years the so-called successful conservation in Costa Rica has been led mostly by academic and scientific groups and has followed public vertical, traditional environmentalist NGO or market driven models. These perspectives have been insufficient for the conservation model known as the Protective Zone (ZP), which, especially in urban and semi-urban areas has been a failure. Nevertheless, it comprises 15% of the overall land under protection in the country. As in other places in Latin America, Costa Rica is showing today traces of what political ecologists know as "environmentalism of the poor." This paper explores the usefulness of the concepts of this environmentalism trend to solve the problems of ZP. Specifically, it focuses on the case study of La Carpintera and reflects on the possibility of using concepts such as ecological economic alternative valuation and ecological debt based on the author's experience with his own research and field courses.
Downloads
Download data is not yet available.
References
Aguilar González, B. (2007a) La valoración económico-ecológica y la presente coyuntura socioecológica latinoamericana. UICN-UNA. Valoración económica, ecológica y ambiental. Análisis de Casos en Iberoamérica, Editorial Universidad Nacional de Costa Rica, Heredia, Costa Rica. pp. 29-31.

Aguilar González, B. (2007b) Reflexiones y Estudios de Caso Utilizando una Teoría Mutidimensional del Valor: Recomendaciones para Centro América. UICN-UNA. Valoración económica, ecológica y ambiental. Análisis de Casos en Iberoamérica, Editorial Universidad Nacional de Costa Rica, Heredia, Costa Rica. pp. 35-78.

Aguilar González, B. (en revisión) El índice integral de salud de ecosistemas (HEH): un indicador multicriterio de sustentabilidad netamente latinoamericano. Revista Iberoamericana de Economía Ecológica.

Aguilar, B. (1999) Applications of Ecosystem Health for the Sustainability of Managed Ecosystems in Costa Rica. Ecosystem Health. (5)1: 36-48.

Alimonda, H., comp. (2006) Los Tormentos de la Materia. Aportes para una Ecología Política Latinoamericana. CLACSO, Buenos Aires, Argentina, 274 pp.

Araya Monge, R. (2006) El Camino del Socialismo Cuántico. Grupo Editorial Norma, Bogot'a, Colombia, 415 pp.

Borge, C. & R. Castillo (1997) Cultura y Conservación en la Talamanca Indígena. Editorial Universidad Estatal a Distancia, San José, Costa Rica, 261 pp.

Carmen, R. (2004) Desarrollo Autónomo. Humanización del paisaje: una incursión en el pensamiento y la práctica social. Editorial Universidad Nacional, Heredia, Costa Rica, 342 pp.

Decreto Ejecutivo Nº 34547-MINAE. Creación de la Comisión Interinstitucional para la Protección de la Zona Protectora Cerros de la Carpintera. 1-2-2008. Publicado en la Gaceta Oficial de Costa Rica N. 110, 9-6- 2008.

Dieterich, H. (2005) Hugo Chávez y el Socialismo del Siglo XXI. Alcaldía de Caracas, Venezuela, 220 pp.

Evans, S. (1999) The Green Republic. A Conservation History of Costa Rica. University of Texas Press, Austin, Texas, EEUU, 317 pp.

Fallas Baldi, O. (1993) Modelos de Desarrollo y Crisis Ambiental en Costa Rica. Asociación Ecologista Costarricense, San José, Costa Rica, 99 pp.

Guha, R. & J. Martínez-Alier (2000) Varieties of Environmentalism. Essays North and South. Earthscan, Londres, RU, 230 pp.

Hinkelammert, F. & Henry Mora Jiménez (2008) Hacia una economía para la vida. Preludio a una reconstrucción de la economía. Editorial Tecnológica de Costa Rica, ITCR, Cartago, Costa Rica, 624 pp.

Muñoz, C. (2008) Director de la Asociación Conservacionista de Monteverde. Comunicación Personal. Julio 12, 2008.

Oilwatch (2005) Deuda ecológica y moratoria petrolera en Costa Rica. http://www.oilwatch.org/index.php?option =com_content&task=view&id=149&Itemi d=9&lang= Accesado 23-8-2008.

Paige, J. (2003) Finding the Revolutionary in the Revolution: Social Science Concepts and the Future of Revolution. Foran, J. ed. The Future of Revolutions. Rethinking Radical Change in the Age of Globalization. New York, NY, EEUU, pp. 19-29.

The Ecumenical Coalition for Economics Justice (2000) Ecological Debt: South Tells North "Time to Pay Up". http://www.cosmovisiones.com/DeudaEcol ogica/a_timetopay.html. Accesado 23-8- 2008.

Torres Guerrero, A. (2001) Proyecto de Ley: Parque Interurbano de Protección y Recreo para el Desarrollo Sostenible, Cerros de la Carpintera. Asamblea Legislativa. República de Costa Rica. Expediente N. 14.280.

Ulate, E. (2007) Propuesta de Ampliación y Zonificación de la Reserva de Biosfera Cordillera Volcánica Central. Ambientico. N. 167: 4-6.

Vandermeer, J. & Perfecto, I. (1995) Breakfast of Biodiversity. The Truth About Rainforest Destruction. Food First, Oakland, California, EEUU, 180 pp.

Vicente, C. (2002) Deuda Ecológica y Biopiratería. Entrevista a Joan Martínez Alier. Biodiversidad, N. 32: 20-21.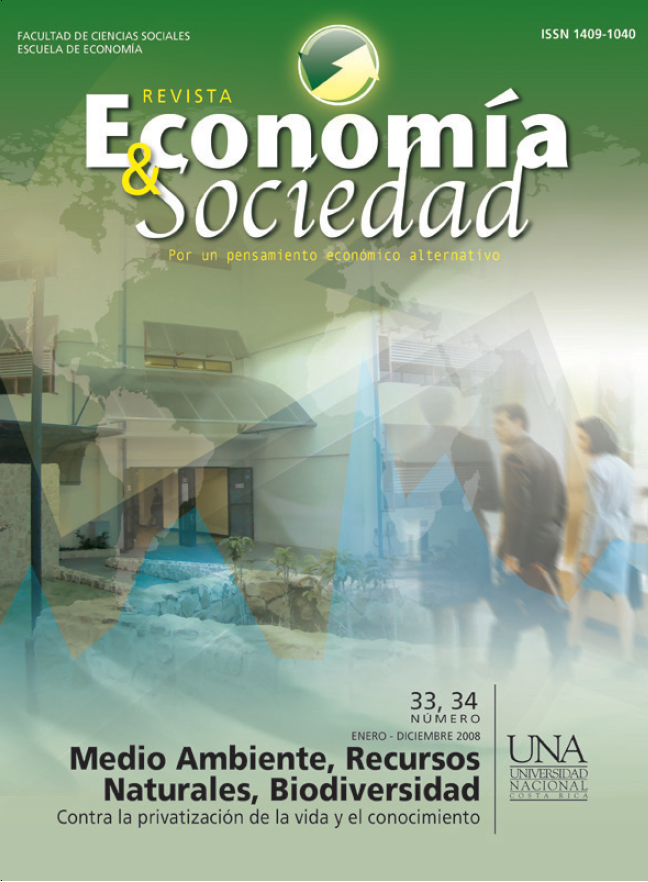 How to Cite
Aguilar González, B. (2008). OPORTUNIDADES PARA LA ECONOMÍA ECOLÓGICA Y LA ECOLOGÍA POLÍTICA EN COSTA RICA: La Zona Protectora Cerros de la Carpintera y Otros Parques de Papel en el Valle Central. Economía Y Sociedad, 13(33-34), 101-117. Retrieved from https://www.revistas.una.ac.cr/index.php/economia/article/view/83
Section
Articles (Arbitrated section)
This publication is subject to the Creative Commons License; therefore, its attributions and restrictions must be respected.
Authors publishing in this Journal accept the following conditions:
Authors retain copyright ownership and give the Journal first publication right of the paper, which is registered with the Creative Commons Attribution-NonCommercial-ShareAlike 4.0 International License. This license allows third parties to use the published work provided it is sourced as firstly published in this Journal.
Authors may enter into other independent and additional contractual agreements for the non-exclusive distribution of the article published in this Journal (e.g., to be included in an institutional repository or published in a book) provided it is clearly stated that the work was published in this Journal for the first time.
Authors are allowed and recommended to publish their work on the Internet (for example, on institutional or personal pages) before and during the review and publication process, as it can lead to productive exchanges and a greater and faster dissemination of work published.
The Economía & Sociedad Journal, published by Universidad Nacional, is licensed under a Creative Commons Reconocimiento-NoComercial-CompartirIgual 4.0 Internacional License. Based on http://www.revistas.una.ac.cr/index.php/economia.