Capitalist development and the inviability of the environmentalist approach
Carlos Eduardo Cruz-Meléndez

Universidad Nacional de Costa Rica, Costa Rica
Keywords:
capitalism, environmental crisis, ethics, Adam Smith, environmentalism
Abstract
Constantly confirming that global environmental destruction has resulted from an economic production based on capitalist accumulation logic has motivated growing social mobilization focused on environmental protection per se. Therefore, critical environmental approaches ultimately attack the symptoms of the environmental crisis rather than the causes, which lie precisely on the assumption and the demand of an infinite growth of economic exploitation of both human beings and natural resources. This contradiction is possible because these ecological approaches do not surpass ethics compatible with a capitalist society based on an abstract and unhistorical "common good", as presented by authors such as Adam Smith.  Smith, a bourgeois liberal thinker, believed the behavior of the homo economicus does not contradict social ethics, which is based on sympathy for others and self-interest and where individual behavior is conditioned by how we are seen and judged by others.
Downloads
Download data is not yet available.
References
Auli, E. (2007). Carta a un joven ecologista: Una reflexión sobre tu vida y el medio ambiente. Recuperado de http://www.casadellibro.com/libro-carta-a-un-joven-ecologista-una-reflexion-sobre-tu-vida-y-el-med-io-ambiente/9788498670103/1172491
Bitsakis, E. (1975). Física contemporánea y materialismo dialéctico. México: Ediciones de Cultura Popular.
Buarque, C. (13 de septiembre de 2012). Senador brasileño responde a EE.UU sobre la internacionalización del Amazonas. Veo verde. Recuperado de: https://www.veoverde.com/2012/09/chico-buarque-responde-a-ee-uu-sobre-la-internacionalizacion-del-amazonas/
Dierckxsens, W. (2003). El ocaso del capitalismo y la utopía reencontrada: Una perspectiva desde América. Recuperado de https://books.google.co.cr/books/about/El_ocaso_del_capitalismo_y_la_utop%C3%ADa_re.html?id=81K9AAAAIAAJ&redir_esc=y
Engels, F. (1978). Carlos Marx: Contribución a la crítica de la economía política. En, Marx, C. y Engels F. Obras Escogidas: En tres tomos, Tomo I. Recuperado de https://www.marxists.org/espanol/m-e/oe/pdf/oe3-v1.pdf
Galeano, E. (2004). Las venas abiertas de América Latina. Recuperado de http://static.telesurtv.net/filesOnRFS/news/2015/04/13/las_venas_abiertas_de_amxrica_latina.pdf
Gudynas, E. (2002). Ecología, Economía y Ética del Desarrollo Sostenible. Recuperado de http://www.ecologiapolitica.net/gudynas/GudynasDS5.pdf
Hegel, G. W. F. (2006). Filosofía de la naturaleza. Recuperado de https://books.google.co.cr/books/about/Filosof%C3%ADa_de_la_naturaleza.html?id=lw6uAAAACAAJ&redir_esc=y
Hinkelammert, F. y Mora, H. (2005). Hacia una economía para la vida. Recuperado de https://books.google.co.cr/books/about/Hacia_una_econom%C3%ADa_para_la_vida.html?id=6uu4AAAAIAAJ&redir_esc=y
Horkheimer, M. y Adorno, T. (2006). Dialéctica de la Ilustración: Fragmentos filosóficos. Madrid. Recuperado de: http://www.um.es/tic/LECTURAS%20FCI-I/FCI-I%20tema%204%20texto%20c%201.pdf
Marx, C. (1973). El Capital: Crítica de la economía política (Tomo I). Recuperado de http://www.socialismo-chileno.org/biblioteca/KM_capital_libro1.pdf
Meadows, Donella H., Dennis L., Randers, Jorge, & Behrens, William W. (1972). The Limits to Growth. New York: Signet Books.
Mora, H. (14 de noviembre del 2007). La privatización de la vida. América Latina en Movimiento. Recuperado de http://www.alainet.org/es/active/20681
Papa Francisco. (2015). Carta Encíclica Laudato Si. Recuperado de: http://w2.vatican.va/content/francesco/es/encyclicals/documents/papa-francesco_20150524_enciclica-laudato-si.html
Rifkin, J. (2002). La era del acceso: La revolución de la mueva economía. Recuperado de https://books.google.co.cr/books/about/La_era_del_acceso.html?id=YDWy_ScHq-AC&redir_esc=y
Rodríguez, C. (2005). Estudio preliminar. En, Smith, 2005.
Smith, A. (1978). Teoría de los sentimientos morales. México. Recuperado de: https://www.elfondoenlinea.com/Detalle.aspx?ctit=015175R
Smith, A. (2005). Una investigación sobre la naturaleza y las causas de la riqueza de las naciones. Madrid: Alianza Editorial.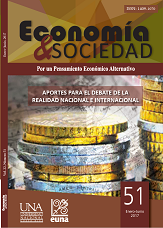 How to Cite
Cruz-Meléndez, C. (2017). Capitalist development and the inviability of the environmentalist approach. Economía Y Sociedad, 22(51), 1-20. https://doi.org/10.15359/eys.22-51.1
Section
Articles (Arbitrated section)
This publication is subject to the Creative Commons License; therefore, its attributions and restrictions must be respected.
Authors publishing in this Journal accept the following conditions:
Authors retain copyright ownership and give the Journal first publication right of the paper, which is registered with the Creative Commons Attribution-NonCommercial-ShareAlike 4.0 International License. This license allows third parties to use the published work provided it is sourced as firstly published in this Journal.
Authors may enter into other independent and additional contractual agreements for the non-exclusive distribution of the article published in this Journal (e.g., to be included in an institutional repository or published in a book) provided it is clearly stated that the work was published in this Journal for the first time.
Authors are allowed and recommended to publish their work on the Internet (for example, on institutional or personal pages) before and during the review and publication process, as it can lead to productive exchanges and a greater and faster dissemination of work published.
The Economía & Sociedad Journal, published by Universidad Nacional, is licensed under a Creative Commons Reconocimiento-NoComercial-CompartirIgual 4.0 Internacional License. Based on http://www.revistas.una.ac.cr/index.php/economia.