Políticas de la memoria: El levantamiento de 1932 en El Salvador
Abstract
Resumen
Este artículo analiza la cambiante memoria histórica del levantamiento comunista ocurrido en El Salvador en 1932. Las diferencias que se observan al comparar recuentos contemporáneos de los eventos y fuentes periodísticas de diferentes épocas, muestran el carácter maleable de las narrativas construidas para describir y explicar el levantamiento. El artículo muestra la relación entre variaciones en las narrativas y cambios en la situación sociopolítica de El Salvador.
Abstract
This article analyzes the ever-changing historic memory of the Communist uprising in El Salvador that took place in 1932. The dissimilarities observed when comparing the contemporary narration of events with the newspaper sources at different points in time, clearly evidence the malleable nature of the accounts created to describe and explain the revolt. This article highlights the existing connection between the variations in the narratives and the changes in the socio-political situation of El Salvador.
Downloads
Download data is not yet available.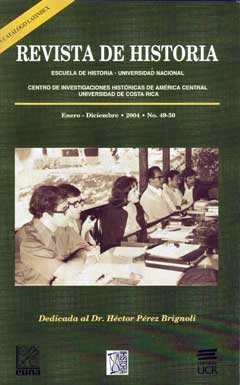 How to Cite
Lindo Fuentes, Héctor. 2004. "Políticas De La Memoria: El Levantamiento De 1932 En El Salvador". Revista De Historia, no. 49-50 (January), 287-316. https://www.revistas.una.ac.cr/index.php/historia/article/view/1789.
Section
Latin America (peer reviewed section)
Los autores que publican en esta revista están de acuerdo con los siguientes términos:
1. Los autores conservan los derechos de autor y garantizan a la revista el derecho de ser la primera publicación del trabajo bajo una Licencia Creative Commons Atribución-NoComercial-CompartirIgual 4.0 Internacional (https://creativecommons.org/licenses/by-nc-sa/4.0/) que permite a otros compartir el trabajo con un reconocimiento de la autoría del trabajo y la publicación inicial en esta revista (componente BY o atribución). Coincidente con la política de Acceso Abierto, no se podrán hacer usos comerciales de los contenidos publicados por esta revista (componente NC). Se permitirán las obras derivadas (remezcla, transformación o creación a partir de la obra original) siempre y cuando sean distribuidas bajo la misma licencia de la obra original (componente SA).
2. Los autores pueden establecer por separado acuerdos adicionales para la distribución no exclusiva de la versión original de la obra publicada en la revista (por ejemplo, situarlo en un repositorio institucional o publicarlo en un libro), siempre y cuando: a) sea reconocida la publicación original en esta revista (componente BY); b) no se haga uso del material de reuso con propósitos comerciales (componente NC); c) el material de reuso sea distribuido bajo la misma licencia de la obra original (componente SA).
3. Se permite y se anima a los autores a difundir sus trabajos electrónicamente (por ejemplo, en repositorios institucionales o en su propio sitio web) antes y durante el proceso de envío, ya que puede dar lugar a intercambios productivos, así como a una citación más temprana y mayor de los trabajos publicados (Véase The Effect of Open Access) (en inglés).