Primer reporte de parásitos gastrointestinales en Jirafas (<i>Giraffa camelopardalis reticulata</i>) de cautiverio, Guanacaste, Costa Rica
Esteban Palacios Quirós

Universidad Nacional Escuela de Medicina Veterinaria Laboratorio de Parasitología

Ana Eugenia Jiménez Rocha

Universidad Nacional Escuela de Medicina Veterinaria Laboratorio de Parasitología

Tania Pivovarova

Ponderosa Adventure Park Regente veterinaria
Palabras clave:
jirafas, parásitos gastrointestinales, Costa Rica
Resumen
La jirafa (Giraffa camelopardalis reticulata), es una especie de ungulado poligástrico, originario del continente africano cuyas poblaciones en cautiverio han aumentado de manera exponencial. Las enfermedades parasitarias se catalogan como una de las principales causas de mortalidad en esta especie.  El objetivo del presente trabajo fue determinar las especies y géneros de parásitos gastrointestinales (PGI) en jirafas de cautiverio en Guanacaste, Costa Rica. Se analizó en total 37 muestras de heces de 10 jirafas procedentes de un centro turístico. Las cuales se recolectaron de enero a mayo del 2017 en cuatro muestreos, excepto a una de ellas, nacida durante el estudio. El muestreo se realizó al momento de la defecación. Las heces fueron transportadas en frío a una temperatura de ≈4 oC, y remitidas al Laboratorio de Parasitología de la Escuela de Medicina Veterinaria de la Universidad Nacional. Las muestras fueron procesadas por técnicas coprológicas (Sheather, y sedimentación) para determinar la presencia de huevos de nematodos, trematodos y cestodos; inmunológicas (FasTest® Crypto-Giardia Strip), para detectar parásitos zoonóticos como Cryptosporidium parvum y Giardia duodenalis; McMaster para determinar la carga parasitaria (huevos por gramos de heces= HPG) del grupo Strongylida y el coprocultivo para determinar el porcentaje de larvas infectantes (L3). El 100 % de las jirafas analizadas fueron positivas a PGI, teniendo toda la población parásitos del grupo Strongylida. Las L3 identificadas correspondieron a 100 % Haemonchus spp., 10 % Cooperia spp. y 20 % Strongyloides papillosus.  No se encontraron PGI zoonóticos. El rango de HPG fluctuó de  < 50 a 625. El porcentaje de larvas infectantes del grupo Strongylida identificadas por coprocultivo fue 100 % (10/10) de Haemonchus spp. y 10 % (1/10) de Cooperia spp. Únicamente una jirafa tuvo infección mixta por Haemonchus y Cooperia. Este estudio representa el primer reporte de la presencia de PGI en jirafas de Costa Rica, y es el primero que identifica Cooperia spp. y Strongyloides papillosus en el nivel mundial.


Citas
Bengis, R.G, Odening, K., Stolte, M., Quandt, S., & Bockhardt, I. 1998. Three new Sarcocystis species: S. giraffae, S. klaseriensis, S. camelopardalis, from the giraffe in South Africa. Journal of Parasitology 84(3): 562-565. doi: 10.2307/3284724
Bertelsen, M.F., Østergaard, K., Monrad, J., Brøndum, E.T., & Baandrup, U. 2009. Monodontella giraffae Infection in Wild-caught Southern Giraffes (Giraffa camelopardalis giraffa). Journal of Wildlife Diseases 45(4):1227-1230. doi: doi.org/10.7589/0090-3558-45.4.1227
Bozkurt, M.F., Alcigir, M.E., Yumusak, N., Kaya, A., Coskan, A.S. & Kutsal, O. 2009. Hydatid cysts on lungs of two african giraffe. International, Sciences Conferences. Stara Zagora, Bulgaria.
Chakraborty, A. 1994. Occurrence and pathology of Gongylonema infection in captive wild herbivores. Veterinary Parasitology 52(1-2): 163-167. doi: doi.org/10.1016/0304-4017(94)90047-7
Delgado, E., Fonseca, I.P., Fazendeiro, I., Matos, O., Antunes, F., & Cunha, M. 2003. Cryptosporidium spp. in ruminants at the Lisbon zoo. Journal of Zoo and Wildlife Medicine 34(4): 352-356. doi: doi.org/10.1638/02-049
Elsheika, H., & Khan, N. 2011. Essentials of Veterinary Parasitology. Ed. University of Nottingham. United Kingdom.
Fukomoto, S., Uchida, T., Ohbayashi, M., Ikebe, Y., & Sasano, S. 1996. A new host record of Camelostrongylus mentulatus (Nematoda; Trichostrongyloidea) form abomasum of a Giraffe at a Zoo in Japan. Journal of Veterinary Medical Sciences. 58(12):1223-1225. doi: doi.org/10.1292/jvms.58.12_1223
Gómez, M. S., Vila, T., Feliu, C., Montoliu, I., Gracenea, M., & Fernández, J. 1996. A Survey for Cryptosporidium spp. in mammals at the Barcelona Zoo. International Journal for Parasitology 26(11): 1331-1333. doi: doi.org/10.1016/S0020-7519(96)00104-X
Goossens, E., Dorny, P., Boomker, J., Vercammen, F., & Vercruysse, J. 2005. A 12- month survey of the gastrointestinal helmints of antelopes, gazelles and giraffids kept at two zoos in Belgium. Veterinary Parasitology 127(3-4): 303-312. doi: doi.org/10.1016/j.vetpar.2004.10.013
Jiménez, A. E., Montenegro, V. M., Hernández, J., Dolz, G., Maranda, L., Galindo, J., Epe, C., & Schnieder, T. 2007. Dynamics in infection with gastrointestinal parasites and Dictyocaulus viviparous in dairy and beef cattle from Costa Rica. Veterinary Parasitology 148(3-4): 262-271. doi: doi.org/10.1016/j.vetpar.2007.06.015
Jiménez, A. E., Fernández, A., Alfaro, R., Dolz, G., Vargas, B., Epe, C., & Schnieder, T. 2010. A cross- sectional survey of gastrointestinal parasites with dispersal stages in feces from Costa Rica dairy cattle. Veterinary Parasitology 173 (3-4): 236-246. doi: doi.org/10.1016/j.vetpar.2010.07.013
Kodádková, A., Kváč, M., Ditrich, O., Sak, B., & Xiao, L. 2010. Cryptosporidium muris in a Reticulated Giraffe (Giraffa camelopardalis reticulata). Journal of Parasitology. American Society of Parasitologists 96(1): 211-212. doi: doi.org/10.1645/GE-2212.1
Krecek, R. C., Boomker, J., Penzhorn, B. L., & Scheepers, L. 1990. Internal parasites of Giraffes (Giraffa camelopardalis angolensis) from Etosha National Park, Namibia. Journal of Wildlife Diseases 26(3): 395-397. doi: doi.org/10.7589/0090-3558-26.3.395
Lim, Y. A. L., Ngui, R., Shukri, J., Rohela, M., & Mat Naim, H. R. 2008. Intestinal parasites in various animals at zoo in Malaysia. Veterinary Parasitology 157: 154-159. doi: doi.org/10.1016/j.vetpar.2008.07.015
Matsubayashi, M., Takami, K., Kimata, I., Nakanishi, T., Hiroyuki, T., Sasai, K., & Baba, E. 2005. Survey of Cryptosporodium spp. and Giardia spp. infections in various animals at a zoo in Japan. Journal of Zoo and Wildlife Medicine 36(2): 331-335. doi: doi.org/10.1638/04-032.1
Ming, Z., Zhang, L., & Zhang, L. 2010. Redescription of Monodontella giraffae Yorke et Maplestone, 1926 (Nematoda, Ancylostomatidae) from a giraffe, Giraffa camelopardalis, from Zoo in China, with a discussion on the taxonomic status of Monodontella. Acta Parasitológica 55(1): 66-70. doi: doi.org/10.2478/s11686-010-0012-8
Mukul-Yerves, J. M., Zapata-Escobedo, M. R., Montes-Pérez, R. C., Rodríguez-Vivas, R. I. & Torres-Acosta, J. F. 2014. Parásitos gastrointestinales y ectoparásitos de ungulados silvestres en condiciones de vida libre y cautiverio el trópico mexicano. Revista Mexicana de Ciencias Pecuarias 5(4): 459-469.
Nosal, P., Kowal, J., Kornas, S., Wyrobisz, A., Skotnicki, J., Basiaga, M. & Plucińska, N. E. 2016. Endoparasites of exotic ungulates from the Girraffidae and Camelidae families kept ex situ. Annals of Parasitology 62(1): 67-70. doi: doi.org/10.17420/ap6201.34
Pato, F. J., Vázquez, L., Díez-Baños, N., López, C., Sánchez-Andrade, R., Fernández, G., Díez-Baños, P., Panadero, R., Díaz, P. & Morrondo, P. 2013. Gastrointestinal nematode infections in roe deer (Capreolus capreolus) from the NW of the Iberian Peninsula: Assessment of some risk factors. Veterinary Parasitology 196(1-2): 136-142. doi: doi.org/10.1016/j.vetpar.2013.01.027
Rojas, J. 2008. Resistencia de Haemonchus spp., Trichostrongylus spp., de los bovinos a benzimidazoles (Febendazol, Abendazol), e imidazotiazoles (Levamisol), en los Fundos de la campiña de Cajamarca, Perú. Ed. Universidad de Lima, Perú.
Shorroks, B. 2016. The Giraffe: biology, ecology, evolution and behavior. Ed. Offices. Oxford, United Kingdom.
Sloss, M., Kemp, R. & Zajac, A. 1995. Veterinary clinical parasitology. 6th. Ed. Ames. Iowa. United States of America.
Tadros, G. 1964. On Chabertiella pesteri gen. et sp. nov. (Cyathostomidae) from a Giraffe and on the Validity of Chabertia rishati Akhtar. Journal of Helminthology 1(2): 109-116.
Taylor, M., Coop., R., & Wall, R. 2015. Veterinary Parasitology. 4th. Ed. Wiley Blackwell. N. Jersey, U.S.A.
Toro, A., Rubilar, L., Palma, C., & Pérez, R. 2014. Resistencia antihelmíntica en nematodos gastrointestinales de ovinos tratados con ivermectina y febendazol. Archivos de Medicina Veterinaria 46: 247-252. doi: doi.org/10.4067/S0301-732X2014000200010
Walker, M. L., & Becklund, W. W. 1971. Occurrence of a cattle eyeworm, Thelazia gulosa (Nematoda: Thelaziidae), in an imported Giraffe in California and T. lacrymalis in a native horse in Maryland. The Journal of Parasitology 57(6): 1362-1363. doi: 10.2307/3278000
Walker, J. G., Evans, K. E., Vineer, H. R., Van Wyk, J. A. & Morgan, E. R. 2018. Prediction and attenuation of seasonal spillover of parasites between wild and domestic ungulates in an arid mixed-use system. Journal of Applied Ecology: 1-11. doi: doi.org/10.1111/1365-2664.13083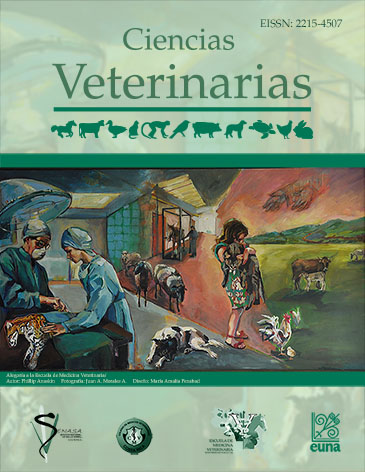 Cómo citar
Palacios Quirós, E., Jiménez Rocha, A., & Pivovarova, T. (2018). Primer reporte de parásitos gastrointestinales en Jirafas (<i>Giraffa camelopardalis reticulata</i&gt;) de cautiverio, Guanacaste, Costa Rica. Ciencias Veterinarias, 36(1), 27-34. https://doi.org/10.15359/rcv.36-1.3
Sección
Artículos -sección arbitrada, pares doble ciego-
Licenciamiento de los artículos
Todo artículo se publicará con una licencia:

Licencia Creative Commons Atribución-NoComercial-SinDerivadas 3.0 Costa Rica.
El acceso a esta revista es gratuito, solo se debe citar en forma completa el artículo y la revista.
Los derechos de propiedad intelectual son del autor. Una vez aceptado el artículo para su publicación el autor cede a la Revista los derechos de reproducción.
La Revista de Ciencias Veterinarias autoriza la impresión de artículos y fotocopias para uso personal. También, se promueve el uso para fines educacionales. Especialmente: instituciones podrán crear enlaces a artículos específicos que se encuentren en el servidor de la revista a fin de conformar paquetes de cursos, seminarios o como material de instrucción.
El autor puede colocar una copia de la versión definitiva en su servidor aunque se recomienda que mantenga un enlace al servidor de la revista donde está el artículo original.
Las violaciones de propiedad intelectual recaen sobre quien la realizó. No es responsable la empresa o institución que da acceso a los contenidos, ya sea porque actúa sólo como transmisora de información (por ejemplo, proveedores de acceso a Internet) o porque ofrece servicios públicos de servidores.