Rinitis piogranulomatosa asociada a <i>Conidiobolus coronatus</i> en un caballo: reporte de caso
Daniel Barrantes-Murillo

Universidad Nacional Escuela de Medicina Veterinaria Departamento de Patología

Javier Coen-Alfaro

Diagnóstico Albéitar Laboratorio Clínico Veterinario

Alejandra Calderón

Universidad Nacional Escuela de Medicina Veterinaria Laboratorio de Micología

Andrés Rodríguez-González

Hospital Veterinario Intensivet

Alejandro Alfaro-Alarcón

Universidad Nacional Escuela de Medicina Veterinaria Departamento de Patología
Palabras clave:
Conidiobolus coronatus, conidiobolomicosis, equino, rinitis piogranulomatosa
Resumen
Un equino, sin raza definida, hembra, de 6 años de edad, de San Rafael de Alajuela, presentaba disnea y descarga nasal bilateral de aspecto seroso y turbio, asociado a una masa irregular en el septo nasal que obstruía parcialmente las vías respiratorias superiores. Los hallazgos del cultivo, citología e histopatología determinaron que el agente causal de las lesiones era Conidiobolus coronatus. La conidiobolomicosis es una enfermedad subcutánea, piogranulomatosa, sin diseminación sistémica, que afecta la cavidad nasal en equinos. Posterior al debridamiento quirúrgico de la masa, el animal fue tratado con yoduro de sodio intravenoso, por varias semanas. Tres meses después de este procedimiento, no hubo recidiva de la lesión.


Citas
Bauer, R.W., Lemarié, S.L. & Roy, A.F. 1997. Case Report Oral conidiobolomicosis in a Dog. Veterinary Dermatology. 8: 115-120.
Berrocal, A. & López, A. 2007. Nasal rhinosporidiosis in a mule. Can Vet J. 48: 305–306.
Bourdeau, P. 2009. Dermatomycoses, Subcutaneous In: Lavoie, J.P. & Hinchcliff, K. (2nd Ed). Blackwell`s Five Minute Veterinary Consult: Equine. Blackwell Publishing, USA, p. 1659-1674.
Hartshorn, G.S. 1983. Plants. In: Janzen, D.H. (Ed.). Costa Rican Natural History. University of Chicago Press, Chicago, p. 118–157.
Cafarchia, C., Figueredo, L.A. & Domenico, O. 2013. Fungal Diseases in Horses. Vet. Microb. 167: 215-234. doi: 10.1016/j.vetmic.2013.01.015.
Costa, L.R.R. 2011. Zygomycosis in: Wilson, D.A. Clinical Veterinary Advisor: The Horse. Elsevier Saunders, USA, p. 657-659.
De Hoog G.S, Guarro J., Gené J. & Figueras M.J. 2000. Conidiobolus coronatus (Cost.) Batko. In: Atlas of Clinical fungi. (2nd Ed). Utrecht: Centraalbureau voor Schimmelcultures. pp. 119-120.
do Carmo, P.M.S., Portela, R.A., de Oliveira-Filho, J.C., Dantas, A.F.M., Simoes, S.V.D., Garino, F. Jr. & Riet-Correa, F. 2013. Nasal and Cutaneous Aspergillosis in a Goat. J. Comp. Path.150 (1): 1-4. doi: 10.1016/j.jcpa.2013.06.007.
Dowling, B.A., Dart, A.J., Kessell, A.E., Pascoe, R.R. & Hodgson, D.R. 1999.Cutaneous phycomycosis in two horses. Aust. Vet. J. 77 (12): 780-783.
French, R.A. & Ashworth, C.D. 1994. Zygomicosis Caused by Conidiobolus coronatus in a Llama (Lama glama). Vet. Path. 31: 120-122.
Grooters, A.M. 2014. Pythiosis and Zygomycosis In: Equine Infectious Diseases. (2nd ed). Saunders Elsevier, USA. p.415-421.
Hart, S.K. & Sullins, K.E.2010. Evaluation of a novel postoperative treatment of sinonasal disease in the horse (1996-2007). Equin. Vet. J. 43 (1): 24-29. doi: 10.1111/j.2042-3306.2010.00133.x.
Konerek, N.L., Legendre, A.M., Andrews, F.M., Blackford, J.T., Wan, P.Y., Breider, M.A. & Rinaldi, M.G. 1994. Treatment of Mycotic Rhinitis with Itraconazole in Three Horses. J. Vet. Intern. Med. 8 (3): 224-227.
Kwon-Chung, K.J. 2012. Taxonomy of Fungi Causing Mucormycosis and Entomophtoramycosis (Zygomycosis) and Nomenclature of the Disease: Molecular Mycologic Perspectives. Clin. Infec. Dis. 54(1): 8-15. DOI: 10.1093/cid/cir864.
Larone D.H. 2011. Conidiobolus coronatus In: Medically Important Fungi. A guide to identification. 5th Ed. ASM Press: Washington DC, USA. p.188.
Mackey, P.E., Cappe, K.G., Mani, R., Rothenburg, L., Sutton, D.A., Wiederhold, N.P., Lindner, J., Ramachandran, A., Wall, C.R. & Snider, T. 2015. Disseminated Condiobolus incongruous in a dog: A case report and literature review. Med. Myc. Cas. Rep. 8: 24-28. doi: 10.1016/j.mmcr.2015.02.005.
Mendoza, L. 1984. Ficomicosis in: Figueroa, M. Enfermedades infecciosas de los animales domésticos en Centroamérica. EUNED, Costa Rica, p. 542-545.
Mendoza L, & Alfaro, A. 1985. Equine Subcutaneous Zygomycosis in Costa Rica: Subkutane Zygomykose bei Pferden in Costa Rica. Mycoses. 28 (11): 545–549. DOI: 10.1111/j.1439-0507.1985.tb02084.x
Mendoza, L., Vilela, R., Voelz, K., Ibrahim, A.S., Voigt, K. & Chan-Lee, S. 2015. Human Fungal Pathogens of Mucorales and Entomophthorales in: Casadevall, A., Mitchell, A.P., Berman, J., Kwon-Chung, K.J., Perfect, J.R. & Heitman, J. Human Fungal Pathogens. Cold Spring Harbor, New York; Perspective in Medicine, p.483-515.
Miller, R.I. & Campbell, R.S.F. 1984. The Comparative Pathology of Equine Cutaneous Phycomycosis. Vet. Path. 21: 325-332.
Miller, M. 2016. Introduction to the Diagnostic Process in: Maxie, G. (6th Ed.). Jubb, Kennedy & Palmer's Pathology of Domestic Animals, Volume 1. Saunders Elsevier. China. p. 1-15.
Robinson, C.S., Robertson, J.T., Reed, S.M. & Pinchbeck, L.R.2007. Case Report: Treatment of a mare for Conidiobolus coronatus infection. Equine Vet. Educ. 19 (8): 396-403. doi: 10.2746/095777307X220452.
Rodríguez, J. 1998. Micología Médica. Editorial Universidad de Costa Rica, San José. p. 280-283.
Schumacher, J. & Schumacher, J. 2007. Clinical Comentary: Conidioblomycosis. Equine. Vet. Educ. 19 (8): 405-406. doi: 10.2746/095777307X233566.
Schwarz, B., Burford, J. & Knottenbelt, D. 2009. Cutaneous fungal granuloma in a horse. Journal Compilation ESVD and ACVD. 20: 131-134. DOI: 10.1111/j.1365-3164.2008.00719.x.
Silva, S.M.M.S., Castro, R.S., Costa, F.A.L., Vasconcelos, A.C., Batista, M.C.S., Riet-Correa, F. & Carvalho, E.M.S. 2007. Conidiobolomycosis in Sheep in Brazil. Vet. Path. 44: 314-319.
Steiger, R.R. & Williams, M.A. 2000. Granulomatous Tracheitis Caused by Conidiobolus coronatus in a Horse. J. Vet. Intern. Med. 14: 311-314.
Stephens, C.P. & Gibson, J.A. 1997. Disseminated zygomycosis caused by Conidiobolus incongruus in a deer. Aust. Vet. J. 75 (5): 358-359.
Ubiali, D.G., Cruz, R.A.S., De Paula, D.A.J., Silva, M.C., Mendonça, F.S., Dutra, V., Nakazato, L., Colodel, E.M. & Pescador, C.A. 2013. Pathology of Nasal Infection Caused by Conidiobolus lamprauges and Pythium insidiosum in Sheep. J. Comp. Path. 149: 137-145. doi: 10.1016/j.jcpa.2012.12.002.
Vilela, R., Silva, S.M.S., Riet-Correa, F., Dominguez, E. & Mendoza, L. 2010. Morphologic and Phylogenetic Characterization of Conidiobolus lamprauges Recovered from Infected Sheep. J. of Clinic. Microb. 48 (2): 427-432. doi: 10.1128/JCM.01589-09.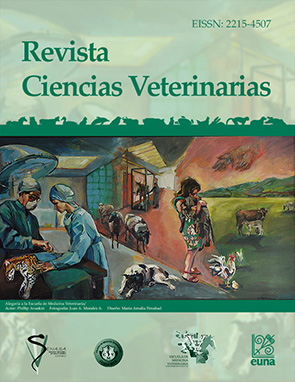 Cómo citar
Barrantes-Murillo, D., Coen-Alfaro, J., Calderón, A., Rodríguez-González, A., & Alfaro-Alarcón, A. (2017). Rinitis piogranulomatosa asociada a <i>Conidiobolus coronatus</i&gt; en un caballo: reporte de caso. Ciencias Veterinarias, 34(2), 115-127. https://doi.org/10.15359/rcv.34-2.5
Sección
Artículos -sección arbitrada, pares doble ciego-
Licenciamiento de los artículos
Todo artículo se publicará con una licencia:

Licencia Creative Commons Atribución-NoComercial-SinDerivadas 3.0 Costa Rica.
El acceso a esta revista es gratuito, solo se debe citar en forma completa el artículo y la revista.
Los derechos de propiedad intelectual son del autor. Una vez aceptado el artículo para su publicación el autor cede a la Revista los derechos de reproducción.
La Revista de Ciencias Veterinarias autoriza la impresión de artículos y fotocopias para uso personal. También, se promueve el uso para fines educacionales. Especialmente: instituciones podrán crear enlaces a artículos específicos que se encuentren en el servidor de la revista a fin de conformar paquetes de cursos, seminarios o como material de instrucción.
El autor puede colocar una copia de la versión definitiva en su servidor aunque se recomienda que mantenga un enlace al servidor de la revista donde está el artículo original.
Las violaciones de propiedad intelectual recaen sobre quien la realizó. No es responsable la empresa o institución que da acceso a los contenidos, ya sea porque actúa sólo como transmisora de información (por ejemplo, proveedores de acceso a Internet) o porque ofrece servicios públicos de servidores.
Artículos más leídos del mismo autor/a