Pyogranulomatous rhinitis associated to <i>Conidiobolus coronatus</i> in a horse: a case report
Daniel Barrantes-Murillo

Universidad Nacional Escuela de Medicina Veterinaria Departamento de Patología, Costa Rica

Javier Coen-Alfaro

Diagnóstico Albéitar Laboratorio Clínico Veterinario, Costa Rica

Alejandra Calderón

Universidad Nacional Escuela de Medicina Veterinaria Laboratorio de Micología, Costa Rica

Andrés Rodríguez-González

Hospital Veterinario Intensivet, Costa Rica

Alejandro Alfaro-Alarcón

Universidad Nacional Escuela de Medicina Veterinaria Departamento de Patología, Costa Rica
Keywords:
Conidiobolus coronatus, conidiobolomycosis, equine, pyogranulomatous rhinitis
Abstract
A 6-year-old mixed breed female horse from San Rafael, Alajuela, Costa Rica was treated from bilateral turbid and serous nasal discharge related to an irregular mass in the nasal septum that was partially obstructing the upper respiratory tract. Findings related to the mycological culture, cytology and histopathology determined that Conidiobolus coronatus was the underlying infectious agent. Conidiobolomycosis is a pyogranulomatous subcutaneous disease, without systemic spread, that affects the nasal cavity in horses. After surgical debridement of the mass, the animal was treated with intravenous sodium iodide for several weeks. Three months after the procedure no recurrence of the lesion was detected.


References
Bauer, R.W., Lemarié, S.L. & Roy, A.F. 1997. Case Report Oral conidiobolomicosis in a Dog. Veterinary Dermatology. 8: 115-120.
Berrocal, A. & López, A. 2007. Nasal rhinosporidiosis in a mule. Can Vet J. 48: 305–306.
Bourdeau, P. 2009. Dermatomycoses, Subcutaneous In: Lavoie, J.P. & Hinchcliff, K. (2nd Ed). Blackwell`s Five Minute Veterinary Consult: Equine. Blackwell Publishing, USA, p. 1659-1674.
Hartshorn, G.S. 1983. Plants. In: Janzen, D.H. (Ed.). Costa Rican Natural History. University of Chicago Press, Chicago, p. 118–157.
Cafarchia, C., Figueredo, L.A. & Domenico, O. 2013. Fungal Diseases in Horses. Vet. Microb. 167: 215-234. doi: 10.1016/j.vetmic.2013.01.015.
Costa, L.R.R. 2011. Zygomycosis in: Wilson, D.A. Clinical Veterinary Advisor: The Horse. Elsevier Saunders, USA, p. 657-659.
De Hoog G.S, Guarro J., Gené J. & Figueras M.J. 2000. Conidiobolus coronatus (Cost.) Batko. In: Atlas of Clinical fungi. (2nd Ed). Utrecht: Centraalbureau voor Schimmelcultures. pp. 119-120.
do Carmo, P.M.S., Portela, R.A., de Oliveira-Filho, J.C., Dantas, A.F.M., Simoes, S.V.D., Garino, F. Jr. & Riet-Correa, F. 2013. Nasal and Cutaneous Aspergillosis in a Goat. J. Comp. Path.150 (1): 1-4. doi: 10.1016/j.jcpa.2013.06.007.
Dowling, B.A., Dart, A.J., Kessell, A.E., Pascoe, R.R. & Hodgson, D.R. 1999.Cutaneous phycomycosis in two horses. Aust. Vet. J. 77 (12): 780-783.
French, R.A. & Ashworth, C.D. 1994. Zygomicosis Caused by Conidiobolus coronatus in a Llama (Lama glama). Vet. Path. 31: 120-122.
Grooters, A.M. 2014. Pythiosis and Zygomycosis In: Equine Infectious Diseases. (2nd ed). Saunders Elsevier, USA. p.415-421.
Hart, S.K. & Sullins, K.E.2010. Evaluation of a novel postoperative treatment of sinonasal disease in the horse (1996-2007). Equin. Vet. J. 43 (1): 24-29. doi: 10.1111/j.2042-3306.2010.00133.x.
Konerek, N.L., Legendre, A.M., Andrews, F.M., Blackford, J.T., Wan, P.Y., Breider, M.A. & Rinaldi, M.G. 1994. Treatment of Mycotic Rhinitis with Itraconazole in Three Horses. J. Vet. Intern. Med. 8 (3): 224-227.
Kwon-Chung, K.J. 2012. Taxonomy of Fungi Causing Mucormycosis and Entomophtoramycosis (Zygomycosis) and Nomenclature of the Disease: Molecular Mycologic Perspectives. Clin. Infec. Dis. 54(1): 8-15. DOI: 10.1093/cid/cir864.
Larone D.H. 2011. Conidiobolus coronatus In: Medically Important Fungi. A guide to identification. 5th Ed. ASM Press: Washington DC, USA. p.188.
Mackey, P.E., Cappe, K.G., Mani, R., Rothenburg, L., Sutton, D.A., Wiederhold, N.P., Lindner, J., Ramachandran, A., Wall, C.R. & Snider, T. 2015. Disseminated Condiobolus incongruous in a dog: A case report and literature review. Med. Myc. Cas. Rep. 8: 24-28. doi: 10.1016/j.mmcr.2015.02.005.
Mendoza, L. 1984. Ficomicosis in: Figueroa, M. Enfermedades infecciosas de los animales domésticos en Centroamérica. EUNED, Costa Rica, p. 542-545.
Mendoza L, & Alfaro, A. 1985. Equine Subcutaneous Zygomycosis in Costa Rica: Subkutane Zygomykose bei Pferden in Costa Rica. Mycoses. 28 (11): 545–549. DOI: 10.1111/j.1439-0507.1985.tb02084.x
Mendoza, L., Vilela, R., Voelz, K., Ibrahim, A.S., Voigt, K. & Chan-Lee, S. 2015. Human Fungal Pathogens of Mucorales and Entomophthorales in: Casadevall, A., Mitchell, A.P., Berman, J., Kwon-Chung, K.J., Perfect, J.R. & Heitman, J. Human Fungal Pathogens. Cold Spring Harbor, New York; Perspective in Medicine, p.483-515.
Miller, R.I. & Campbell, R.S.F. 1984. The Comparative Pathology of Equine Cutaneous Phycomycosis. Vet. Path. 21: 325-332.
Miller, M. 2016. Introduction to the Diagnostic Process in: Maxie, G. (6th Ed.). Jubb, Kennedy & Palmer's Pathology of Domestic Animals, Volume 1. Saunders Elsevier. China. p. 1-15.
Robinson, C.S., Robertson, J.T., Reed, S.M. & Pinchbeck, L.R.2007. Case Report: Treatment of a mare for Conidiobolus coronatus infection. Equine Vet. Educ. 19 (8): 396-403. doi: 10.2746/095777307X220452.
Rodríguez, J. 1998. Micología Médica. Editorial Universidad de Costa Rica, San José. p. 280-283.
Schumacher, J. & Schumacher, J. 2007. Clinical Comentary: Conidioblomycosis. Equine. Vet. Educ. 19 (8): 405-406. doi: 10.2746/095777307X233566.
Schwarz, B., Burford, J. & Knottenbelt, D. 2009. Cutaneous fungal granuloma in a horse. Journal Compilation ESVD and ACVD. 20: 131-134. DOI: 10.1111/j.1365-3164.2008.00719.x.
Silva, S.M.M.S., Castro, R.S., Costa, F.A.L., Vasconcelos, A.C., Batista, M.C.S., Riet-Correa, F. & Carvalho, E.M.S. 2007. Conidiobolomycosis in Sheep in Brazil. Vet. Path. 44: 314-319.
Steiger, R.R. & Williams, M.A. 2000. Granulomatous Tracheitis Caused by Conidiobolus coronatus in a Horse. J. Vet. Intern. Med. 14: 311-314.
Stephens, C.P. & Gibson, J.A. 1997. Disseminated zygomycosis caused by Conidiobolus incongruus in a deer. Aust. Vet. J. 75 (5): 358-359.
Ubiali, D.G., Cruz, R.A.S., De Paula, D.A.J., Silva, M.C., Mendonça, F.S., Dutra, V., Nakazato, L., Colodel, E.M. & Pescador, C.A. 2013. Pathology of Nasal Infection Caused by Conidiobolus lamprauges and Pythium insidiosum in Sheep. J. Comp. Path. 149: 137-145. doi: 10.1016/j.jcpa.2012.12.002.
Vilela, R., Silva, S.M.S., Riet-Correa, F., Dominguez, E. & Mendoza, L. 2010. Morphologic and Phylogenetic Characterization of Conidiobolus lamprauges Recovered from Infected Sheep. J. of Clinic. Microb. 48 (2): 427-432. doi: 10.1128/JCM.01589-09.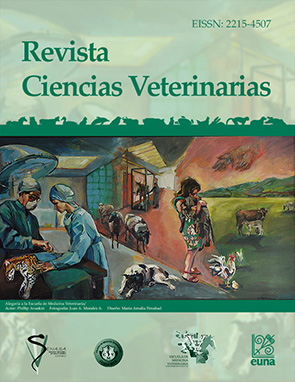 How to Cite
Barrantes-Murillo, D., Coen-Alfaro, J., Calderón, A., Rodríguez-González, A., & Alfaro-Alarcón, A. (2017). Pyogranulomatous rhinitis associated to <i>Conidiobolus coronatus</i&gt; in a horse: a case report. Ciencias Veterinarias, 34(2), 115-127. https://doi.org/10.15359/rcv.34-2.5
Licensing of articles
All articles will be published under a license:

Licencia Creative Commons Atribución-NoComercial-SinDerivadas 3.0 Costa Rica.
Access to this journal is free of charge, only the article and the journal must be cited in full.
Intellectual property rights belong to the author. Once the article has been accepted for publication, the author assigns the reproduction rights to the Journal.
Ciencias Veterinarias Journal authorizes the printing of articles and photocopies for personal use. Also, the use for educational purposes is encouraged. Especially: institutions may create links to specific articles found in the journal's server in order to make up course packages, seminars or as instructional material.
The author may place a copy of the final version on his or her server, although it is recommended that a link be maintained to the journal's server where the original article is located.
Intellectual property violations are the responsibility of the author. The company or institution that provides access to the contents, either because it acts only as a transmitter of information (for example, Internet access providers) or because it offers public server services, is not responsible.
Most read articles by the same author(s)