<i>Baylisascaris procyonis</i> un nemátodo del mapache urbano, agente zoonótico emergente por considerar como diagnóstico diferencial de larva migrans en Costa Rica. Revisión
Mario Baldi

Universidad Nacional Programa de Investigación en Enfermedades Tropicales; Instituto de Salud Pública

Martha Piche

Programa de Investigación en Enfermedades Tropicales

Mario Romero

Universidad Nacional Programa de Investigación en Enfermedades Tropicales

Sabine Elisabeth Hutter

Universidad Veterinaria de Viena Instituto de Salud Pública

Víctor Montenegro

Universidad Nacional Escuela de Medicina Veterinaria Laboratorio de Parasitología

Chris Walzer

Universidad Veterinaria de Viena Instituto de Ecología y Vida Silvestre
Palabras clave:
Mapaches, Baylisascaris procyonis, Salud Pública, Salud Animal, Larva migrans
Resumen
El ascaridio Baylisascaris procyonis es un agente parasitario de importancia para la salud pública, siendo su huésped definitivo el mapache común (Procyon lotor). Un nuevo informe alerta sobre la presencia de estas lombrices en poblaciones de mapaches en la zona urbana de Costa Rica, y hace énfasis en la necesidad de conocer más sobre este parásito, su ciclo de vida y cómo prevenir su transmisión en humanos y animales domésticos. Esta comunicación es una breve revisión sobre los aspectos más importantes de este nematodo y sus efectos negativos en la salud animal y pública.  Además, se hace hincapié en los mejores métodos de diagnóstico etiológico y los más apropiados para animales domésticos, así como el tratamiento y la prevención en perros. El presente artículo pretende formar conciencia en los trabajadores de la salud pública y animal sobre la necesidad de tomar el Bayliascaris procyonis dentro de su diagnóstico diferencial de larvas migrantes en Costa Rica.


Citas
Anderson R.C., Chabaud A.G. & Willmott S.: Keys to the Nematode Parasites of Vertebrates. Archival Volume. CAB International, Wallingford (UK); 2009: 463. ISBN-13: 978-1-84593-572-6.
Baldi M., Alvarado G., Smith S., Santoro, M., Bolaños, N., Jiménez, C., Hutter, S. E., & C. Walzer, C. 2016. Baylisascaris procyonis Parasites in Raccoons, Costa Rica, 2014. Emerging Infectious Diseases. 22(8):1502-1503. doi:10.3201/eid2208.151627.
Bauer C. 2013. Baylisascariosis—Infections of animals and humans with 'unusual' roundworms. Veterinary Parasitology. Volume 193(4): 404–412. doi./10.1016/j.vetpar.2012.12.036.
Bowman D.D. 2000. Baylisascaris Procyonis in Dogs. In: Companion and Exotic Animal Parasitology, Bowman D.D. (Ed.). International Veterinary Information Service. Disponible en: http://www.ivis.org/advances/Parasit_Bowman/bowman_baylisascariasis/ivis.pdf
Bowman D.D., Ulrich M.A., Gregory D.E., Neumann N.R., Legg W. & Stansfield D. 2005. Treatment of Baylisascaris procyonis infections in dogs with milbemycin oxime. Parasitology 129(3-4): 285-90. doi./10.1016/j.vetpar.2004.02.030.
Calderón S., De Oliveira J., Hernández, J., Jiménez, M. & Muñoz P. 2008. Parásitos gastrointestinales en caninos menores de seis meses comercializados en tiendas de mascotas de la Gran Área Metropolitana de Costa Rica. Ciencias Veterinarias 26(1): 21–35. Disponible en : http://www.revistas.una.ac.cr/index.php/veterinaria/article/view/4682
Conover, Michael R. Resolving human-wildlife conflicts. 2001.The science of wildlife damage management / Michael Conover. Boca Raton, Fla.: Lewis Publishers.. ISBN: 978-1-56670-538-7.
Dangoudoubiyam, S., Ramesh V., and K. R. Kazacos. 2009. "PCR Assays for Detection of Baylisascaris Procyonis Eggs and Larvae." The Journal of parasitology. 95(3): 571–77. doi: 10.1645/GE-1905.1.
Fitzgerald, S. D., M. R. White, and K. R. Kazacos. 1991. "Encephalitis in Two Porcupines Due to Baylisascaris Larval Migration". Journal of Veterinary Diagnostic Investigation 3(4): 359–62. doi:10.1177/104063879100300421.
Franssen, F. K. Xie, H.Sprong, and J.van der Giessen. 2013. "Molecular Analysis of Baylisascaris Columnaris Revealed Mitochondrial and Nuclear Polymorphisms".. Parasites & vectors 6: 124. doi: 10.1186/1756-3305-6-124.
Gavin, P.J; K. R. Kazacos, S.T. Shulman, and Gavin .T. E. 2005. "Baylisascariasis". Clinical microbiology reviews.18(4): 703–18. doi: 10.1128/CMR.18.4.703-718.2005.
Graeff-Teixeira, C.; A. L. Morassutti, and K. R. Kazacos. 2016. "Update on Baylisascariasis, a Highly Pathogenic Zoonotic Infection." Clinical Microbiology Reviews 29(2). doi: 10.1128/CMR.00044-15.
Hirsch, Ben T, S. Prange, S. a Hauver, and S. D. Gehrt. 2014. "Patterns of Latrine Use by Raccoons (Procyon Lotor) and Implication for Baylisascaris Procyonis Transmission." Journal of wildlife diseases. 50(2): 243–49. doi: 10.7589/2013-09-251.
Kazacos, K R, and J J Turek. 1982. "Scanning Electron Microscopy of the Labia of Baylisascaris Procyonis (Nematoda)." The Journal of parasitology 68(4): 634–41. doi: DOI: 10.2307/3280921
Kazacos, K.R. 2001. "Baylisascaris Procyonis and Related Species." In Parasitic Diseases of Wild Mammals, WM Samuel, MJ Pybus, and AA Kocan (Eds.). Iowa State University Press, Ames, Iowa (2001): 301-341. ISBN-081382978X.
Kazacos, K. R. 2006. "Unusual Fecal Parasite in a Dog." applied cytology: 3–5. Disponible en: http://www.cliniciansbrief.com/column/applied-cytology/unusual-fecal-parasite-dog.
Murray, William J.; Kazacos, Kevin R. 2004. Raccoon roundworm encephalitis. In Clinical infectious diseases: an official publication of the Infectious Diseases Society of America 39 (10), pp. 1484-1492. doi: 10.1086/425364.
Navares, V. 2014. "Distribución Potencial de La Ocurrencia Del Conflicto Ser Humano-Mapache Norteño (Procyon Lotor) y La Percepción de Los Pobladores Afectados de La Gran Área Metropolitana de Costa Rica." Universidad Nacional de Costa Rica.
Page, L K, R K Swihart, and K R Kazacos. 1999. "Implications of Raccoon Latrines in the Epizootiology of Baylisascariasis." Journal of wildlife diseases 35(3): 474–80. doi: 10.7589/0090-3558-35.3.474.
Paquet-Durand, I. Hernández J., Dolz, G., Romero, J.J., Schbieder, T., Epe, C. 2007. "Prevalence of Toxocara Spp., Toxascaris Leonina and Ancylostomidae in Public Parks and Beaches in Different Climate Zones of Costa Rica." Acta Tropica 104(1): 30–37. doi: 10.1016/j.actatropica.2007.06.011
Park, S. Y., Glaser C., Murray, W.J., Kazacos, K.R., Rowley H.A., Frederick, D.R., Bass, N. 2000. "Raccoon Roundworm ( Baylisascaris Procyonis ) Encephalitis : Case Report and Field Investigation". Pediatrics 106 (4) e1-5." Disponible en: http://pediatrics.aappublications.org/content/106/4/e56.long.
Peters, J. M., Madhavan V.L., Kazacos, K.R., Husson, P.N., Dagoudoubiyam, S., Soul, J.S. 2012. "Good Outcome with Early Empiric Treatment of Neural Larva Migrans due to Baylisascaris Procyonis." Pediatrics 129: e806–11. Disponible en: http://pediatrics.aappublications.org/content/129/3/e806.long?sso=1&sso_redirect_count=1&nfstatus=401&nftoken=00000000-0000-0000-0000-000000000000&nfstatusdescription=ERROR%3a+No+local+token
Roscoe, E. 1993. "Epizootiology new of canine raccoons distemper in New Jersey racoons". J Wildl Dis 29(3):390–395. Disponible en: http://www.jwildlifedis.org/toc/jwdi/29/3.
Roussere, G. P., Murray W.J., Raudenbush, C.B., Kutilek, M.J., levee, D.J., Kazacos, K. R. 2003. "Raccoon Roundworm Eggs near Homes and Risk for Larva Migrans Disease, California Communities." Emerging infectious diseases 9(12): 1516–22. doi: 10.3201/eid0912.030039
Saffra, N. A. et al. 2010. "Baylisascaris Procyonis Induced Diffuse Unilateral Subacute Neuroretinitis in New York City." Journal of neuroparasitology 1: 1–4. doi. 10.4303/jnp/N100401.
Shafir, S. C, F.J Sorvillo, T. Sorvillo, and M.L Eberhard. 2011. "Viability of Baylisascaris Procyonis Eggs." Emerging infectious diseases 17(7): 1293–95. doi: 10.3201/eid1707.101774.
Sorvillo, F., L.R. Ash, O. G. W. Berlin, and S. A. Morse. 2002. "Baylisascaris Procyonis: An Emerging Helminthic Zoonosis." Emerging infectious diseases 8(4): 355–59. doi: 10.3201/eid0804.010273.
Tokiwa, T, S. Nakamura, Taira, K., U. Yumi. 2014. "Baylisascaris Potosis N. Sp., a New Ascarid Nematode Isolated from Captive Kinkajou, Potos Flavus, from the Cooperative Republic of Guyana." Parasitology International (63): 591–96. doi: 10.1016/j.parint.2014.03.003.
Wise, M. E. Sorvillo, F.J., Shafir, S.C., Lawrence R.A., Berlin, O.G. 2005 "Severe and Fatal Central Nervous System Disease in Humans Caused by Baylisascaris Procyonis, the Common Roundworm of Raccoons: A Review of Current Literature." Microbes and Infection 7(2): 316–22. doi: 10.1016/j.micinf.2004.12.005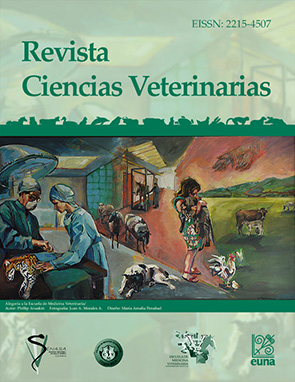 Cómo citar
Baldi, M., Piche, M., Romero, M., Hutter, S., Montenegro, V., & Walzer, C. (2017). <i>Baylisascaris procyonis</i&gt; un nemátodo del mapache urbano, agente zoonótico emergente por considerar como diagnóstico diferencial de larva migrans en Costa Rica. Revisión. Ciencias Veterinarias, 35(1), 33-41. https://doi.org/10.15359/rcv.35-1.2
Sección
Artículos -sección arbitrada, pares doble ciego-
Licenciamiento de los artículos
Todo artículo se publicará con una licencia:

Licencia Creative Commons Atribución-NoComercial-SinDerivadas 3.0 Costa Rica.
El acceso a esta revista es gratuito, solo se debe citar en forma completa el artículo y la revista.
Los derechos de propiedad intelectual son del autor. Una vez aceptado el artículo para su publicación el autor cede a la Revista los derechos de reproducción.
La Revista de Ciencias Veterinarias autoriza la impresión de artículos y fotocopias para uso personal. También, se promueve el uso para fines educacionales. Especialmente: instituciones podrán crear enlaces a artículos específicos que se encuentren en el servidor de la revista a fin de conformar paquetes de cursos, seminarios o como material de instrucción.
El autor puede colocar una copia de la versión definitiva en su servidor aunque se recomienda que mantenga un enlace al servidor de la revista donde está el artículo original.
Las violaciones de propiedad intelectual recaen sobre quien la realizó. No es responsable la empresa o institución que da acceso a los contenidos, ya sea porque actúa sólo como transmisora de información (por ejemplo, proveedores de acceso a Internet) o porque ofrece servicios públicos de servidores.