ISSN: 1659-455X / EISSN: 1659-407X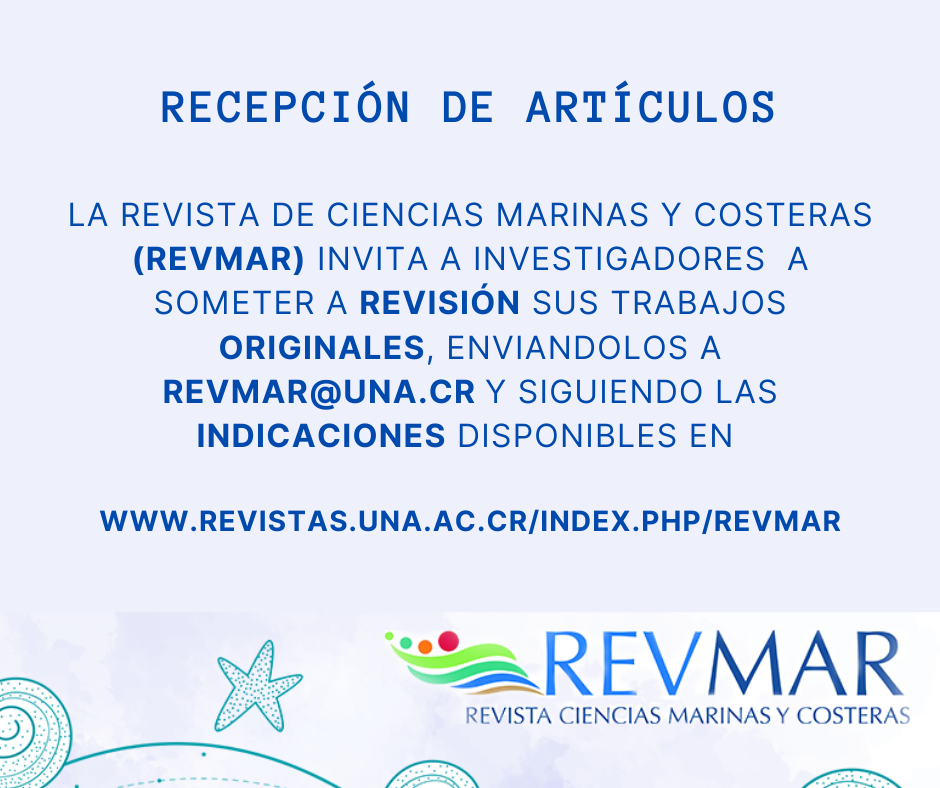 WELCOME

REVISTA CIENCIAS MARINAS Y COSTERAS (REVMAR)


The purpose of this journal is to publish original papers related to marine science, including biology, geology and marine ecology, oceanography, evolution, systematics and taxonomy of marine organisms, pollution, fisheries, mariculture, marine biotechnology, conservation and integrated management of coastal and marine resources.
Ciencias Marinas y Costeras Journal is Indexed and registered in:
Indexes: Catálogo de LATINDEX, Redalyc, DOAJ
Bibliographical Portals: LATINDEX, DIALNET, PERIÓDICA (Índice de Revistas Latinoamericanas en Ciencias), ASFA (Aquatic Sciences and Fisheries Abstracts), SHERPA/ROMEO, MIAR, CrossRef (DOI Database), REDIB, Sicultura, OCLC Word Cat, OpenAIRE
Directories: DRJI, PERIÓDICA, Emerging Source Citation Index.
Social Networks: Facebook, Google+, Twitter, Mendeley, Academia.edu, LinkedIn.
Repositories: Google Académico (Google Scholar), Google Analytics, Windows Live Academic.
Portals: Portal electrónico de Revistas Académicas de la Universidad Nacional, Biblat, Portal de Portales Latindex.
Repositories: : Repositorio de la Universidad Nacional, Costa Rica, Repositorio Nacional de Costa Rica: KIMUK
REVMAR aims to offer the best service to students, academic and administrative staff, and general public. Various site sections are available such as repositories and registration for interested users.

REVMAR is published in digital formats in biannual basis as of 2016. PUBLISHING IN REVMAR DOES NOT IMPLY COSTS OF PRINTING OR SHIPPING.
Announcements
2017-12-01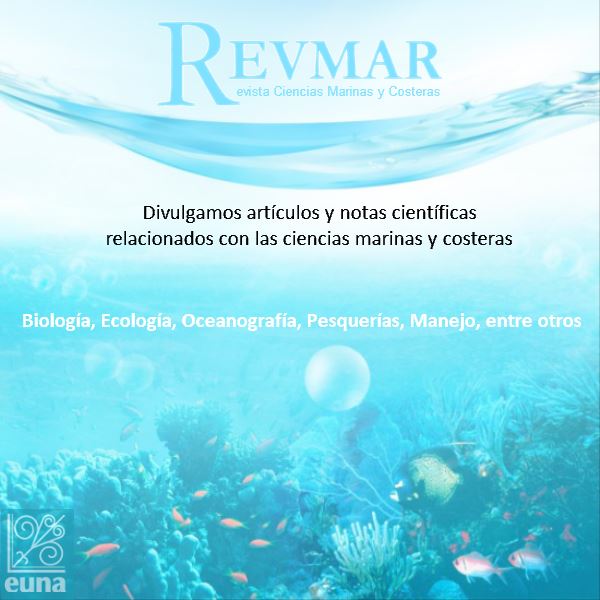 Option to publish
Read more about Topics