Classroom interaction and language learning among boys in coed and single-sex contexts
Roberto Enrique Rojas Alfaro

Universidad Nacional, Costa Rica
Palabras clave:
boys, EFL, gender, learning styles, school, language teachers, teaching strategies, single-sex education, coeducation
Resumen
This paper will address the differences and similarities in EFL interactive patterns of boys' learning in gender specific learning environments. The presentation will explore the findings of observational research conducted in coeducational and single-sex classrooms in two secondary schools in Costa Rica, namely Yorkin and New Hope schools. Data collection included class observation, interviews, surveys, questionnaires, photo ethnography and artifacts. The results revealed that boys in both contexts actually learn and behave similarly regardless of the gender specific learning environment in which they were immersed. They evidenced preference for kinesthetic, cognitive learning styles and task-oriented learning. Besides suggesting the need for school changes, the sudy brings out implications for teachers to adapt teaching strategies to acommodate their boys' learning styles.
Descargas
La descarga de datos todavía no está disponible.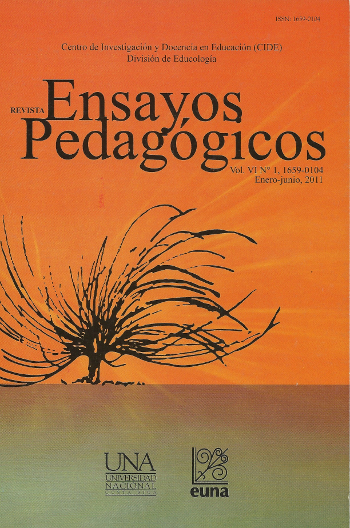 Cómo citar
Rojas Alfaro, R. (2011). Classroom interaction and language learning among boys in coed and single-sex contexts. Revista Ensayos Pedagógicos, 6(1), 145-158. https://doi.org/10.15359/rep.6-1.9
Sección
Artículos científicos e investigaciones

La Revista Ensayos Pedagógicos está suscrita a la Licencia Creative Commons Atribución-NoComercial-SinDerivadas 4.0 Internacional, lo cual implica la posibilidad de que tanto las personas autoras como las personas lectoras puedan, de forma gratuita, descargar, almacenar, copiar y distribuir la versión final aprobada y publicada (post print) del artículo, siempre y cuando se realice sin fines comerciales, no se generen obras derivadas y se mencione la fuente y autoría de la obra. Asimismo, la Revista Ensayos Pedagógicos declara que toda persona autora conservará a perpetuidad los derechos de autoría de su ensayo o artículo.