Hacia una nueva educación
Ronald Casas Ulate

Universidad Nacional

Felipe Ovares Barquero

Universidad Nacional

José Alberto Rubí Barquero

Universidad Nacional
Keywords:
uniformation, specialization, synchronization, concentration, maximization, centralization
Abstract
We point out in this article centered on Education the main principles that shape the educational model of the industrial age. Those principles were explained by Alvin Toffler in his book The Third Wave. They are: standardization, specialization, synchronization, concentration, maximization and centralization. After emphasizing them and showing how each one of them leaves its mark in the formal education in the industrial age, we defend the thesis that the new education is originated and configures itself in a process of dismantling and replacement of the principles of the industrialism by the new principles of the raising post-industrial society, also called Society of the Knowledge.
References
Gallegos, R. (Compil.), Clark, E, Damián, V., Krishna, P., Lee, M., Roberts, T. y Snow, P. (1997). El
destino indivisible de la educación. México: Editorial Pax.
Gallegos, R. (2001). Educación holista: Pedagogía del amor universal. México: Editorial Pax.
Marcuse, H. (1969). El hombre unidimensional. Barcelona: Seix Barral.
Ortega y Gasset, J. (2006). La rebelión de las masas. Madrid: Espasa‐Calpe.
Panikkar, R. (2005). El silencio de Buda. Madrid: Editorial Siruela.
Reimer, E. (1970). La escuela ha muerto. Barcelona: Barral Editores.
Toffler, A. (1980). La tercera ola. Barcelona: Editorial Plaza y Janés.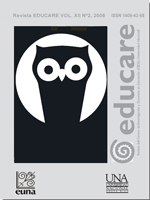 How to Cite
Casas Ulate, R., Ovares Barquero, F., & Rubí Barquero, J. (2008). Hacia una nueva educación. Revista Electrónica Educare, 12(2), 117-126. https://doi.org/10.15359/ree.12-2.7
Section
Articles (Peer Reviewed Section)
1. In case the submitted paper is accepted for publication, the author(s) FREELY, COSTLESS, EXCLUSIVELY AND FOR AN INDEFINITE TERM transfer copyrights and patrimonial rights to Universidad Nacional (UNA, Costa Rica). For more details check the Originality Statement and Copyright Transfer Agreement
2. REUTILIZATION RIGHTS: UNA authorizes authors to use, for any purpose (among them selfarchiving or autoarchiving) and to publish in the Internet in any electronic site, the paper´'s final version, both approved and published (post print), as long as it is done with a non commercial purpose, does not generate derivates without previous consentment and recognizes both publisher's name and authorship.
3. The submission and possible publication of the paper in the Educare Electronic Journal is ruled by the Journal's editorial policies, the institutional rules of Universidad Nacional and the laws of the Republic of Costa Rica. Additionally, any possible difference of opinion or future dispute shall be settled in accordance with the mechanisms of Alternative Dispute Resolution and the Costa Rican Jurisdiction.
4. In all cases, it is understood that the opinions issued are those of the authors and do not necessarily reflect the position and opinion of Educare, CIDE or Universidad Nacional, Costa Rica.
5. The papers published by Educare Electronic Journal use a Creative Commons License:
Most read articles by the same author(s)