Una mirada al fenómeno de la violencia escolar en Costa Rica
Leonel Arias Sandoval

Universidad Nacional
Keywords:
school violence, school culture, interactions, hidden curriculum, education, media
Abstract
In the current context of education, parents, students, teachers, media and other sectors of Costa Rican society, express concern about the problem of school violence, a social phenomenon that has been increasing in recent years. Its manifestations are perceived by means of abuse behavior, intimidation, verbal or physical abuse among youth, which are constructed through cultural practices. Therefore, to understand this problem, reflection about possible causes is in order, taking into account the context in which social interaction is developed in each school. Some of the manifestations of violence are rooted in the family, the community, the imitation of the behavioral patterns, and the influence of mass media. Moreover, these behaviors are reinforced by the current curriculum model, generating resistance to institutional rules.
References
Abarca Díaz, M. (2001). Fruto de la perseverancia. Sistema nacional de comisiones de valores de
Costa Rica. San José: Editorial de la Universidad de Costa Rica.
Arias, M., Feoli, D. & Fernández, M. (2001). Interacciones violentas educador-educando en el aula
y en el ámbito escolar. Proyecto para optar por el título de Maestría en Psicopedagogía de la
Universidad Estatal a Distancia.
Bernal, F. (2006). La violencia en el ámbito escolar. Recuperado el 15 de abril de 2008, de www.
apse.org.cr/webapse/docen/docen09.htm
Blandón, M., Molina, V. A. & Vergara, E. (2005). Los estilos directivos y la violencia escolar: las
prácticas de la educación física. Revista Iberoamericana de Educación, Nº 38, 87-103.
Campos, E. (2004). Influencia del manejo del enfoque curricular empleado por la y el docente de
español y matemática en las manifestaciones de violencia vinculadas con el género en las
y los estudiantes de décimo año en un colegio público de secundaria en la zona urbana de
San José. Tesis para optar por el título de Doctorado en Educación de la Universidad Estatal
a Distancia.
Candas, S. & Lucero, C. (2000). Violencia escolar. Primer Congreso Hispano-Portugués de
Psicología: hacia una psicología integradora, realizado en Santiago de Compostela, España,
del 21 al 23 de setiembre de 2000.
Cascante, J. (2002). Voces que callen, mentes que hablen: Una Perspectiva de la violencia en un
aula escolar. Tesis para optar al título de Maestría en el Estudio de la Violencia Social y
Familiar de la Universidad Estatal a Distancia.
Cubero, C. M. (2004) La disciplina en el aula: reflexiones en torno a los procesos de comunicación.
Revista Electrónica Actualidades Investigativas en Educación, Vol. 4, Nº 2.
Denis, L. (1995) Investigación cualitativa sobre valores en el aula. Recuperado el 20 de abril de
, de www. Tripot.com/denissntana/tesis/index.htlm
Funk, W. & Mooij, T. (1997): Por la seguridad en la escuela. Revista Educación, Nº 313, 29-52.
Gordon, T. (1982): Maestros eficaz y técnicamente preparados. México: Editorial Diana
Hernández, I., Martínez, C. & Torres, A. (Julio-Agosto, 2006). Percepción de la violencia escolar por
parte de las personas responsables de la dirección de los centros de enseñanza de Alicante: un
estudio cualitativo. Revista Española de Salud Pública, Vol. 80, Nº 4, 387-394.
Herrera, C., Peraza, C. & Porter, H. (Marzo, 2004). El abuso verbal dentro de la violencia doméstica.
[versión electrónica], Medicina legal de Costa Rica, Vol. 21, Nº 1, 45-90. Disponible en http://
www.scielo.sa.cr/scielo.php?pid=S1409-00152004000100005&script=sci_abstract
Moral, M. de la V., Ovejero, A. & Pastor, J. (2000) Aprendizaje Cooperativo. Un eficaz instrumento
de trabajo en las escuelas multiculturales y Multiétnicas del siglo XXI. Revista Electrónica
Iberoamericana de Psicología Social: Vol. 1, Nº 1, 7.
Moreno Olmedilla, J. M. (2000). Comportamiento antisocial en los centros escolares: una visión
desde Europa. Página del Centro de Profesores y Recursos de Latina-Carabanchel (Madrid).
Recuperado el 15 de abril de 2008, de http://centros5.pntic.mec.es/cpr.de.la.latina.carabanchel/
convivir/aport.htm
Ortega, R. y colaboradores. (1997). La Convivencia Escolar: qué es y cómo abordarla. Programa
Educativo de prevención de Maltrato entre compañeros y compañeras. Andalucía, España:
Consejería de Educación y Ciencia.
Organización Panamericana de la Salud. (2004). La violencia social en Costa Rica. Ministerio de
Salud. San José, Costa Rica: Autor.
Vásquez, A. & Martínez, I. (1996) La socialización en la escuela. Una perspectiva etnográfica.
La cara oculta de la Luna: las interacciones entre alumnos en la clase. Barcelona, España:
Paidós.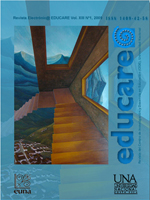 How to Cite
Arias Sandoval, L. (2009). Una mirada al fenómeno de la violencia escolar en Costa Rica. Revista Electrónica Educare, 13(1), 41-51. https://doi.org/10.15359/ree.13-1.4
Section
Articles (Peer Reviewed Section)
1. In case the submitted paper is accepted for publication, the author(s) FREELY, COSTLESS, EXCLUSIVELY AND FOR AN INDEFINITE TERM transfer copyrights and patrimonial rights to Universidad Nacional (UNA, Costa Rica). For more details check the Originality Statement and Copyright Transfer Agreement
2. REUTILIZATION RIGHTS: UNA authorizes authors to use, for any purpose (among them selfarchiving or autoarchiving) and to publish in the Internet in any electronic site, the paper´'s final version, both approved and published (post print), as long as it is done with a non commercial purpose, does not generate derivates without previous consentment and recognizes both publisher's name and authorship.
3. The submission and possible publication of the paper in the Educare Electronic Journal is ruled by the Journal's editorial policies, the institutional rules of Universidad Nacional and the laws of the Republic of Costa Rica. Additionally, any possible difference of opinion or future dispute shall be settled in accordance with the mechanisms of Alternative Dispute Resolution and the Costa Rican Jurisdiction.
4. In all cases, it is understood that the opinions issued are those of the authors and do not necessarily reflect the position and opinion of Educare, CIDE or Universidad Nacional, Costa Rica.
5. The papers published by Educare Electronic Journal use a Creative Commons License:
Most read articles by the same author(s)