Calidad de vida, sentido de coherencia y satisfacción laboral en profesores (as) de colegios técnicos en la Dirección Regional de Heredia
Pedro Ureña Bonilla

Universidad Nacional, Costa Rica

Carmen Castro Sancho

Profesional Independiente, Costa Rica
Keywords:
quality of life, sense of coherence, job satisfaction, health
Abstract
The aim of this study was to analyze the Quality of Life, Sense of Coherence and Job Satisfaction by teachers of technical schools in the Heredia´s region. A group of 81 educators (25 male and 56 female) joined the study. It was used the SF-36 Questionnaire, the Sense of Coherence scale and a list of items related to the Job Satisfaction. There were found three factors associated to job satisfaction: (1) social atmosphere and job recognition, (2) infrastructure conditions, salary and promotion and (3) amount of job and relationship with the students. In general the results showed scores up of average Quality of Life. However, there were found low scores in central aspects like "Vitality". The highest factors scores were found by the physical function and the physical role. The sense of coherence scores related to the factors "Life" and "Feelings" were middle. Both factors were significant associated to some dimensions of Quality of Life and Job Satisfaction. In sum, the results showed up, that it is necessary to develop programs in order to enhance sense of coherence and quality of life. Likewise, it is important to promote job satisfaction. A good job satisfaction has positive consequences to the health, and increase the compromise levels and teachers identification to the profession.
References
Alonso, J., Prieto, L. & Antó, J. M. (1995). La versión española del SF-36 Health Survey (Cuestionario
de Salud SF-36): un instrumento para la medida de los resultados clínicos. Medicina Clínica,
104 (20), 771-776.

Antonowsky, A. (1987). Unraveling the Mystery of Health: How People Manage Stress and Stay
Well. San Francisco, United States: Jossey-Bass.

Antonowsky, A. (1997). Salutogenese. Zur Entmystifizierung der Gesundheit. Tübingen, Deutschland:
Dgvt.

Baker, M., North, D. & Smith, D. F. (1997). Burnout, sense of coherence and sources of salutogenesis
in social workers. Psychology: A Journal of Human Behavior, 34, 22-26.

Bravo, M., Peiró, J. M. & Rodríguez, I. (1996). Satisfacción laboral. En J. M. Peiró y F. Prieto (Eds.).
Tratado de psicología del trabajo. Vol. 2, 343-397.

Brengelmann, J. C. (1986). Stress, superación y calidad de vida en personas sanas y enfermas.
Evaluación Psicológica, 2, 47-77.

Carmel, S., Anson, O., Levenson, A., Bonneh, D. & Mahoz, B. (1991). Life events, sense of coherence
and health: gender differences on the kibbutz. Social Science and Medicine, 32, 1089-1096.

Diener, E. (1994). Assessing subjective well-being: Progress and opportunities. Social Indicators
Research, 31, 103-157.

Duro, A. (2005). Calidad de vida laboral y psicología social de la salud en el trabajo: hacia un
modelo de compoentes comunes para explicar el bienestar laboral psicológico y la salud
mental laboral de origen psicosocial. Revista del Ministerio de Trabajo y Asuntos Sociales.
Universidad Rey Juan Carlos. España.

Ebert, S., Tucker, D. & Roth, D. (2002). Psychological resistence factors as predictors of general
health status and physical symptom reporting. Health and Medicine, 7, 363-375.

Flannery, R. B. & Flannery, G. J. (1990). Sense of coherence, life stress, and psychological distress:
a prospective methodological inquiry. Journal of Clinical Psychology, 46, 415-420.

Gilbar, O. (1998). Relationship between burnout and sense of coherente in health social workers.
Social Work in Health Care, 26, 39-49.

Godoy, J. F. (1999). Psicología de la salud: delimitación conceptual. En M.A. Simón (Ed.), Manual
de Psicología de la Salud. Fundamentos, metodología y aplicaciones (pp. 39-70). Madrid,
España: Biblioteca Nueva.

Johansson, I., Larsson, G. & Hamrin, E. (1998). Sense of Coherence, Quality of Life, a Function
among Elderly Hip Fracture. Aging, 10, 377-384.

Levy, L. & Anderson, L. (1980). La tensión psicosocial. Población, ambiente y calidad de vida.
México: El Manual Moderno.

Lundquist, T. (1995). Chronic Cannabis Use and the Sense of Coherence. Life Science, 56, 2145-
2150.

Lustig, D. (2005). The Adjustment Process for Individuals with Spinals Cord Injury: The effect
of perceived premorbid sense of coherence. Rehabilitation Counseling Bulletin, 48 (3), 146-
156.

Lustig, D., Rosenthal, D., Strausser, D. & Haynes, K. (2000). The Relationship of Sense of Coherence
to Life Satisfaction for Students with Disabilities. Rehabilitation Counseling Bulletin, 43,
134-141.

Meliá, J. L., Peiró, J. M. & Calatayud, C. (1986). El cuestionario general de satisfacción en organizaciones
laborales: Estudios factorials, fiabilidad y validez. Revista de Filosofía, Psicología
y Ciencias de la Educación, 11 (3/4), 43-78.

Meliá, J. L. & Peiró, J. M. (1989). La medida de la satisfacción laboral en contextos organizacionales:
El cuestionario de Satisfacción S 20/ 23. Psicologemas, 5, 59-74.

Meliá, J. L., Pradilla, J.F., Martí, N., Sancerni, M. D., Oliver, A. & Tomás, J. M. (1990). Estructura
factorial, fiabilidad y validez del cuestionario de satisfacción S 21/26. Un instrumento con
formato dicotómico orientado al trabajo profesional. Revista de Psicología Universitas
Tarraconenses, 12 (1/2), 25-39.

Moreno, B., González, J. L. & Garrosa, E. (1999). Burnout docente, sentido de coherencia y salud
percibida. Revista de Psicopatología Clínica 4 (3), 163-180.

Moreno, B., Alonso, M. & Álvarez, E. (1997). Sentido de coherencia, personalidad resistente,
autoestima y salud. Revista de Psicología de la salud, 9, 115-138.

Nordenfelt, L. (1993). Quality of life, Health and Happiness. Aldershot, England: Avebury.
Palsson, M. B., Hallberg, I. R., Norberg, A. & Bjoervell, H. (1996). Burnout, Empathy and Sense of
Coherence among Swedish District Nurses before and After Systematic Clinical Supervision.
Scandinavian Journal of Caring Sciences, 10, 19 -26.

Poppius, E., Tenkanen, L., Kalimo, R. & Heinsalmi, P. (1999). The Sense of Coherence, Occupation
and the Risk of Coronary Heart Disease in the Helsinski Heart Study. Social Science
Medicine, 49, 109-120.

Requena, F. (2000). Satisfacción, bienestar y calidad de vida en el trabajo. Revista Española de
Investigaciones Sociológicas (REIS), 92, 11-44.

Ryland, E. & Greenfeld, S. (1991). Work, Stress and Well-being: An Investigation of Antonowskys
Sense of Coherence Model. In P.L. Perrewe (Ed.), Handbook of Job Stress (special issue).
Journal of Social Behavior and Personality, 6, 39-54.

Ryff, C. (1989). Happinessis is Everything, or Is It? Explorations on the Meaning of Psychological
Well-being. Journal of Personality and Social Psychology, 57, 1069-1081.

Santos, R. (2000). Satisfacción, bienestar y calidad de vida en el trabajo. Revista española de investigaciones
sociológicas, 92, 14-44.

Sánchez, F. (1996). La actividad física orientada hacia la salud. Madrid, España: Biblioteca
Nueva.

Simón, M. A. (1999). Manual de Psicología de la salud. Fundamentos, metodología y aplicaciones.
Madrid, España: Biblioteca Nueva.

Strausser, D. & Lustig, D. (2003). The Moderating Effects of Sense of Coherence on Work
Adjustment. Journal of Employment Counseling, 40, 129-140).

Veenhoven, R. (1991). Questions on Happiness: Classical Topics, Modern Answers, Blind Spots.
In F. Strack, M. Argyle & N. Schwars (Eds.), Subjective Well-Being. An Interdisciplinary
Perspective. Oxford, England: Pergamon Press.

Vilagut, G., Ferrer, M., Rajmil, L. & Rebollo, P. (2005). El cuestionario de salud SF-36 español: una
década de experiencia y nuevos desarrollos. Gaceta Sanitaria, Vol. 19, Nº. 2, 1-16.

Ware, J. E. & Sherbourne C. D. (1992). The MOS 36 –Item Short Form Health Survey (SF-36). I.
Med Care, 39, 473-483.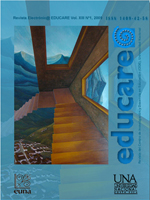 How to Cite
Ureña Bonilla, P., & Castro Sancho, C. (2009). Calidad de vida, sentido de coherencia y satisfacción laboral en profesores (as) de colegios técnicos en la Dirección Regional de Heredia. Revista Electrónica Educare, 13(1), 71-87. https://doi.org/10.15359/ree.13-1.6
Section
Articles (Peer Reviewed Section)
1. In case the submitted paper is accepted for publication, the author(s) FREELY, COSTLESS, EXCLUSIVELY AND FOR AN INDEFINITE TERM transfer copyrights and patrimonial rights to Universidad Nacional (UNA, Costa Rica). For more details check the Originality Statement and Copyright Transfer Agreement
2. REUTILIZATION RIGHTS: UNA authorizes authors to use, for any purpose (among them selfarchiving or autoarchiving) and to publish in the Internet in any electronic site, the paper´'s final version, both approved and published (post print), as long as it is done with a non commercial purpose, does not generate derivates without previous consentment and recognizes both publisher's name and authorship.
3. The submission and possible publication of the paper in the Educare Electronic Journal is ruled by the Journal's editorial policies, the institutional rules of Universidad Nacional and the laws of the Republic of Costa Rica. Additionally, any possible difference of opinion or future dispute shall be settled in accordance with the mechanisms of Alternative Dispute Resolution and the Costa Rican Jurisdiction.
4. In all cases, it is understood that the opinions issued are those of the authors and do not necessarily reflect the position and opinion of Educare, CIDE or Universidad Nacional, Costa Rica.
5. The papers published by Educare Electronic Journal use a Creative Commons License:
Most read articles by the same author(s)