Fundamentos teóricos de la Educación Universitaria, sus artífices e incidencias en el currículo promovido
Carolina España Chavarría

Universidad Nacional
Keywords:
curriculum, teachers, teacher's training, pedagogical training, professional
Abstract
It is possible to think, that as well as the policies enrich the curriculum the pedagogy in its practical art pretends to be the necessary input to foster knowledge in life. This means, that the educator with pedagogical training could be capable of transforming disciplinary knowledge into an understandable, practical, and meaningful one, due to the fact that they turn pedagogy as the instrument that will allow them to put the curricular policy into practice, transforming the educational process into a process of quality.
Moreover, we consider that most part of the professionalization of teaching could depend on a continuous or permanent process of faculty training, resulting in the professional growth of teachers and consequently of students. This process will evoke "knowledge to the service of life and to the improvement of quality of life" (Flores, 1994, p. XXV), which means meaningful learning due to teaching methods in agreement with what the curricular proposal dictates and looks for.
References
Blanco, N. (1997). El currículo: La importancia de conocer el origen de un concepto y unas
prácticas. Almería, España: Programa Oficial de postgrado "Políticas educativas" Universidad
de Almería.
Chehaybar, E. (1999). Hacia el futuro de la formación docente en educación superior. México, D.F:
UNAM-CESU.
Díez y Román. (2004). Diseños curriculares de aula. México, D.F: Ediciones Nuevas Educativas
de México.
Flores, R., (1994). Hacia una pedagogía del conocimiento. Bogotá, Colombia: Editorial McGrawHill.
Lundgren, U. P., (1997). Teoría del currículo y escolarización. Madrid, España: Ediciones Morata.
Menin, O. (2001). Currículo, Didáctica y Evaluación. Buenos Aires, Argentina: Ediciones Homo
Sapiens.
Stenhouse, L. (2004). La investigación como base de la enseñanza. Madrid, España: Ediciones
Morata.
Torres, J. (2005). El currículum oculto. Madrid, España: Ediciones Morata.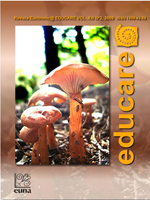 How to Cite
España Chavarría, C. (2009). Fundamentos teóricos de la Educación Universitaria, sus artífices e incidencias en el currículo promovido. Revista Electrónica Educare, 13(2), 141-146. https://doi.org/10.15359/ree.13-2.10
Section
Articles (Peer Reviewed Section)
1. In case the submitted paper is accepted for publication, the author(s) FREELY, COSTLESS, EXCLUSIVELY AND FOR AN INDEFINITE TERM transfer copyrights and patrimonial rights to Universidad Nacional (UNA, Costa Rica). For more details check the Originality Statement and Copyright Transfer Agreement
2. REUTILIZATION RIGHTS: UNA authorizes authors to use, for any purpose (among them selfarchiving or autoarchiving) and to publish in the Internet in any electronic site, the paper´'s final version, both approved and published (post print), as long as it is done with a non commercial purpose, does not generate derivates without previous consentment and recognizes both publisher's name and authorship.
3. The submission and possible publication of the paper in the Educare Electronic Journal is ruled by the Journal's editorial policies, the institutional rules of Universidad Nacional and the laws of the Republic of Costa Rica. Additionally, any possible difference of opinion or future dispute shall be settled in accordance with the mechanisms of Alternative Dispute Resolution and the Costa Rican Jurisdiction.
4. In all cases, it is understood that the opinions issued are those of the authors and do not necessarily reflect the position and opinion of Educare, CIDE or Universidad Nacional, Costa Rica.
5. The papers published by Educare Electronic Journal use a Creative Commons License:
Most read articles by the same author(s)