La educación mediada por el mundo. Pistas para la promoción de prácticas educativas descolonizadoras
Mario Méndez Méndez

Universidad Nacional, Costa Rica
Keywords:
decolonization, liberation, interculturality, education
Abstract
The educational processes are seen in this paper as "places" of colonization and freedom. Thus, the educational goals that have been assigned to education would condition the liberating possibilities of the teaching processes. As a result, the author suggests –from the interculturality paradigm– a series of keys for constructing both decolonized and decolonizing educational mediations.
References
Abrile, M. (1994, Mayo-agosto). Nuevas demandas a la educación y a la institución escolar, y la
profesionalización de los docentes. Revista Iberoamericana de educación, 5, 11-44.
Alfaro, A. (2000). Análisis filosófico de las políticas educativas de Costa Rica. El caso de la educación
pública (1960-1975). Heredia, Costa Rica: Facultad de Filosofía y Letras de la UNA.
Alves, R. (2005). A alegria de ensinar. São Paulo, Brasil: Ed. Papirus.
Alves, R. (2003). Conversas sobre educação. Campinas, Brasil: Ed. Verus.
Alves, R. (2004). Por uma educação romântica. São Paulo, Brasil: Ed. Papirus.
Azcona, J. (1994). Para comprender la antropología. 1. La Historia. Pamplona, España: Editorial
Verbo Divino.
Bolaños, L. (2002). Construcción del imaginario colonial y las escrituras fundacionales: mecanismos
de diseminación/circulación del texto eclesiástico, en Catherine Poupeney y Albino Chacón
(editores). El discurso colonial: construcción de una diferencia americana. Heredia, Costa
Rica: EUNA.
Casas, R., Ovares F. & Rubí J. (2008). Hacia una nueva educación. Revista Educare Vol. XII, Nº 2,
pp. 117-126.
Costa Rica. Ministerio de Educación Pública. (1957). Ley Fundamental de Educación. Recuperado
el 5 de octubre 2009, de www.mep.go.cr
Dengo, M. E. (2009). Educación costarricense. San José, Costa Rica: EUNED.
Episcopado Latinoamericano. (1977). Segunda Asamblea General. Documentos finales. San Salvador,
El Salvador : UCA Editores.
Foucault, M. (1995). Discursos, poder y subjetividad. Buenos Aires, Argentina: Editorial El cielo
por asalto.
Foucault, M. (2000). Nietzsche. La genealogía, la historia. Valencia, España : Editorial Pre-textos.
Fornet-Betancourt, R. (2004). Crítica intercultural de la filosofía latinoamericana. Madrid, España:
Editorial Trotta.
Fornet-Betancourt, R. (1997). Introducción: Aprender a filosofar desde el contexto del diálogo de las culturas.
Revista de Filosofía 90, pp. 15-18.
Freire, P. (1993). ¿Extensión o comunicación? La concientización en el medio rural. México:
Editorial Siglo XXI.
Freire, P. (1999). Pedagogía del oprimido. México: Editorial Siglo XXI.
Giroux, H. & McLaren, P. (2003). La formación de los maestros en una esfera contrapública: notas
hacia una redefinición, en Peter McLaren (Coordinador). Pedagogía, identidad y poder. Los
educadores frente al multiculturalismo. Buenos Aires, Argentina: Homo Sapiens Editores.
Hopenhayn, M. (2009). La educación intercultural: entre la igualdad y la diferencia. Pensamiento
iberoamericano, 1, pp. 51-74.
López, F. (1998). La calidad de la educación en el contexto de la globalización, en Rocío López y
Olmedo España. Cultura, identidades y ciberespacio. III Congreso
Latinoamericano de Humanidades.
Heredia, Costa Rica: UNA.
Martí, J. (1893). Carta a Pío Víquez, director de El Heraldo, de Costa Rica. Revista Latinoamericanista
Alternativa. Año VII. [Versión electrónica]. Recuperado el 18 de junio de 2009, de http://
www.geocities.com/lospobresdelatierra2/textos2/marticartapioviquez.html
Masferrer, A. (1996). Ensayos. San Salvador, El Salvador: CONCULTURA.
Mora, M. (2005). Avatares del sujeto. Heredia, Costa Rica: EUNA.
Pollo, M. (2002). Animazione culturale. Turín, Italia: Ed. Elledici.
Sepúlveda, M., López M. & Londoño J. (2008). Animación sociocultural juvenil, del quehacer a la
praxis. Medellín, Colombia: Escuela de Animación Juvenil.
Un día como hoy. (2009, 30 de junio). Diario Extra. p. 6.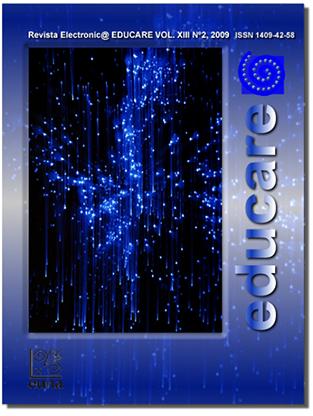 How to Cite
Méndez Méndez, M. (2010). La educación mediada por el mundo. Pistas para la promoción de prácticas educativas descolonizadoras. Revista Electrónica Educare, 14(1), 47-58. https://doi.org/10.15359/ree.14-1.4
Section
Articles (Peer Reviewed Section)
1. In case the submitted paper is accepted for publication, the author(s) FREELY, COSTLESS, EXCLUSIVELY AND FOR AN INDEFINITE TERM transfer copyrights and patrimonial rights to Universidad Nacional (UNA, Costa Rica). For more details check the Originality Statement and Copyright Transfer Agreement
2. REUTILIZATION RIGHTS: UNA authorizes authors to use, for any purpose (among them selfarchiving or autoarchiving) and to publish in the Internet in any electronic site, the paper´'s final version, both approved and published (post print), as long as it is done with a non commercial purpose, does not generate derivates without previous consentment and recognizes both publisher's name and authorship.
3. The submission and possible publication of the paper in the Educare Electronic Journal is ruled by the Journal's editorial policies, the institutional rules of Universidad Nacional and the laws of the Republic of Costa Rica. Additionally, any possible difference of opinion or future dispute shall be settled in accordance with the mechanisms of Alternative Dispute Resolution and the Costa Rican Jurisdiction.
4. In all cases, it is understood that the opinions issued are those of the authors and do not necessarily reflect the position and opinion of Educare, CIDE or Universidad Nacional, Costa Rica.
5. The papers published by Educare Electronic Journal use a Creative Commons License: