The Experience of Adult Literacy as a Learning Process in the Formation of Future Educators
Luz Emilia Flores Davis

Universidad Nacional, Costa Rica

Ana María Hernández Segura

Universidad Nacional, Costa Rica
Keywords:
learning, formation of educators, literacy
Abstract
Learning is constructed when it is significant, therefore, promoting experiences that can make sense and joy, which constitutes a challenge in the formation of future educators. In this article, we share the considerations emanated from an investigation that gathers the experience of alphabetizing adults, carried out by college students as part of their formation. As a result, this creates a learning process that favors the respect to diversity and the value of reading and writing as the liberation of mankind. The work displays the learnings constructed, the ways of respecting diversity that emerge from the alphabetizing experience, and the value that the students give to reading and writing as a liberating way of expression.
References
División de Educación Básica. (2005). Plan de Estudios de la Carrera de I y II Ciclos. Costa Rica:
Universidad Nacional.
Flores, L. E., Flores, G., Jiménez, R. E., Madrigal, J. C. y Perearnau, M. (2009). Comunidad
Aprendiente. Costa Rica: ARTEMUSA.
Moreno, M. (2003). Las ausencias de la enseñanza. Conferencia, Universidad Estatal a Distancia,
Costa Rica.
Ruiz, A. (2001, Enero). Materiales previos. [Grupo de trabajo]. Realizado en el Congreso 2001:
Construir la escuela desde la diversidad y para la igualdad. Madrid: España. Disponible en
http://www.nodo50.org/igualdadydiversidad/g_contin.htm
Universidad Nacional. (1993). Estatuto Orgánico. Costa Rica: UNA-Gaceta.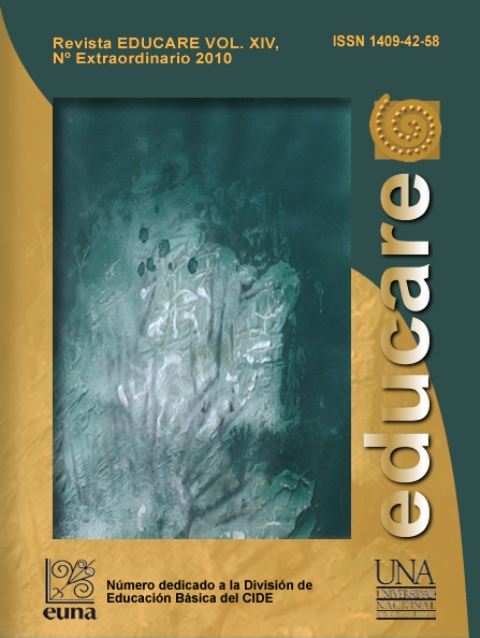 How to Cite
Flores Davis, L., & Hernández Segura, A. (2010). The Experience of Adult Literacy as a Learning Process in the Formation of Future Educators. Revista Electrónica Educare, 14, 49-62. https://doi.org/10.15359/ree.14-Ext.4
Section
Articles (Peer Reviewed Section)
1. In case the submitted paper is accepted for publication, the author(s) FREELY, COSTLESS, EXCLUSIVELY AND FOR AN INDEFINITE TERM transfer copyrights and patrimonial rights to Universidad Nacional (UNA, Costa Rica). For more details check the Originality Statement and Copyright Transfer Agreement
2. REUTILIZATION RIGHTS: UNA authorizes authors to use, for any purpose (among them selfarchiving or autoarchiving) and to publish in the Internet in any electronic site, the paper´'s final version, both approved and published (post print), as long as it is done with a non commercial purpose, does not generate derivates without previous consentment and recognizes both publisher's name and authorship.
3. The submission and possible publication of the paper in the Educare Electronic Journal is ruled by the Journal's editorial policies, the institutional rules of Universidad Nacional and the laws of the Republic of Costa Rica. Additionally, any possible difference of opinion or future dispute shall be settled in accordance with the mechanisms of Alternative Dispute Resolution and the Costa Rican Jurisdiction.
4. In all cases, it is understood that the opinions issued are those of the authors and do not necessarily reflect the position and opinion of Educare, CIDE or Universidad Nacional, Costa Rica.
5. The papers published by Educare Electronic Journal use a Creative Commons License:
Most read articles by the same author(s)