Environmental Education Experience with Students from One Costa Rican Rural School
Pablo Sisfontes Guilarte

Universidad Nacional
Keywords:
environmental education, non-formal education, youth training, participatory methodologies
Abstract
This article describes a teaching experience developed in Environmental Education in a Costa Rican rural school with students from ninth year, characterized by the dynamics of a workshop in which stresses the participation in the construction of initiatives to address environmental problems detected by the youth in their communities. The article aims to contribute to the construction of a pedagogical model of self-management training and education of young people in environmental sectors, tourism and agriculture, in the conviction that education constitutes a vital alternative for understanding and solving environmental problems.
References
Freire, P. (1998). Pedagogía de la esperanza. Un reencuentro con la Pedagogía del oprimido.
México, D.F.: Siglo XXI Editores.
Guier, E., Rodríguez, M. & Zúñiga, M. (2000). Educación Ambiental en Costa Rica. San José:
EUNED.
Mójica, F (Coord.). (2009). Proyecto Gestión de iniciativas de producción agroecoturísticas
sostenibles en la parte alta de la Cuenca del Río Candelaria. Documento no publicado.
CONARE: San José.
Muiños, R. (2008). El diagnóstico participativo. San José: Editorial UNED.
Nieto C., L. (2001). Presentación. En Dos Santos, J. y Sato, M. (Coord). (2001). A Contribuição
Ambiental à esperança de Pandora. Brasil, Rima Editora.
Ruiz V., C. (s. f.). Diseño de proyectos de educación ambiental. Recuperado el 11 Enero, 2010 de
http: www.juntadeandalucia.es/medioambiente/educacion_ambiental/disenoProyectos.pdf.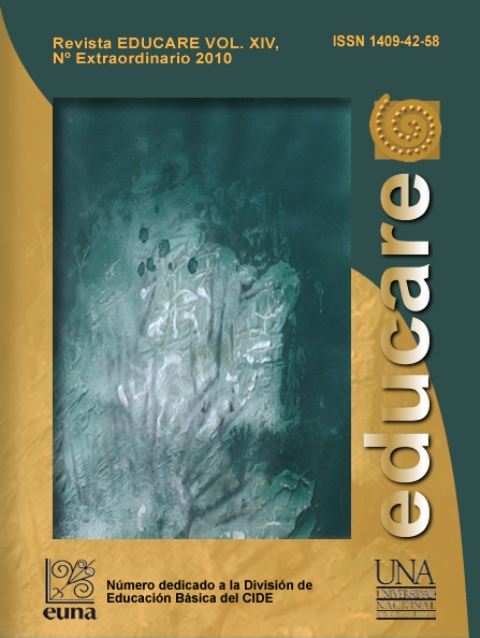 How to Cite
Sisfontes Guilarte, P. (2010). Environmental Education Experience with Students from One Costa Rican Rural School. Revista Electrónica Educare, 14, 167-176. https://doi.org/10.15359/ree.14-Ext.11
Section
Articles (Peer Reviewed Section)
1. In case the submitted paper is accepted for publication, the author(s) FREELY, COSTLESS, EXCLUSIVELY AND FOR AN INDEFINITE TERM transfer copyrights and patrimonial rights to Universidad Nacional (UNA, Costa Rica). For more details check the Originality Statement and Copyright Transfer Agreement
2. REUTILIZATION RIGHTS: UNA authorizes authors to use, for any purpose (among them selfarchiving or autoarchiving) and to publish in the Internet in any electronic site, the paper´'s final version, both approved and published (post print), as long as it is done with a non commercial purpose, does not generate derivates without previous consentment and recognizes both publisher's name and authorship.
3. The submission and possible publication of the paper in the Educare Electronic Journal is ruled by the Journal's editorial policies, the institutional rules of Universidad Nacional and the laws of the Republic of Costa Rica. Additionally, any possible difference of opinion or future dispute shall be settled in accordance with the mechanisms of Alternative Dispute Resolution and the Costa Rican Jurisdiction.
4. In all cases, it is understood that the opinions issued are those of the authors and do not necessarily reflect the position and opinion of Educare, CIDE or Universidad Nacional, Costa Rica.
5. The papers published by Educare Electronic Journal use a Creative Commons License:
Most read articles by the same author(s)