Open Classroom in Natural Spaces: an Experience in the Ramón Álvarez Forest
Ana Isabel Pereira Pérez

Universidad de Costa Rica

Nuria Mairena Rodríguez

Universidad de Costa Rica
Keywords:
open classroom, environmental education, natural areas, educational institutions, forest conservation
Abstract
This paper shows the experience of bringing the natural spaces closer to the educational reality as a strategy to teach values in environmental education and conservation. This open classroom activity was developed by professors and students of the Chorotega regional center, of the Universidad de Costa Rica, in the Ramón Álvarez forest. Teachers and children from the different educational institutions of this region have participated in the project.
References
Alvarado, R. (2010). Cultura ambiental en acción (Informe parcial). Región Chorotega, C. R.:
CONARE.
Baltodano, J. (2008). Bosque coberturas y uso forestal (Décimocuarto informe estado de la
nación en desarrollo humano sostenible). Recuperado de http://www.coecoceiba.org/wp.../11/
Bosques-coberturas-Baltodano-2008.pdf
Barrantes, G. (2000). Aplicación de incentivos a la conservación de la biodiversidad en Costa Rica.
San José, Costa Rica: Sistema Nacional de Áreas de Conservación, MINAE.
Calderón, M. (2005, Agosto). El turismo como promotor del crecimiento económico costarricense.
Revista Parlamentaria Digital, 13(2), 263-270.
Castro, R., Monge, E., Rocha, C. y Rodríguez, H. (2004). Gestión local y participativa del recurso
hídrico en Costa Rica. San Jose, Costa Rica: Centro de Derecho Ambiental y de los Recursos
Naturales (CEDARENA). Programa Gestión Integrada del Recurso Hídrico. Recuperado de
http://hidrico.sociedadhumana.com/media_files/download/gestion.pdf
Coen, E. (1991). Clima. En D. Janzen (Ed.), Historia natural de Costa Rica (pp. 35-46). San José,
Costa Rica: Editorial Universidad de Costa Rica.
Davis, R. y Holmgren, P. (2000). FRA 2000. Bibliografía comentada. Cambios en la cobertura
forestal Costa Rica. Roma: Programa de Evaluación de los Recursos Forestales. Organización
de las Naciones Unidas para la Agricultura y la Alimentación. Recuperado de http://www.fao.
org/docrep/007/ad668s/ad668s00.HTM
Ewel, J. J. (1999). Natural Systems as Models for the Design of Sustainable Systems of Land Use
[Los sistemas naturales como modelos para el diseño de sistemas sostenibles de uso de la
tierra]. Agroforestry Systems 45(1-3), 1-21. doi: 10.1023/A:1006219721151
García, R. (2002). Biología de la conservación: conceptos y prácticas. Heredia, Costa Rica:
Editorial INBio.
Gutiérrez, O. (2006, octubre). Flexibilidad curricular. (Taller: Diversificar las experiencias de
formación profesional [Presentación Power Point]). Recuperado de http://www.anfei.org.mx/
XI_RGD/Taller_Flexibilidad Ofelia Angeles.pdf
Hartshorn, G. S. (1991). Plantas. En D. Janzen (Ed.), Historia natural de Costa Rica (pp. 119-185).
San José, Costa Rica: Editorial Universidad de Costa Rica.
Hernández, E. y Zúnica, I. (2005). La cuenca hidrográfica como unidad alternativa para el desarrollo
turístico. El caso de la cuenca del Río Morote. Guanacaste. Costa Rica. Ponencia presentada
en el Seminario Regional "Turismo Alternativo en la región centroamericana: Experiencias
y acciones conjuntas para un desarrollo local de las comunidades". Nicoya, Costa Rica.
Recuperado de http://files.riomorote.webnode.es/200000222-a7bb6a8b55/PONENCIA%20
CUENCA%20MOROTE-PUBLICACI%C3%93N_Igor%20Zu%C3%B1iga_2006.doc
Leenders, T. (2001). A guide to Amphibians and Reptiles of Costa Rica [Una guía de anfibios y
reptiles de Costa Rica]. Florida: Distribuidores Zona Tropical S. A.
Merayo, O. (2004). Valoración económica del agua potable en la cuenca del río Endemedio, Santa
Cruz, Guanacaste, Costa Rica. Recursos Naturales y Ambiente, 43, 90-96. Recuperado http://
orton.catie.ac.cr/repdoc/A3190E/A3190E.PDF
Meza, T. A. (2001). Geografía de Costa Rica: geología, naturaleza y políticas ambientales. Cartago,
Costa Rica: Editorial Tecnológica de Costa Rica.
Moreno, M. L. (2005). Pago por servicios ambientales, la experiencia de Costa Rica. Costa Rica,
s. e. Recuprado de http://www.inbio.cr/otus/pdf/informe-servicios-ambientales.pdf
Quesada, G. (2008). Garantías ambientales: un nuevo modelo ecológico-político para Costa Rica y
el mundo. Biocenosis, 21(1-2), 119-124.
Ramírez, E. (miércoles 14 de abril de 2010). Recursos hídricos y bosques afectados: persisten
daños ambientales en el país y amenazan con crecer. Semanario Universidad. Recuperado de
http://www.semanario.ucr.ac.cr/ index.php/mainmenu-pais/2180-recursos-hidricos-y-bosquesafectados-persisten-danos-ambientales-en-el-pais-y-amenazan-con-crecer-.html
Sánchez-Azofeifa, A., Kalácska, M., Quesada, M., Stoner, K., Lobo, J. A. y Arroyo-Mora, J. P. (2003).
Tropical Dry Climates [Los climas tropicales secos]. En M. D. Schwartz (Ed.), Phenology: An
Integrative Environmental Science [Fenología: una ciencia ambiental integrada] (pp. 121-
. Estados Unidos: Kluwer Academic Press.
Valerio, C. E. (1991). La diversidad biológica de Costa Rica. San José, Costa Rica: Editorial
Heliconia.
Wainwright, M. (2002). The Natural History of Costa Rican Mammals [La historia natural de los
mamíferos de Costa Rica]. Florida: Zona Tropical.
Zamora, N., Jiménez, Q. y Poveda, L. J. (2002). Árboles de Costa Rica. Trees of Costa Rica (Vol II).
Heredia, Costa Rica: Editorial INBio.
Zuchowski, W. (2005). A guide to Tropical Plants of Costa Rica [Una guía para las plantas tropicales
de Costa Rica]. Florida: Zona Tropical.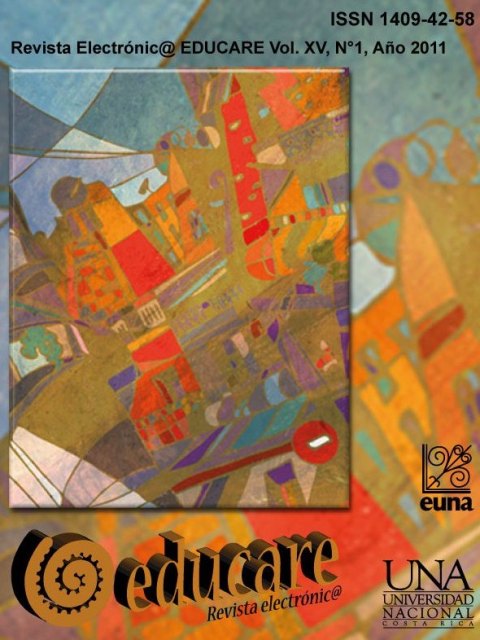 How to Cite
Pereira Pérez, A., & Mairena Rodríguez, N. (2011). Open Classroom in Natural Spaces: an Experience in the Ramón Álvarez Forest. Revista Electrónica Educare, 15(1), 211-222. https://doi.org/10.15359/ree.15-1.16
Section
Articles (Peer Reviewed Section)
1. In case the submitted paper is accepted for publication, the author(s) FREELY, COSTLESS, EXCLUSIVELY AND FOR AN INDEFINITE TERM transfer copyrights and patrimonial rights to Universidad Nacional (UNA, Costa Rica). For more details check the Originality Statement and Copyright Transfer Agreement
2. REUTILIZATION RIGHTS: UNA authorizes authors to use, for any purpose (among them selfarchiving or autoarchiving) and to publish in the Internet in any electronic site, the paper´'s final version, both approved and published (post print), as long as it is done with a non commercial purpose, does not generate derivates without previous consentment and recognizes both publisher's name and authorship.
3. The submission and possible publication of the paper in the Educare Electronic Journal is ruled by the Journal's editorial policies, the institutional rules of Universidad Nacional and the laws of the Republic of Costa Rica. Additionally, any possible difference of opinion or future dispute shall be settled in accordance with the mechanisms of Alternative Dispute Resolution and the Costa Rican Jurisdiction.
4. In all cases, it is understood that the opinions issued are those of the authors and do not necessarily reflect the position and opinion of Educare, CIDE or Universidad Nacional, Costa Rica.
5. The papers published by Educare Electronic Journal use a Creative Commons License:
Most read articles by the same author(s)