Manejo del aula, competencia básica del maestro líder
Ray Petty

Universidad Interamericana de Puerto Rico, Puerto Rico
Abstract
It is necessary to establish two specific areas to carry out an effective teaching-learning process. These are the program contents and the nature of the work in the classroom. This article analyzes the latter from a behavioral theoretical perspective. The author proposes three classroom management components: (a) Definition of appropriate and inappropriate behaviors, (b) The way to admonish those students who do not comply with the expectations; (c) The development of a behavior management system.
The teachers who post the rules of behavior in their classrooms will find two examples in which they can discover strengths and weaknesses. The benefit of patting the students on the back and the use of rewards to acknowledge their achievement and the danger of the undue use of punishment are discussed in this article.
References
Petty, R. (s.f.). Manejo del Salón de Clases: Un manual para el maestro de vanguardia. San Juan, Puerto Rico: Publicaciones Puertorriqueñas.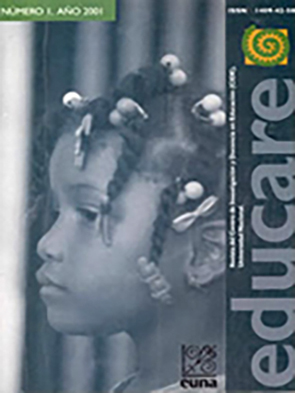 How to Cite
Petty, R. (2001). Manejo del aula, competencia básica del maestro líder. Revista Electrónica Educare, (1), 85-91. https://doi.org/10.15359/ree.2001-1.7
Section
Articles (Peer Reviewed Section)
1. In case the submitted paper is accepted for publication, the author(s) FREELY, COSTLESS, EXCLUSIVELY AND FOR AN INDEFINITE TERM transfer copyrights and patrimonial rights to Universidad Nacional (UNA, Costa Rica). For more details check the Originality Statement and Copyright Transfer Agreement
2. REUTILIZATION RIGHTS: UNA authorizes authors to use, for any purpose (among them selfarchiving or autoarchiving) and to publish in the Internet in any electronic site, the paper´'s final version, both approved and published (post print), as long as it is done with a non commercial purpose, does not generate derivates without previous consentment and recognizes both publisher's name and authorship.
3. The submission and possible publication of the paper in the Educare Electronic Journal is ruled by the Journal's editorial policies, the institutional rules of Universidad Nacional and the laws of the Republic of Costa Rica. Additionally, any possible difference of opinion or future dispute shall be settled in accordance with the mechanisms of Alternative Dispute Resolution and the Costa Rican Jurisdiction.
4. In all cases, it is understood that the opinions issued are those of the authors and do not necessarily reflect the position and opinion of Educare, CIDE or Universidad Nacional, Costa Rica.
5. The papers published by Educare Electronic Journal use a Creative Commons License: