A critical approach to neoclassic monetarism
Yoandris Sierra Lara

Universidad Politécnica Salesiana de Ecuador, Ecuador
Keywords:
Monetarism, Neoclassicism, Criticism
Abstract
This article is aimed at assessing the current universal economic thought called Monetarism, especially in its neo-classic variant, represented by US economist Milton Friedman. The paper focuses on the analysis of the historical context that leads Monetarism to become a dominant doctrine, its main methodological features and the notions regarding inflation as a macroeconomic imbalance.
Downloads
Download data is not yet available.
References
Blaug, M. (1985). La metodología de la economía. Madrid, España: Alianza Editorial.
Castaño, H. (2006). Neoliberalismo Monetarista. La Hegemonía del Capital. La Habana, Cuba: Editorial Félix Varela.
Josadchaia, I. M., Usoskin, V. M., Entov, R. M., Shenaiev, R. M., Smislov, D. V., Kozlova, K. V., Kuznetsov, V. I., . . ., Zaikina, V. I.. (1977). Economía Política no Marxista Actual: un análisis crítico. Moscú: Editorial Progreso.
Fondo Monetario Internacional. (2014). Ficha técnica. Derechos Especiales de Giro. Recuperado de: https://www.imf.org/external/np/exr/facts/spa/sdrs.htm.
Friedman, M. (1953). La metodología de la economía positiva. Estados Unidos: University of Chicago Press. Recuperado de: http://microeconomia.org/guillermopereyra/wp-content/uploads/RECP_021_033.pdf
Friedman, M. (1976). Libertad de Elegir. Madrid, España: Editorial Publicaciones Económicas.
Giraldo, A. (2006). La neutralidad del dinero y la dicotomía clásica en la macroeconomía. Cuadernos de Economía, Bogotá, 25(45), 75-93. Recuperado de: http://www.scielo.org.co/pdf/ceco/v25n45/v25n45a04.pdf
Palazuelos, E. (1988). Dinámica capitalista y crisis actual. Madrid, España: Ediciones AKAL. Recuperado de: http://dialnet.unirioja.es/servlet/libro?codigo=1206
Rodríguez-Vargas, J. J. (2005). La Nueva Fase de Desarrollo Económico y Social del Capitalismo Mundial. (Tesis doctoral). Recuperado de: http://www.eumed.net/tesis-doctorales/jjrv/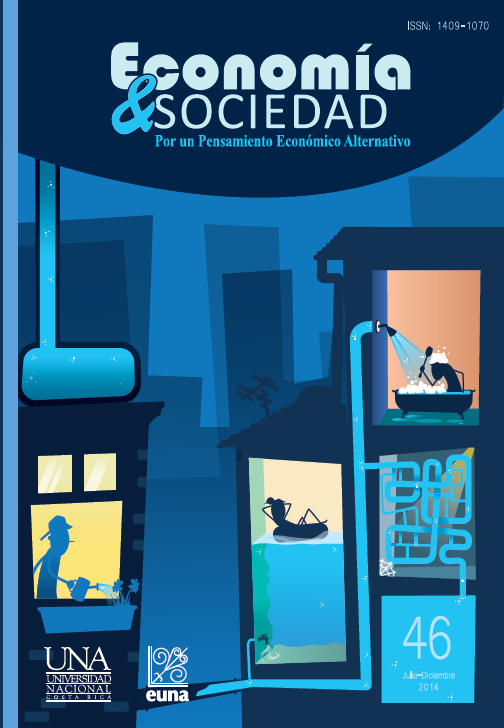 How to Cite
Sierra Lara, Y. (2014). A critical approach to neoclassic monetarism. Economía Y Sociedad, 19(46), 79-93. https://doi.org/10.15359/eys.19-46.5
Section
Articles (Arbitrated section)
This publication is subject to the Creative Commons License; therefore, its attributions and restrictions must be respected.
Authors publishing in this Journal accept the following conditions:
Authors retain copyright ownership and give the Journal first publication right of the paper, which is registered with the Creative Commons Attribution-NonCommercial-ShareAlike 4.0 International License. This license allows third parties to use the published work provided it is sourced as firstly published in this Journal.
Authors may enter into other independent and additional contractual agreements for the non-exclusive distribution of the article published in this Journal (e.g., to be included in an institutional repository or published in a book) provided it is clearly stated that the work was published in this Journal for the first time.
Authors are allowed and recommended to publish their work on the Internet (for example, on institutional or personal pages) before and during the review and publication process, as it can lead to productive exchanges and a greater and faster dissemination of work published.
The Economía & Sociedad Journal, published by Universidad Nacional, is licensed under a Creative Commons Reconocimiento-NoComercial-CompartirIgual 4.0 Internacional License. Based on http://www.revistas.una.ac.cr/index.php/economia.