Capacidades humanas y desarrollo local. El caso de la producción de melón en Costa Rica
Luis Barboza Arias

Universidad Nacional, Costa Rica
Palabras clave:
aprendizaje social, conocimiento, desarrollo inclusivo, territorios rurales
Resumen
El objetivo del estudio es identificar los arreglos institucionales creados por los actores y las organizaciones del sector de melón en Costa Rica, para favorecer las competencias de los trabajadores. En 2016, el área sembrada con melón presentó una extensión de 5008 hectáreas de terreno, con una producción de 152 416 toneladas métricas del producto. Cerca del 81 % de la producción local se exporta a otros países. Se utiliza un enfoque mixto en el análisis de los datos, al combinar elementos de naturaleza cuantitativa y cualitativa a partir de la realización de encuestas a un grupo de 16 organizaciones productoras, cuya mano de obra se caracteriza por la participación de trabajadores con una baja escolaridad, la mayoría de ellos migrantes nicaragüenses. No obstante, la gestión del aprendizaje se realiza a través de estrategias verticales, orientadas de arriba hacia abajo, y basada en reglas y procedimientos codificados que dificultan la rápida absorción. Se concluye que la ausencia de estructuras de apoyo para estimular acciones colectivas y de base que reviertan esta situación a través del fomento de capacidades humanas sigue siendo una tarea pendiente. Tampoco, se dispone de los mecanismos adecuados para incluir la dimensión sociocultural, la cual es uno los pilares fundamentales de la competitividad.
Citas
Adger, W. N. (2003). Social capital, collective action and adaptation to climate change. Economic Geography, 79, 387–404.

Andersson, A., Grönlund, Å. and Wicander, G. (2012). Development as Freedom: how the Capability Approach can be Used in ICT4D Research and Practice. Information Technology for Development, 18 (1), 1-4.

Archivo Nacional de Costa Rica (2012). Corporación Costarricense de Desarrollo, CR-AN-AH-CODESA-000001-000528. Recuperado de http://www.archivonacional.go.cr/isad-g/codesa.doc.

Bandura, A. (1977). Social Learning Theory. New Jersey: Prentice-Hall, Englewood Cliffs.

Brighouse, H. and Swift, A. (2003). Defending liberalism in education theory. Journal of Education Policy, 18, 355–373.

CANAPEMS (2017). Comunicación personal. Realizada el 16 de enero de 2017. San José, Costa Rica.

Cazorla, A. and de Los Ríos, I. (2006). "Social sensibility and rural development: the innovation as a process of social learning". En Cazorla, A. et al. (2006) Planificación para la sostenibilidad: Proyectos de ingeniería para un ámbito rural-local. Madrid: Universidad Politécnica de Madrid E.T.S.I. Agrónomos, 165-182.

Deneulin, S. and McGregor, J. A. (2010). The capability approach and the politics of a social conception of wellbeing. European Journal of Social Theory, 13 (4), 501-519.

Díaz-Alvarado, J. M. y Monge-Pérez, J. E. (2017). Producción de melón (Cucumis melo L.) en invernadero: efecto de poda y densidad de siembra. RevistaSEP-PyS@uned.ac.cr, 15 (1), 1-12.

Díaz-Porras, R. & Meza, V. S. (2007). La cadena de melón en Costa Rica: potencialidades y desafíos internacionales. Revista Centroamericana de Ciencias Sociales, 4 (2), 69-101.

Elizondo- Herrera, M. (2010). Efecto de la polinización abierta en la producción de melón (cucumis melo) híbrido dorado, en Lepanto, Puntarenas y Nandayure, Guanacaste. Tesis para optar al grado de Licenciatura en Ingeniería en Agronomía. Universidad de Costa Rica.

Fernández-Alvarado L. F. y Granados-Carvajal, E. (2000). Costa Rica: el nuevo marco regulatorio y el sector agrícola. Serie Desarrollo Productivo N.º 95. Diciembre. Santiago, Chile: CEPAL.

Fukuda-Parr, S. (2003). The human development paradigm: operationalizing Sen's ideas on capabilities. Feminist economics, 9 (2-3), 301-317.

INEC (2014). VI Censo Nacional Agropecuario. Costa Rica: INEC.

Kilelu, C. W., Klerkx, L., & Leeuwis, C. (2014). How dynamics of learning are linked to innovation support services: insights from a smallholder commercialization project in Kenya. The Journal of Agricultural Education and Extension, 20 (2), 213-232.

Klerkx, L., Petter Stræte, E., Kvam, G. T., Ystad, E., & Butli Hårstad, R. M. (2017). Achieving best-fit configurations through advisory subsystems in AKIS: case studies of advisory service provisioning for diverse types of farmers in Norway. The Journal of Agricultural Education and Extension, 23 (3), 213-229.

Knickel, K., Brunori, G., Rand, S., & Proost, J. (2009). Towards a Better Conceptual Framework for Innovation Processes in Agriculture and Rural Development: From Linear Models to Systemic Approaches. The Journal of Agricultural Education and Extension, 15, 131-146.

Lanzi, D. (2011). Capabilities and social cohesion. Cambridge journal of economics, 35 (6), 1087-1101.

Leach, M., Rockström, J., Raskin, P., Scoones, I., Stirling, A., Smith, A. & Folke, C. (2012). Transforming innovation for sustainability. Ecology and Society, 17 (2).

Lehtonen, M. (2004). The environmental–social interface of sustainable development: capabilities, social capital, institutions. Ecological economics, 49 (2), 199-214.

Market Access Map (2017). Estadísticas del Centro de Comercio Internacional.www.macmap.org, consultado el 31, 05, 2017.

Leeuwis, C. (2013). Communication for rural innovation: rethinking agricultural extension. Oxford, UK: Blackwell Science Ltd.

Leeuwis, C., & Aarts, N. (2011). Rethinking communication in innovation processes: creating space for change in complex systems. Journal of agricultural education and extension, 17 (1), 21-36.

Monge-Pérez, J. E. (2014). Producción y exportación de melón (Cucumis melo) en Costa Rica. Tecnología en Marcha, 27 (1), 93-103.

Monge-Pérez, J. E. (2016). Evaluación de 70 genotipos de melón (cucumis melo l.) cultivados bajo invernadero en Costa Rica. Revista InterSedes 17 (2), 1-41.

Olsson, P., Folke, C. and Berkes, F. (2004). Adaptive co-management for building resilience in social–ecological systems. Environmental Management, 34 (1), 75–90.

Procomer (2017). Análisis trimestral sobre la evolución de las exportaciones de bienes y servicios de Costa Rica. San José, Costa Rica: Procomer.

Quirós, G. E. (1999). Estudio de casos para dos fincas productoras de melon Honey Dew, bajo sistemas diferentes de riego (por goteo y por gravedad) en la zona de Parrita. Tesis para optar al grado de Licenciatura en Ingeniería Agronómica con énfasis en Economía Agrícola. Universidad de Costa Rica.

Ratner, B., Meinzen-Dick, R., May, C., and Haglund, E. (2013). Resource conflict, collective action, and resilience: an analytical framework. International Journal of the Commons, (7), 1.

Röling, N. G. (1989). The Agricultural Research-technology Transfer Interface: A Knowledge Systems Perspective. International Service for National Agricultural Research (ISNAR), The Hague.

Schejtman, A. and Berdegué, J. A. (2004). Rural territorial development. Documento de Trabajo, (4), 1-71.

Schlosberg, D., and Carruthers, D. (2010). Indigenous struggles, environmental justice, and community capabilities. Global Environmental Politics, 10 (4), 12–35.

Schut, M., Klerkx, L., Sartas, M., Lamers, D., Mc Campbell, M., Ogbonna, I., & Leeuwis, C. (2016). Innovation platforms: experiences with their institutional embedding in agricultural research for development. Experimental Agriculture, 52(4), 537-561.

Secretaría Ejecutiva de Planificación Sectorial Agropecuaria. (2017). Estadísticas agropecuarias. Costa Rica: MAG.

Sen, A. (1985). Commodities and Capabilities. New York: North-Holland.

Sen, Amartya. (1989). Development as Capabilities Expansion. Journal of Development Planning, 19, 41–58.

Sen, A. (1992). Inequality Re-examined. Oxford: Clarendon Press.

Sen, A. (1998). Capital humano y capacidad humana. Cuadernos de economía, 17 (29), 67-72.

Sen, A. (1999). Development as Freedom. Oxford: Oxford University Press.

Smith, A., Fressoli, M. and Thomas, H. (2014). Grassroots innovation movements: challenges and contributions. Journal of Cleaner Production, 63, 114-124.

Valenciano, J. A. (2004). Flujos de información y sistemas de innovación en las cadenas del chayote y el melón. Tesis para optar por el grado de Maestría en Política Económica. Universidad Nacional. Centro Internacional en Política Económica.

Van Lente, H., Hekkert, M., Smits, R., & van Waveren, B. (2003). Roles of systemic intermediaries in transition processes. International journal of Innovation management, 7 (03), 247-279.

Van Mierlo, B., Leeuwis, C., Smits, R., & Woolthuis, R. K. (2010). Learning towards system innovation: Evaluating a systemic instrument. Technological forecasting and social change, 77 (2), 318-334.

Wallet, F. & Torre, A. (2011). The intriguing question of regional and territorial development in rural areas: analytical variations and Public Policy. Journées de recherches en sciences sociales, 8 et 9 décembre 2011.

Woolthuis, R. K., Lankhuizen, M. & Gilsing, V. (2005). A system failure framework for innovation policy design. Technovation, 25 (6), 609-619.

Yang, H., Klerkx, L., & Leeuwis, C. (2014). Functions and limitations of farmer cooperatives as innovation intermediaries: Findings from China. Agricultural Systems, 127, 115-125.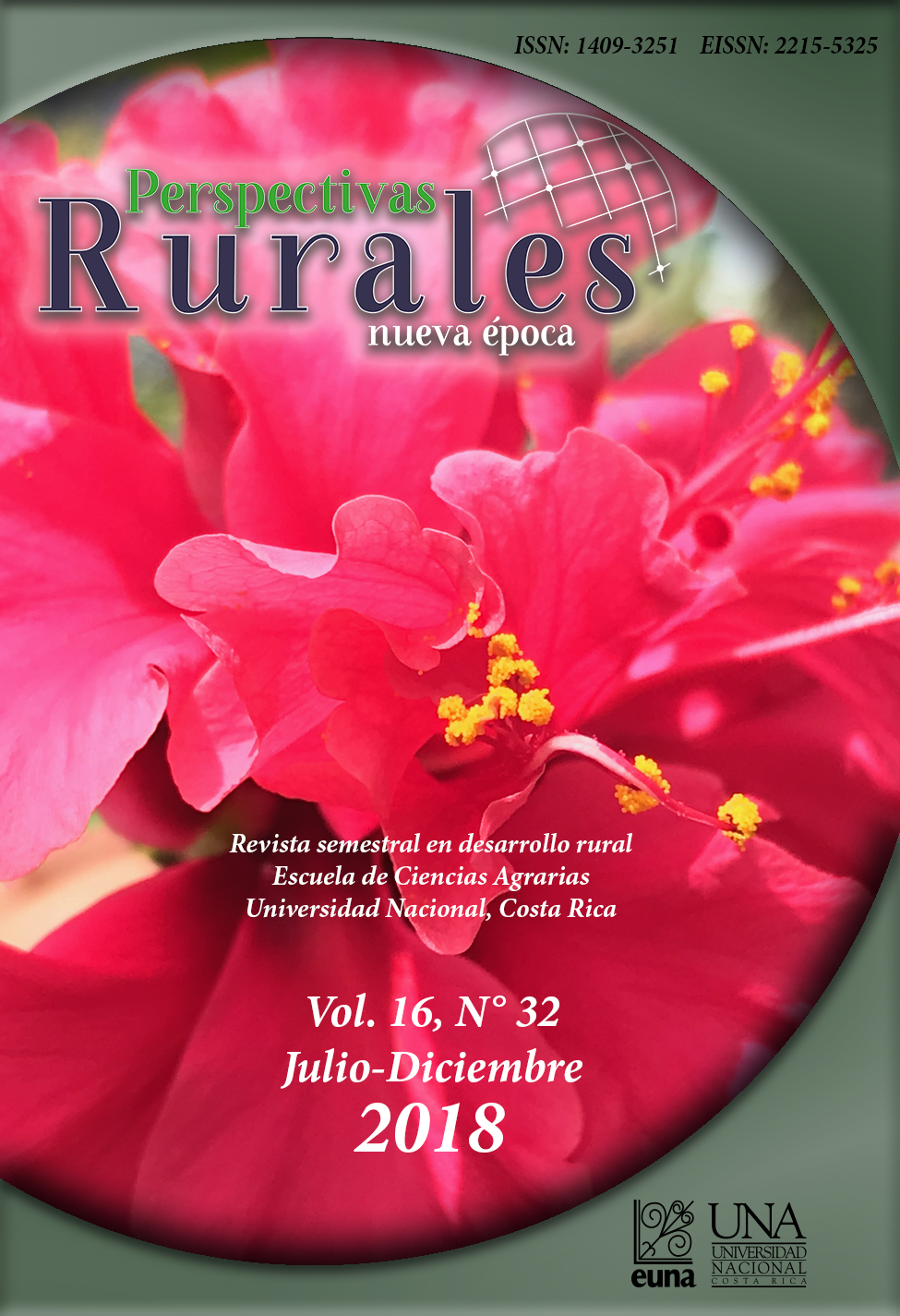 Cómo citar
Barboza Arias, L. (2018). Capacidades humanas y desarrollo local. El caso de la producción de melón en Costa Rica. Perspectivas Rurales Nueva Época, 16(32), 57-87. https://doi.org/10.15359/prne.16-32.4
Derechos de autor 2018 Luis Barboza Arias
Esta obra está bajo licencia internacional
Creative Commons Reconocimiento-NoComercial-SinObrasDerivadas 4.0
.


Revista Perspectivas Rurales. Nueva Época se encuentra bajo una licencia Creative Commons Reconocimiento-NoComercial-CompartirIgual 4.0 Internacional License.
Creado a partir de la obra en http://www.revistas.una.ac.cr/index.php/perspectivasrurales
Los autores/as que publiquen en esta revista aceptan las siguientes condiciones:
Los autores/as conservan los derechos de autor y ceden a la revista el derecho de la primera publicación, con el trabajo registrado con la Licencia Creative Commons Atribución-NoComercial-CompartirIgual 4.0 Internacional, que permite a terceros utilizar lo publicado siempre que mencionen la autoría del trabajo y a la primera publicación en esta revista.
Los autores/as pueden realizar otros acuerdos contractuales independientes y adicionales para la distribución no exclusiva de la versión del artículo publicado en esta revista (p. ej., incluirlo en un repositorio institucional o publicarlo en un libro) siempre que indiquen claramente que el trabajo se publicó por primera vez en esta revista.
Se permite y recomienda a los autores/as a publicar su trabajo en Internet (por ejemplo en páginas institucionales o personales) antes y durante el proceso de revisión y publicación, ya que puede conducir a intercambios productivos y a una mayor y más rápida difusión del trabajo publicado.