Interrupciones violentas: las advertencias victorianas y la fascinación por una sociedad distópica e inorgánica que se convirtió en el antropoceno
José Fabián Elizondo-González

Universidad de Costa Rica, Costa Rica

Leonardo Chinchilla-Mora

University of Helsinki, Costa Rica
Palabras clave:
Antropoceno, literatura victoriana, ecología, amoralidad, progreso, violencia
Resumen
A pesar de que la Era Victoriana ha sido analizada como un periodo de esclavización, colonialismo y raza  basado en una supremacía autoadjudicada, poca atención se les ha prestado a las implicaciones ecológicas de dicho imperialismo y a las advertencias que trabajos literarios como The Strange Case of Dr. Jekyll and Mr. Hyde de Robert Louis Stevenson. El presente ensayo se suma a la creciente literatura que analiza literatura victoriana retrospectivamente a través de la edad geológica conocida como Antropoceno, ya que, como propone Taylor, "los estudios victorianos en el Antropoceno […] se alinean con el período histórico durante el cual surgió esta era" (574). A partir del análisis de The Strange Case de Stevenson, este ensayo identifica advertencias acerca del cambio hacia la industrialización que  amenazaba el periodo victoriano, y ofrece también posibles implicaciones de dicho cambio. Asimismo, se enfatiza  en la imaginería de la novela como evocadora de una fascinación por el distopianismo, la cual es articulada a través del proceso de autocreación monstruosa de Dr. Jekyll. Por lo tanto, este artículo se divide en tres secciones principales. La primera es una introducción al contexto histórico que tuvo lugar antes de la época victoriana, haciendo  énfasis en la transición de la Inglaterra romántica y pastoral cuando los románticos "no reconocían una separación radical entre el yo y la naturaleza" (Reed 364) a la industrial y utilitaria (Dimmock). La segunda sección trata de ilustraciones y argumentos de comportamientos ecológicamente monstruosos de la época victoriana materializados en The Strange Case of Dr. Jekyll and Mr. Hyde. Por último, la tercera sección aborda cuestiones (a) morales durante dicha época victoriana, las cuales, a su vez, podrían convertirse en advertencias no escuchadas por futuras generaciones.
Descargas
La descarga de datos todavía no está disponible.
Citas
Aslami, Zarena. "Living in a Biopolitical World." Victorian Literature and Culture, vol. 47, no. 3, 2019, pp. 679-689, doi:10.1017/S1060150319000123.
Brantlinger, Patrick. Victorian Literature and Postcolonial Studies. Edinburgh University Press, Edinburgh, 2009, pp. 1-54.
Corton, Christine L. London Fog: The Biography. Harvard University Press. 2015, www.hup.harvard.edu/catalog.php?isbn=9780674979819.
Darwin, Charles. On The Origin of Species by Means of Natural Selection, or Preservation of Favoured Races in the Struggle for Life. London: John Murray, 1859.
Dickens, Charles. A Tale of Two Cities. Canterbury Classics, 2020.
Dimmock, Mark, and Fisher, Andrew. "Chapter 1. Utilitarianism." Ethics for A-Level: For AQA Philosophy and OCR Religious Studies." Open Edition Books, Open Book Publishers, 2017, pp. 11-28, books.openedition.org/obp/4419
Fleming, Jim. "Excuse Us, While We Fix the Sky: WEIRD Supermen and Climate Engineering. In: 'Men and Nature: Hegemonic Masculinities and Environmental Change,'" edited by Sherilyn MacGregor and Nicole Seymour. RCC Perspectives: Transformation in Environment and Society, no. 4, 2017, pp. 23-28, doi.org/10.5282/rcc/7979.
Griffiths, Devin, and Deanna K. Kreisel. "Introduction: Open Ecologies." Victorian Literature and Culture, vol. 48, no. 1, 2020, pp. 1-28, doi:10.1017/S1060150319000470.
Hillard, Molly C. "Neo-Victorian." Victorian Literature and Culture; Victorian Literature and Culture, vol. 46, no. 3-4, 2018, pp. 780-783, ProQuest, doi:10.1017/S1060150318000827.
Hoare, Phillip. "Fog Is Transcendent. It Muffles Our World, and Inspires Our Artists." The Guardian, Guardian News and Media, 2 Nov. 2015, www.theguardian.com/commentisfree/2015/nov/02/fog-artists-autumnal-dickens-constable-turner, accessed 29 Feb. 2021.
Hume, Robert D. "Gothic versus Romantic: A Revaluation of the Gothic Novel." PMLA, vol. 84, no. 2, 1969, pp. 282–290. JSTOR, www.jstor.org/stable/1261285. Accessed 11 Mar. 2021.
Manning, Pascale M. "The Hyde we Live in: Stevenson, Evolution, and the Anthropogenic Fog." Victorian Literature and Culture; Victorian Literature and Culture, vol. 46, no. 1, 2018, pp. 181-199, doi:10.1017/S1060150317000389.
Merchant, Carolyn. The Death of Nature: Women, Ecology and the Scientific Revolution. HarperCollins/ HarperOne, 40th Anniversary Ed., Kindle ed., New York, N.Y, 1980.
---. "The Scientific Revolution and The Death of Nature." Isis, vol. 97, no. 3, 2006, pp. 513-533, doi:10.1086/508090.
National Geographic Society. "Anthropocene." Resource Library Encyclopedic Entry, www.nationalgeographic.org/encyclopedia/anthropocene/. Accessed 10 Mar. 2021.
Patriquin, Larry. "The Agrarian Origins of the Industrial Revolution in England." Review of Radical Political Economics, vol. 36, no. 2, June 2004, pp. 196–216, Sage Journals, doi:10.1177/0486613404264190.
Reed, John R. "Inherited Characteristics: Romantic to Victorian Will." Studies in Romanticism, vol. 17, no. 3, 1978, pp. 335–366. JSTOR, www.jstor.org/stable/25600141. Accessed 11 Mar. 2021.
"Routledge Library Editions: Wordsworth and Coleridge." RLE: Wordsworth and Coleridge – Book Series - Routledge & CRC Press, www.routledge.com/RLE-Wordsworth-and-Coleridge/book-series/RLEWAC.
Robinson, Bruce. "History - British History in Depth: All Change in the Victorian Age." BBC, BBC, 17 Feb. 2011, www.bbc.co.uk/history/british/victorians/speed_01.shtmlAccessed 11 Mar. 2021
Scott, Heidi C. M. "Industrial Souls: Climate Change, Immorality, and Victorian Anticipations of the Good Anthropocene." Victorian Studies, vol. 60, no. 4, 2018, pp. 588-610, doi:10.2979/victorianstudies.60.4.04.
Shelley, M. Frankenstein, or The Modern Prometheus. Penguin Books, 2003.
Sloan, Phillip, "Darwin: From Origin of Species to Descent of Man," The Stanford Encyclopedia of Philosophy, Summer 2019 Ed., edited by Edward N. Zalta, plato.stanford.edu/archives/sum2019/entries/origin-descent/.
Stevenson, Robert L. The Strange Case of Dr. Jekyll and Mr. Hyde. E-book, Floating Press, 2008.
Taylor, Jesse O. "Anthropocene." Victorian Literature and Culture; Victorian Literature and Culture, vol. 46, no. 3-4, 2018, pp. 573-577, doi:10.1017/S106015031800027X.
T.E. Jordan. Studies in the Quality of Life in Victorian Britain and Ireland. Springer Briefs in Well-Being and Quality of Life Research, 2013 doi:10.1107/978-94-007-6122-3_3.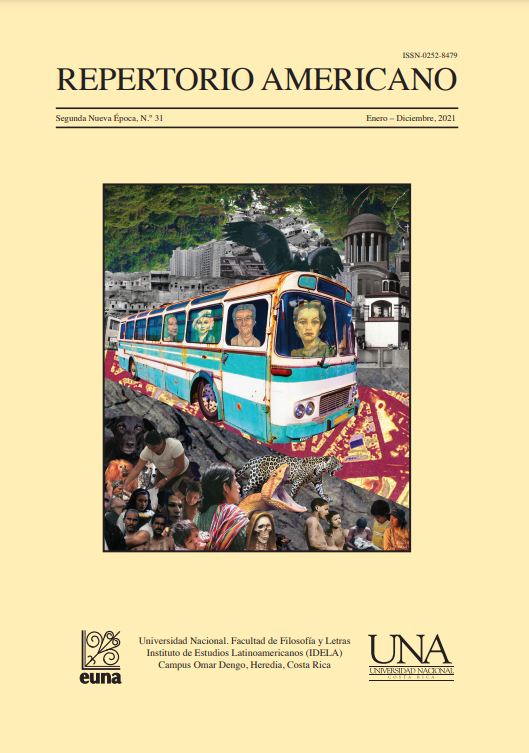 Cómo citar
Elizondo-González, J., & Chinchilla-Mora, L. (2023). Interrupciones violentas: las advertencias victorianas y la fascinación por una sociedad distópica e inorgánica que se convirtió en el antropoceno. Repertorio Americano, (31), 119-132. https://doi.org/10.15359/ra.1-31.4
Las cartas de entendimiento se facilitarán a las personas autoras al momento de aceptación de su trabajo para publicarse.
Todos los contenidos son de libre acceso con sólo citar la fuente.