EISSN: 2215-3470
There are no access or Article Processing Charges (APC).
News: Authors please read our calendar for receiving submissions.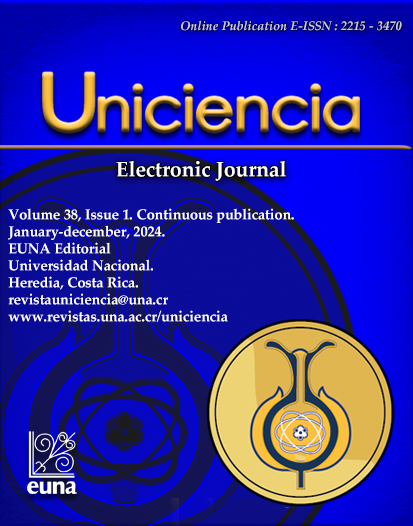 EISSN: 2215-3470
Uniciencia is an indexed scientific journal from the School of Natural and Applied Sciences at Universidad Nacional in Costa Rica (Editorial EUNA). The Journal's main objective is to share research findings and provide high quality research papers to the national and international community, encouraging the scientific and cultural development of our society. Publication from 2022 onwards is in continuous mode.
The target audience involves researchers, academics and specialists from the public and private sectors in the areas of the journal. Areas of interest (thematic coverage) include the exact and natural sciences: Biology, Physics, Computer Science, Mathematics, Chemistry, Topography and Geodesy. The themes that cut across all areas are :
Theme 1: Management and sustainability of territory and natural resources. In general terms it includes: environment, water resources, solid waste, industrial and wastewater, natural products, eco-efficient production, environmental education, restoration of natural and urban degraded ecosystems, urban ecology, chemistry and biology (general), veterinary, land use, topography, geodesy, geomatics, territory administration and others related to this subject.
Theme 2: Scientific and technological development and applications. In general terms it includes: information and communication technologies, software development, data mining, systems engineering, information systems, medical physics, health, medicine and others related to this subject.
Theme 3: Society and human and integral development. In general terms it includes: applied mathematics, materials, industrial bioprocesses and others related to this subject.
Theme 4: Risk management and vulnerability reduction. General terms include: adaptation and mitigation of climate change, physical oceanography, alternative energies, vulnerability and risk reduction and others related to this theme.
Theme 5: Science, mathematics and technology education. In general terms it includes: mathematics education, educational informatics, science teaching, citizen science and others related to this subject.
Papers are original and scientific in nature. The Journal welcomes a variety of research studies: experimental, descriptive, analytical or inferential, correlational, observational, action-research, or case studies, analyzed by quantitative or qualitative techniques or a combination of both (The IMRAD structure or the structure suggested in the journal template should be used). Papers from systematic literature reviews will also be evaluated(1) (2). No essays, non-systematic literature reviews, discussions, dissertations, educational proposals or technical notes are published.
Original proposals will be evaluated by academic peers who will be external specialists in the given area, using a Single-blind peer review. The arbitration and evaluation procedures are described in the document entitled Brief description of the process of receiving, evaluating and publishing articles, available in the top downloads section, on the right bar of this website.
Support on the sending of articles:
Read the calendar of reception of submissions and estimated times for publication.
Read the Rules and guide for authors carefully.
The preprint is mandatory (The use of the Uniciencia template is suggested).
In any case, instructions on paper length and APA formatting are mandatory.
Read and sign the Letter of Submission of articles, with all the information requested.
Read the policy for articles written in English (Policy on receiving papers in English).
Read the code of ethics.