La pedagogía intercultural en los territorios indígenas de Costa Rica
Rodrigo Torres Hernández

Profesional Independiente, Costa Rica

Julio Morales Campos

Profesional Independiente, Costa Rica

Sandra Ovares Barquero

Universidad Nacional, Costa Rica
Keywords:
intercultural pedagogy, cosmovision, culture and native tongue teacher
Abstract
The article comments about the necessity of building intercultural pedagologic strategies jointly, in order to revitalize mother tongues and cultures of Costa Rican indigenous.
This proposal is part of the project carry out by the Education Rural Department, which works with culture and mother tongue teachers in the community of Suretka, Talamanca.
References
Bolaños, M. (2002). Ruralidad y multiculturalidad en la Centroamérica contemporánea.
Ponencia UNA, Costa Rica.
Bozzolli, E. (2000). "La población indígena, la cultura nacional y la cuestión étnica
en Costa Rica". Cuadernos de Antropología. N
º 8. UCR, San José, Costa
Rica.
Rockwell, E. (1998). La dinámica cultural en la escuela. Un enfoque vygostkiano.
Madrid, España.
Rodriguez, J. (2002). "Patrones y principios en la moralización de las acciones. Una
investigación en la cultura bribri". Revista de Ciencias Sociales. UCR.
Rojas, C. (2002). "La enseñanza de las lenguas indígenas en Costa Rica". Revista
Educare Nº 111. Centro de Investigación y Docencia en Educación. UNA.
Segundo, J. (1997). "Relatos Bribris de Ke Koldi". Revista Tradición Oral Indígena
Costarricense. Vol. IV.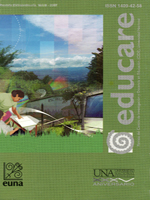 How to Cite
Torres Hernández, R., Morales Campos, J., & Ovares Barquero, S. (2007). La pedagogía intercultural en los territorios indígenas de Costa Rica. Revista Electrónica Educare, 2, 195-206. https://doi.org/10.15359/ree.2-Ext.14
Section
Articles (Peer Reviewed Section)
1. In case the submitted paper is accepted for publication, the author(s) FREELY, COSTLESS, EXCLUSIVELY AND FOR AN INDEFINITE TERM transfer copyrights and patrimonial rights to Universidad Nacional (UNA, Costa Rica). For more details check the Originality Statement and Copyright Transfer Agreement
2. REUTILIZATION RIGHTS: UNA authorizes authors to use, for any purpose (among them selfarchiving or autoarchiving) and to publish in the Internet in any electronic site, the paper´'s final version, both approved and published (post print), as long as it is done with a non commercial purpose, does not generate derivates without previous consentment and recognizes both publisher's name and authorship.
3. The submission and possible publication of the paper in the Educare Electronic Journal is ruled by the Journal's editorial policies, the institutional rules of Universidad Nacional and the laws of the Republic of Costa Rica. Additionally, any possible difference of opinion or future dispute shall be settled in accordance with the mechanisms of Alternative Dispute Resolution and the Costa Rican Jurisdiction.
4. In all cases, it is understood that the opinions issued are those of the authors and do not necessarily reflect the position and opinion of Educare, CIDE or Universidad Nacional, Costa Rica.
5. The papers published by Educare Electronic Journal use a Creative Commons License:
Most read articles by the same author(s)