Attention to Diversity from an Interdisciplinary Perspective: Results from the Final Graduation Project from a Group of Students Majoring in Preschool Education and Special Education
Paola Delgado Obregón

Universidad Nacional

Grettel Hernández Barboza

Profesional Independiente

Heidy León Arce

Universidad Nacional

Laura Morera Calvo

Universidad Nacional

Silvia Elena Morera Villarebia

Profesional Independiente

Roxana Obregón Vargas

Profesional Independiente
Keywords:
diversity, interdisciplinary, management, negotiation, multidimensional approach, preschool education, special education
Abstract
Nowadays, the topic of diversity is being studied, particularly in the field of the formation of future educators, where it is clearly evident in each one of the students. In order to understand this concept and meet the challenges it demands, this investigation, through the experience of action research, looks for a real picture of how this diversity is served in Guanacaste's rural contexts. This is accomplished by identifying those ways to guide a better teachers' work, and by taking into account the educational planning and the participation of the different sectors involved in the process of teaching and learning.
References
Alemany, I. (2004). Las actitudes del profesorado ante el reto de integrar a alumnos con N.E.E. Una
propuesta de trabajo. Revista Polibea, N° 72, Recuperado 03 Mayo, 2008 de http://pasoapaso.
com.ve/CMS/index.php?option=com_content&task=view&id=581&Itemid=421&limit=1&li
mitstart=0
Almazán, L. (2004). Los cambios actitudinales hacia la integración escolar desde una perspectiva
de los alumnos. Revista Fuentes, 5. Recuperado el 22 Julio, 2008 de http://institucional.us.es/
revistas/revistas/fuente/pdf/numeros/5/07%20los%20cambios.pdf
Avendaño, P., Brenes, A., Cubillo, R., Dobles, C., Navarrete, L., Navarro, T., Solano, S. & Yglesias,
A. (2006). Funciones del docente de apoyo en los servicios de Educación Especial. San
José, Costa Rica: Fundación mundo de oportunidades. Centro Nacional de Recursos para la
Inclusión Educativa (CENAREC). Departamento de Investigación.
Campos, N., García, N. y Rojas, M. (2002). La administración escolar. San José, Costa Rica:
Editorial Universidad de Costa Rica.
Castillero, A., Díaz, J., Morales, F. & Pino, I. (2002). Gestión y supervisión en el centro de educación
básica. Cartago, Costa Rica: Editorial Coordinación Educativa y Cultural Centroamericana
(CECC).
Cubillo, L., Guadamuz, P. & Mejías, A. (2006). Los procesos de integración de personas con necesidades
educativas especiales en el sistema regular, en la Dirección Regional de Heredia,
circuito educativo 01. Aproximación Evaluativa. Heredia, Costa Rica: Universidad Nacional.
Documento no publicado.
Delgado, P., Hernández, G., Morera, L., Morera, S & Obregón, R. (2009). Negociación, gestión
e intervención de las estudiantes de las carreras de Educación Especial y Educación
Preescolar de la Sede Central y la Sede Chorotega de la Universidad Nacional, en los
procesos formativos de los docentes de las escuelas Río Ora, 26 de febrero de 1886, Lajas
y el Jobo, del circuito 01, 05 y 07 de la provincia de Guanacaste que atiende niños con
necesidades educativas especiales. (Trabajo Final de Graduación inédito de Licenciatura en
Enseñanza Especial), Universidad Nacional (División de Educación Básica, CIDE), Heredia,
Costa Rica.
Devalle de Rendo, A. & Vega, V. (1999). Una escuela en y para la diversidad. São Paulo, Brasil:
Aique Grupo Editor.
Dobles, C. (2006). Negociación, Gestión e Intervención interdisciplinaria en los procesos formativos
de los docentes de las tres carreras de la División de Educación Básica y las sedes
regionales de la UNA. Proyecto de extensión FIDA 06-05. Heredia, Costa Rica: Universidad
Nacional.
Grupo de investigación ADIR, Universidad de Oviedo (s. f.). Intervención educativa. Recuperado
el 17 de marzo de 2009 de http://www.grupocerpa.com/int_edu.php
IIPE/UNESCO. (2000). Una cultura de consensos. En P. Pozner (Ed.). Negociación. Módulo 6:
diez módulos destinados a los responsables de los procesos de transformación educativa,
(pp. 15-18). Buenos Aires: Autor. Recuperado el 10 Octubre, 2008 de http://www.usebeq.
sep.gob.mx/Pilar_Pozner/modulo06.pdf
Instituto Internacional de Planeamiento de la Educación. (2000). Gestión educativa
estratégica. Recuperado 10 Agosto, 2008 de http://www.gestionescolar.cl/userfiles/
p0001%5cfile%5cficha_56_gestion%20educativa%20estrat%c3%a9gica.pdf
Sañudo, L. (2001). El papel de la intervención educativa en la transformación de la práctica docente.
Recuperado el 6 de setiembre del 2008 de http://educar.jalisco.gob.mx/01/01Entrev.html
Zampa, D., Gómez, A., Codutti, T. y Zalazar, I. (2007). La negociación y la mediación en la
formación docente. Recuperado el 03 Marzo, 2008 de http://www.nuestraldea.com/
negociacion.html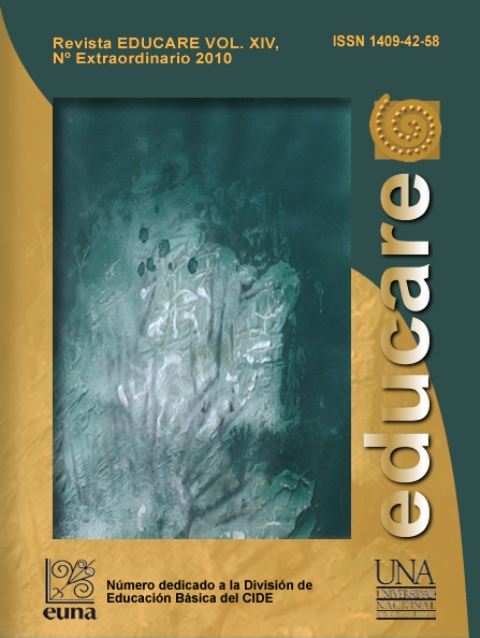 How to Cite
Delgado Obregón, P., Hernández Barboza, G., León Arce, H., Morera Calvo, L., Morera Villarebia, S., & Obregón Vargas, R. (2010). Attention to Diversity from an Interdisciplinary Perspective: Results from the Final Graduation Project from a Group of Students Majoring in Preschool Education and Special Education. Revista Electrónica Educare, 14, 149-165. https://doi.org/10.15359/ree.14-Ext.10
Section
Articles (Peer Reviewed Section)
1. In case the submitted paper is accepted for publication, the author(s) FREELY, COSTLESS, EXCLUSIVELY AND FOR AN INDEFINITE TERM transfer copyrights and patrimonial rights to Universidad Nacional (UNA, Costa Rica). For more details check the Originality Statement and Copyright Transfer Agreement
2. REUTILIZATION RIGHTS: UNA authorizes authors to use, for any purpose (among them selfarchiving or autoarchiving) and to publish in the Internet in any electronic site, the paper´'s final version, both approved and published (post print), as long as it is done with a non commercial purpose, does not generate derivates without previous consentment and recognizes both publisher's name and authorship.
3. The submission and possible publication of the paper in the Educare Electronic Journal is ruled by the Journal's editorial policies, the institutional rules of Universidad Nacional and the laws of the Republic of Costa Rica. Additionally, any possible difference of opinion or future dispute shall be settled in accordance with the mechanisms of Alternative Dispute Resolution and the Costa Rican Jurisdiction.
4. In all cases, it is understood that the opinions issued are those of the authors and do not necessarily reflect the position and opinion of Educare, CIDE or Universidad Nacional, Costa Rica.
5. The papers published by Educare Electronic Journal use a Creative Commons License:
Most read articles by the same author(s)