A Journey Through Education Today. Changes Required
Zuleyka Suárez Valdés-Ayala

Instituto Tecnológico de Costa Rica, Costa Rica
Keywords:
Education, changes, improvements, equality, future
Abstract
This essay aims at raising awareness on the changes required in Education to continuously search for quality improvement and the formation of integral human beings. Eight fundamental aspects are included in this paper. Such aspects need to be applied in the short- or medium term to have a significant progress, keeping in mind that the change must be permanent.
References
Arias, J. P. y EFE. (27 de octubre de 2010). Índice de prosperidad Legatum. País destaca entre los
más prósperos de Latinoamérica. La Nación. Recuperado de http://www.nacion.com/2010-10-
/Economia/NotasSecundarias/Economia2568779.aspx
Asamblea Legislativa de la República de Costa Rica. (28 de octubre 2010). Ley para la promoción
de la alta dotación, talentos y creatividad en el sistema educativo costarricense (Ley N° 8899).
La Gaceta Diario Oficial # 247 del 21 de diciembre del 2010. Recuperado de http://www.
gaceta.go.cr/pub/2010/12/21/COMP_21_12_2010.html
Consejo Superior de Educación. (2008). El centro educativo de calidad como eje de la educación
costarricense. Recuperado de http://www.uned.ac.cr/educacion/documents/doc2011_yrivera/
un_centro_educativo_de_calidad.pdf
De Zubiría, J. (s. f). Los retos a la educación en el siglo XXI. Recuperado de http://www.
institutomerani.edu.co/publicaciones/articulos/2009/Retos%20a%20la%20educacion%20
del%20Siglo%20XXI%20De%20Zubiria.pdf
Gómez, T. (2010). El nuevo paradigma de la complejidad y la educación: Una mirada histórica. Polis
Revista de la Universidad Bolivariana, 9(25), 183-198.
Hoyos, C. A., Delgado, V. y Pére, D. L. (s. f). Tendencias mundiales en educación. Monografías.
com Recuperado de http://www.uh.cu/static/documents/AL/Tendencias%20mundiales%20
educacin%20mono.pdf
Morin, E. (1999). Los siete saberes necesarios para la educación del futuro. Francia: UNESCO.
Recuperado de http://unesdoc.unesco.org/images/0011/001177/117740so.pdf
Morin, E., Ciurana, E. R. y Motta, R. D. (2006). Educar en la era planetaria. El pensamiento complejo
como método de aprendizaje en el error y la incertidumbre humana. España: Gedisa.
Naranjo, C. (2004). Cambiar la educación para cambiar el mundo. Recuperado de http://www.
claudionaranjo.net/pdf_files/education/cambiar_la_educacion_ch_5_spanish.pdf
PNUD (2010). Análisis de las tendencias de 40 años revela avances más rápidos en desarrollo
en países pobres (Informe). Recuperado de http://hdr.undp.org/es/informes/mundial/idh2010/
noticias/title,21577,es.html
Rivera, L. (2005). El papel del docente como gestor en el contexto actual. Revista de la Universidad
Cristóbal Colón, 17-18, Recuperado de www.eumed.net/rev/rucc/17-18/
Ruiz, Á. (2006). Universalización de la educación secundaria y reforma educativa. San José, Costa
Rica: EUCR. Recuperado de http://cimm.ucr.ac.cr/universalizacion/presentacion_digital.html
Tedesco, J. C. (2003, octubre). Los pilares de la educación del futuro. Debats D'Educació, 1-9.
Recuperado de http://www.uoc.edu/dt/20367/20367.pdf
Walter, K. (2000). La educación en Centroamérica: Reflexiones en torno a sus problemas y su
potencial. Recuperado de http://ca2020.fiu.edu/Themes/Knut_Walter/Walter.pdf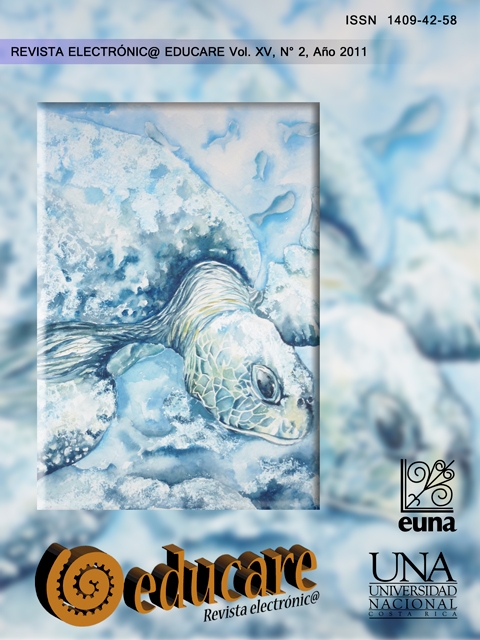 How to Cite
Suárez Valdés-Ayala, Z. (2011). A Journey Through Education Today. Changes Required. Revista Electrónica Educare, 15(2), 111-118. https://doi.org/10.15359/ree.15-2.8
Section
Articles (Peer Reviewed Section)
1. In case the submitted paper is accepted for publication, the author(s) FREELY, COSTLESS, EXCLUSIVELY AND FOR AN INDEFINITE TERM transfer copyrights and patrimonial rights to Universidad Nacional (UNA, Costa Rica). For more details check the Originality Statement and Copyright Transfer Agreement
2. REUTILIZATION RIGHTS: UNA authorizes authors to use, for any purpose (among them selfarchiving or autoarchiving) and to publish in the Internet in any electronic site, the paper´'s final version, both approved and published (post print), as long as it is done with a non commercial purpose, does not generate derivates without previous consentment and recognizes both publisher's name and authorship.
3. The submission and possible publication of the paper in the Educare Electronic Journal is ruled by the Journal's editorial policies, the institutional rules of Universidad Nacional and the laws of the Republic of Costa Rica. Additionally, any possible difference of opinion or future dispute shall be settled in accordance with the mechanisms of Alternative Dispute Resolution and the Costa Rican Jurisdiction.
4. In all cases, it is understood that the opinions issued are those of the authors and do not necessarily reflect the position and opinion of Educare, CIDE or Universidad Nacional, Costa Rica.
5. The papers published by Educare Electronic Journal use a Creative Commons License:
Most read articles by the same author(s)
Luis Gerardo Meza Cascante, Zuleyka Suárez Valdés-Ayala, Paulo García Delgado, Actitud de maestras y maestros hacia el trabajo cooperativo en el aprendizaje de la matemática , Revista Electrónica Educare: Vol 14 No 1 (2010): Revista Electrónica Educare (enero-junio)
Luis Gerardo Meza-Cascante, Zuleyka Suárez Valdés-Ayala, Sandra Schmidt-Quesada, The Attitude of Math Teachers toward Cooperative Learning and Institutional Elements that May Help or Hinder its Use as a Teaching Methodology , Revista Electrónica Educare: Vol 19 No 1 (2015): Revista Electrónica Educare (enero-abril)
Rebeca Solís Ortega, Zuleyka Suárez Valdés-Ayala, Carlos Monge Madriz, Ivonne Patricia Sánchez Fernández, Libros digitales interactivos de matemática como apoyo al aprendizaje en una modalidad a distancia: una propuesta para sexto grado de primaria , Ensayos Pedagógicos Journal: Vol 17 No 1 (2022): January-June