Education and Nature Conservation: an Urgent Alliance
Ana Isabel Pereira Pérez

Universidad de Costa Rica, Costa Rica

Nuria Mairena Rodríguez

Universidad de Costa Rica, Costa Rica
Keywords:
Biological richness, open classroom, conservation, education, natural areas, communities, nature
Abstract
This paper aims at pointing out not only Costa Rica's richness in terms of flora and fauna, but also the risk we face if we are unable to educate citizens for the appropriate nature conservation. In this sense, the authors state that it is through education that nature conversation, which is a necessity, can be promoted among citizens and communities. This is the reason why conservation and education must create an urgent alliance.
References
Abarca, J. A. (2001). Sistemas integrados de tratamiento y uso de aguas residuales en
América Latina: Realidad y potencial. Estudio general del caso Puntarenas, Costa Rica
(Proyecto regional). Recuperado de http://bvs.per.paho.org/bvsaar/e/proyecto/generales/
casos/puntarenas.pdf
Arellano, F. y Vargas, A. (2001). Casos de contaminación por intrusión salina en acuíferos costeros
de la península de Nicoya (Costa Rica). Revista Geológica de América Central 25, 77-84.
Argos, T. (s. f.). Dinámica territorial del desarrollo turístico costero: Unidad turística Guanacaste
Norte. Caracterización de la Unidad Turística Guanacaste Norte, incluyendo aspectos
históricos, físicos, ambientales y socioeconómicos, así como su dinámica turística. (Informe
final, Cap. II). San José, Costa Rica: Crest. Recuperado de http://www.responsibletravel.org/
resources/documents/Coastal-tourism-documents/II-GUANACASTE_NORTE%5B1%5D.pdf
Arias, M., Sagot, Á., Boeglin, N., Cortés, A., Morales, M., Fournier, M. … Monestel, H. (2009).
Implicaciones del proyecto de ampliación del acueducto El Coco-Ocotal, Guanacaste,
conocido "como sardinal" (Informe final). Universidad de Costa Rica, Consejo Univeritario.
Recuperado de http://www.cu.ucr.ac.cr/documen/informeFinalSardinal.pdf
Bonilla-Carrión, R. y Rosero-Bixby, L . R. (2004). Presión demográfica sobre los bosques y áreas
protegidas, Costa Rica 2000. En L. Rosero-Bixby (Ed.). Costa Rica a la luz del censo del 2000 (Proyecto Estado de la Nación e Instituto Nacional de Estadística y Censo [INEC]), (pp.
-594). San José, C. R.: Imprenta Nacional.
Cárdenas, G., Harvey, C. A., Ibrahim, M. y Finegan, B. (2003). Diversidad y riqueza de aves en
diferentes hábitats en un paisaje fragmentado en Cañas, Costa Rica. Agroforestería em las
Américas 10(39-40), 78-85.
El País.cr (6 de julio de 2010). Compañía agrícola envenena refugio de tortugas, hostiga voluntarios
de Pretoma. El país.cr Recuperado de http://www.elpais.cr/articulos.php?id=29882
Fernández, M. R. y Fallas, Y. (agosto, 2007). Educación ambiental: Cómo elaborar un programa
de actividades ambientales para el centro educativo. IX Congreso Nacional de Ciencias.
Instituto Tecnológico de Costa Rica, Cartago, Costa Rica. Recuperado de http://cientec.or.cr/
exploraciones/ ponencias2007/RocioFernandez-Yessenia Fallas.pdf
Guillén, F. C. (1996). Educación, medio ambiente y desarrollo sostenible. Revista Iberoamericana
de Educación, 11, 103-110. Recuperado de http://www.oei.es/oeivirt/rie11a03.pdf
Hartshorn, G. S. (1991). Plantas. En D. Janzen (ed.), Historia Natural de Costa Rica (pp: 119-186).
San José, Costa Rica: EUCR.
Hernández, E. y Zúniga, I. (setiembre, 2005). La cuenca hidrográfica como unidad alternativa para el
desarrollo turístico. El caso de la cuenca del Río Morote. Guanacaste. Costa Rica. En Seminario
Regional "Turismo Alternativo en la Región Centroamericana: Experiencias y acciones conjuntas
para un desarrollo local de las comunidades". Sede Regional de Chorotega, Costa
Rica. Recuperado de http://files.riomorote.webnode.es/20000022535ee036e84/Cuenca%20
Morote%20y%20Turismo_Igor%20Zu%C3%B1iga_%202006.pdf
Jiménez, J. A. (2004). Mangrove forests under dry seasonal climates in Costa Rica. En G. W. Frankie,
A. Mata y S. B. Vinson (eds.). Biodiversity Conservation in Costa Rica: Learning the Lesson
in a Seasonal Dry Forest (pp. 136-146). Berkely, California: Univ. California Press.
Merayo, O. (noviembre, 2004). Valoración económica del agua potable en la cuenca del río
Endemedio, Santa Cruz, Guanacaste, Costa Rica. Recursos Naturales y Ambiente 43, 90-96.
Disponible en: http://web.catie.ac.cr/informacion/RFCA/rev43/pag90-96.pdf
Orozco, J. (1996). Estado del arte: La dimensión ambiental en la investigación en Centroamérica:
Costa Rica, Nicaragua y El Salvador. SUDESCA Y CINPE. Recuperado de http://www.
cinpe.una.ac.cr/investigacion/nucleos-tematicos/proyectos/sudesca/espanol/publicaciones/
publicaciones-sudesca.html
Palma, J. M. (2005, enero-abril). Los árboles en la ganadería del trópico seco. Avances en investigación
agropecuaria, 9(1), 1-11. Recuperado de http://redalyc.uaemex.mx/pdf/837/83709101.pdf
Pérez, J. I. J., Ramírez , J. F., Monroy, J. F., Campos, J. (2006, noviembre). Ambiente, sociedad,
cultura y ambiental en el Estado de México Revista Iberoamericana de Educación 40(4),1-10.
Recuperado de http://www.rieoei.org/deloslectores/1581Perez.pdf
Pérez, V. M. (1977). Veinticinco años de investigación sistemática del cultivo del café en Costa Rica:
-1975. Agronomía Costarricense, 1(2), 169-185.
Quesada, G. (2008). Garantías ambientales: un nuevo modelo ecológico-político para Costa Rica
y el mundo. Biocenosis 21(1-2), 119-124. Recuperado de http://web.uned.ac.cr/biocenosis/
images/stories/articulosVol21/Biocenosis21_22.pdf
Román, M. (2007). Desarrollo turístico e inmobiliario costero y preocupaciones ambientales.
Decimotercer informe sobre el estado de la nación en desarrollo humano sostenible
(Informe final). Recuperado de http://unpan1.un.org/intradoc/groups/public/documents/icap/
unpan030197.pdf
Rosero-Bixby, L. y Palloni, A. (1998). Población y deforestación en Costa Rica. En Conservación
del bosque en Costa Rica (pp. 131-150). San José, Costa Rica : Academia Nacional de
Ciencias y Programa Centroamericano de Población. Recuperado de http://ccp.ucr.ac.cr/bvp/
pdf/bosques/rosero47.pdf
Sánchez-Azofeifa, G. A., Kalacska, M., Quesada, M., Stoner, K., Lobo, J. A. y Arroyo-Mora,
J. P. (2003). Tropical dry climates. En: M. D. Schwartz (Ed.), Phenology: An Integrative
Environmental Science (pp. 121-137). The Netherlands: Kluwer Academic Press.
Valerio, C. E. (1991). La diversidad biológica de Costa Rica. San José, Costa Rica: Editorial
Heliconia.
Vargas, E. (s. f. a). Impactos ambientales de los desarrollos turísticos y residenciales Identificación
y análisis de impactos ambientales relevantes de los desarrollos turísticos y residenciales en
la costa pacífica de Costa Rica (Informe final). Recuperado de http://www.responsibletravel.
org/resources/documents/Coastal-tourism-documents/Informe_E_Vargas_Enviro_Impact_
CREST_Abril_2009%5B1%5D.pdf
Vargas, R. (2009 b). Mientras RIU se ríe de nuestra legislación ambiental, el pueblo abre en sus
narices un nue. Kioscos Ambientales UCR. Recuperado de http://kioscosambientales.ucr.
ac.cr/index.php?option=com_content&view=article&id=143:mientras-riu-se-rie-de-nuestralegislacion-ambiental-el-pueblo-abre-en-sus-narices-un-nue&catid=46:opinion&Itemid=67
Zamora-Trejos, P. y Cortes, J. (2009, septiembre). Los manglares de Costa Rica: el Pacífico Norte.
Revista de Biología Tropical, 57(3), 473-488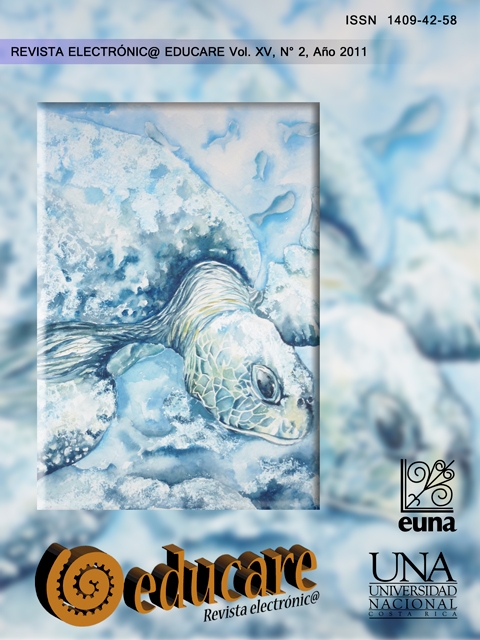 How to Cite
Pereira Pérez, A., & Mairena Rodríguez, N. (2011). Education and Nature Conservation: an Urgent Alliance. Revista Electrónica Educare, 15(2), 221-230. https://doi.org/10.15359/ree.15-2.14
Section
Articles (Peer Reviewed Section)
1. In case the submitted paper is accepted for publication, the author(s) FREELY, COSTLESS, EXCLUSIVELY AND FOR AN INDEFINITE TERM transfer copyrights and patrimonial rights to Universidad Nacional (UNA, Costa Rica). For more details check the Originality Statement and Copyright Transfer Agreement
2. REUTILIZATION RIGHTS: UNA authorizes authors to use, for any purpose (among them selfarchiving or autoarchiving) and to publish in the Internet in any electronic site, the paper´'s final version, both approved and published (post print), as long as it is done with a non commercial purpose, does not generate derivates without previous consentment and recognizes both publisher's name and authorship.
3. The submission and possible publication of the paper in the Educare Electronic Journal is ruled by the Journal's editorial policies, the institutional rules of Universidad Nacional and the laws of the Republic of Costa Rica. Additionally, any possible difference of opinion or future dispute shall be settled in accordance with the mechanisms of Alternative Dispute Resolution and the Costa Rican Jurisdiction.
4. In all cases, it is understood that the opinions issued are those of the authors and do not necessarily reflect the position and opinion of Educare, CIDE or Universidad Nacional, Costa Rica.
5. The papers published by Educare Electronic Journal use a Creative Commons License:
Most read articles by the same author(s)