Towards Improving the Academic Bodies of FIME in the Autonomous University of Nuevo León, México
María Isabel Dimas Rangel

Universidad Autónoma de Nuevo León, Mexico

Arturo Torres Bugdud

Universidad Autónoma de Nuevo León, Costa Rica

Jaime Arturo Castillo Elizondo

Universidad Autónoma de Nuevo León, Costa Rica
Keywords:
Academic bodies, Higher Education, academic staff, collegiate bodies, University, México.
Abstract
This paper refers to a crucial issue for higher education institutions.  In Mexico, particularly, the collective work of academic bodies is an unresolved issue despite the efforts made in this regard. In this context, a well-founded systematic discussion is essential to understand the potential of these academic bodies on faculty strengthening and their subsequent impact on the quality of education. This paper presents the results of a research project conducted by FIME  with the purpose of identifying the characteristics of its academic bodies as well as their current and potential condition.
(1) Translator's Note: FIME refers to the Facultad de Ingeniería Mecánica y Eléctrica (College of Mechanical and Electrical Engineering).
References
Asociación Nacional de Universidades e Instituciones de Educación Superior (ANUIES). (2000). La educación superior en el siglo XXI. Líneas estratégicas de desarrollo. En ANUIES, Situación, tendencias y escenarios del contexto de la educación superior (Cap. 1, pp. 1-497). Recuperado de http://www.anuies.mx/servicios/d_estrategicos/documentos_estrategicos/21/sXXI.pdf

Acosta, A. (2006). Señales cruzadas: Una interpretación sobre las políticas de formación de cuerpos académicos en México. Revista de la Educación Superior, 35(3), 81-92. Recuperado de http://redalyc.uaemex.mx/pdf/604/60413905.pdf

Berman, P. (2000). El estudio de la macro y la micro-implementación. En L. F. Agular (Ed.). La implementación de las políticas (pp. 281-321). México: Porrúa. Recuperado de http://www.inap.org.mx/portal/images/RAP/la%20implementacion%20de%20las%20politicas.pdf

Facultad de Ingeniería Mecánica y Eléctrica (FIME). (2011). La FIME. Recuperado de http://www.fime.uanl.mx/politicas_calidad.php

Fresán, M. (s. f.). Los cuerpos académicos. ¿Por qué cuerpos académicos y no grupos de investigación? Algunas ideas alrededor de los cuerpos académicos (Presentación PowerPoint). Recuperado de http://www.anfei.org.mx/X_RGD/merida1.pdf

Grediaga, R. (2000). Profesión académica, disciplinas y organizaciones: Procesos de socialización académica y sus efectos en las actividades y resultados de los académicos mexicanos (Tesis doctoral). México: ANUIES.

Guzmán, T., Hernández, O. y Guzmán, J. (2009). Evaluación e impacto del PROMEP en profesores universitarios. El caso de la Universidad Autónoma de Tamaulipas. Revista Internacional de Ciencias Sociales y Humanidades SOCIOTAM, 19(2), 51-68. Recuperado de http://redalyc.uaemex.mx/src/inicio/ArtPdfRed.jsp?iCve=65415854003

López, S. (julio-septiembre, 2010). Cuerpos académicos: Factores de integración y producción de conocimiento. Revista de la Educación Superior, 39(155), 7-25. Recuperado de http://redalyc.uaemex.mx/src/inicio/ArtPdfRed.jsp?iCve=60418902001

Maldonado-Maldonado, A. (abril-junio, 2005). Comunidades epistémicas: Una propuesta para estudiar el papel de los expertos en la definición de políticas en educación superior en México. Revista de la Educación Superior, 34(2), 134, 107-122. Recuperado de http://redalyc.uaemex.mx/redalyc/pdf/604/60411920008.pdf

Martínez, P. C., Rico, R. M. y Preciado, S. E. (septiembre-diciembre, 2006). Evolución de los cuerpos académicos en la Universidad de Guanajuato. Acta Universitaria, 16(3),15-24. Recuperado de http://redalyc.uaemex.mx/src/inicio/ArtPdfRed.jsp?iCve=41600302

Olivé, L. (2008). La ciencia y la tecnología en la sociedad del conocimiento. Ética, política y epistemología. México: Fondo de Cultura Económica.

Programa del Mejoramiento del Profesorado (PROMEP). (2006). Reglas de operación e indicadores del programa de mejoramiento del profesorado 2006. México: SEP. Recuperado de http://promep.sep.gob.mx/reglas/Reglas_PROMEP_2006_27_de_Marzo.pdf

Suarez-Núñez, T. y López, L. (enero-abril, 2006). La Organización académica de las universidades públicas: Entre círculos y cuerpos. Contaduría y administración, 218, 147-173. Recuperado de http://contaduriayadministracionunam.mx/articulo-3-104-12.html

Tierney, W. (2001). La autonomía del conocimiento y el ocaso del estudioso independiente: Posmodernismo y el estudio comparativo de la universidad. Tiempo de educar 3(6), 162-188. Recuperado de http://redalyc.uaemex.mx/src/inicio/ArtPdfRed.jsp?iCve=31103607

Universidad Autónoma de Nuevo León (UANL). (2011). Informe de actividades del Sr. Rector Dr. Jesús Ancer Rodríguez correspondiente al 2011. Recuperado de http://www.uanl.mx/sites/default/files2/informe2011.pdf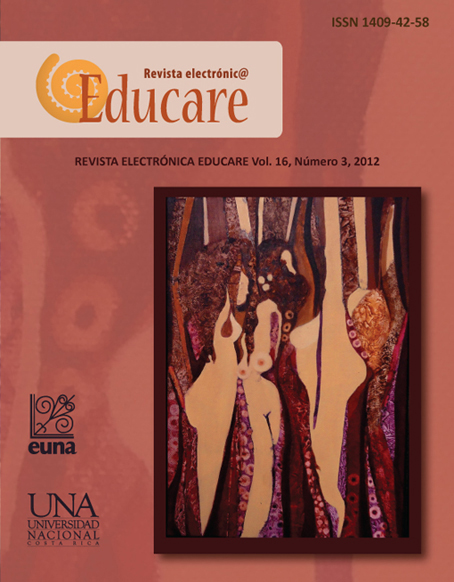 How to Cite
Dimas Rangel, M., Torres Bugdud, A., & Castillo Elizondo, J. (2012). Towards Improving the Academic Bodies of FIME in the Autonomous University of Nuevo León, México. Revista Electrónica Educare, 16(3), 181-202. https://doi.org/10.15359/ree.16-3.11
Section
Articles (Peer Reviewed Section)
1. In case the submitted paper is accepted for publication, the author(s) FREELY, COSTLESS, EXCLUSIVELY AND FOR AN INDEFINITE TERM transfer copyrights and patrimonial rights to Universidad Nacional (UNA, Costa Rica). For more details check the Originality Statement and Copyright Transfer Agreement
2. REUTILIZATION RIGHTS: UNA authorizes authors to use, for any purpose (among them selfarchiving or autoarchiving) and to publish in the Internet in any electronic site, the paper´'s final version, both approved and published (post print), as long as it is done with a non commercial purpose, does not generate derivates without previous consentment and recognizes both publisher's name and authorship.
3. The submission and possible publication of the paper in the Educare Electronic Journal is ruled by the Journal's editorial policies, the institutional rules of Universidad Nacional and the laws of the Republic of Costa Rica. Additionally, any possible difference of opinion or future dispute shall be settled in accordance with the mechanisms of Alternative Dispute Resolution and the Costa Rican Jurisdiction.
4. In all cases, it is understood that the opinions issued are those of the authors and do not necessarily reflect the position and opinion of Educare, CIDE or Universidad Nacional, Costa Rica.
5. The papers published by Educare Electronic Journal use a Creative Commons License:
Most read articles by the same author(s)