Training and Updating of Education Boards in Indigenous Schools of Rural Areas: Strengthening Local Education Management
Nancy Torres Victoria

Universidad Nacional, Costa Rica

Oscar Castro Vargas

Universidad Nacional, Costa Rica
Keywords:
Management of education centers, indigenous education, rural education, education boards, education management.
Abstract
Education management in the schools of indigenous rural areas faces a number of difficulties to implement and comply with the guidelines and requirements of the laws related to budgetary management of resources allocated to Education or Administrative Boards. In addition to being located in scattered rural areas, far from the municipal heads and regional offices of the Ministry of Public Education, one of the main obstacles is that all regulations, laws and guidelines are written in Spanish, and there is people, in this indigenous rural communities, who do not speak, write, read or understand this language. This puts them at an enormous disadvantage, which has a direct impact on the indigenous children's right to education.


References
Bustos, A. (2011). Escuelas rurales y educación democrática. La oportunidad de la participación
comunitaria. Revista Electrónica Interuniversitaria de Formación del Profesorado,
REIFOP, 14(2), 105-114. Recuperado de http://www.aufop.com/aufop/uploaded_files/
articulos/1311954573.pdf
Centro de Estudios sociales y Educación (SUR) y Centro Boliviano de Estudios Multidisciplinarios
(CEBEM). (1999). Un lugar para la innovación y aprendizaje. La descentralización, las políticas
sociales y el municipio. Los casos de Chile y Bolivia. Santiago y La Paz: Autor. Recuperado de
http://idl-bnc.idrc.ca/dspace/bitstream/10625/29428/1/115532.pdf
Durston, J. (2002). El capital social campesino en la gestión del desarrollo rural. Díadas, equipos,
puentes y escaleras. Santiago de Chile: Naciones Unidas. Recuperado de http://www.
eclac.cl/publicaciones/xml/0/11700/Indice.pdf
Ministerio de Educación Pública (2003). Reglamento general de juntas de educación y juntas
administrativas. San José: MEP.
Torres, N. (2008). La participación en las comunidades rurales: Abriendo espacios para la
participación desde la escuela. Revista Electrónica Educare, 12, extraordinario, 115-119.
Recuperado de http://www.revistas.una.ac.cr/index.php/EDUCARE/article/view/1461
Torres, N. (2009). Proyecto de extensión para el fortalecimiento de la gestión educativa local
mediante la capacitación y actualización de las juntas de educación en escuelas indígenas
en zonas rurales. Universidad Nacional. Boletín Electrónico División de Educación Rural, Vol.
Recuperado de http://www.una.ac.cr/redrural/index.php?option=com_content&view=
article&id=162:proyecto-de-extension-para-el-fortalecimiento-de-la-gestion-educativalocal-mediante-la-capacitacion-y-actualizacion-de-las-juntas-de-educacion-en-escuelasindigenas-en-zonas-rurales&catid=63:vol-6&Itemid=81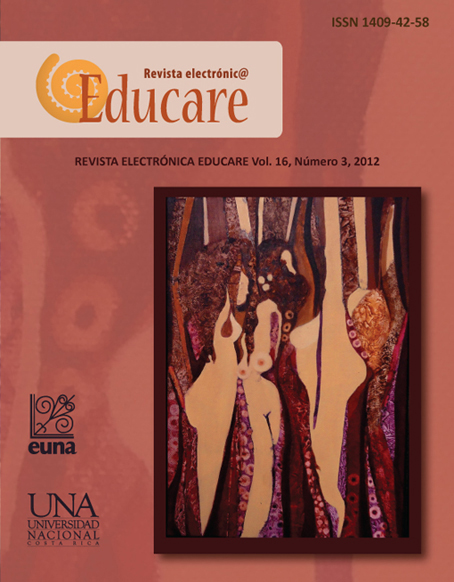 How to Cite
Torres Victoria, N., & Castro Vargas, O. (2012). Training and Updating of Education Boards in Indigenous Schools of Rural Areas: Strengthening Local Education Management. Revista Electrónica Educare, 16(3), 105-114. https://doi.org/10.15359/ree.16-3.6
Section
Articles (Peer Reviewed Section)
1. In case the submitted paper is accepted for publication, the author(s) FREELY, COSTLESS, EXCLUSIVELY AND FOR AN INDEFINITE TERM transfer copyrights and patrimonial rights to Universidad Nacional (UNA, Costa Rica). For more details check the Originality Statement and Copyright Transfer Agreement
2. REUTILIZATION RIGHTS: UNA authorizes authors to use, for any purpose (among them selfarchiving or autoarchiving) and to publish in the Internet in any electronic site, the paper´'s final version, both approved and published (post print), as long as it is done with a non commercial purpose, does not generate derivates without previous consentment and recognizes both publisher's name and authorship.
3. The submission and possible publication of the paper in the Educare Electronic Journal is ruled by the Journal's editorial policies, the institutional rules of Universidad Nacional and the laws of the Republic of Costa Rica. Additionally, any possible difference of opinion or future dispute shall be settled in accordance with the mechanisms of Alternative Dispute Resolution and the Costa Rican Jurisdiction.
4. In all cases, it is understood that the opinions issued are those of the authors and do not necessarily reflect the position and opinion of Educare, CIDE or Universidad Nacional, Costa Rica.
5. The papers published by Educare Electronic Journal use a Creative Commons License:
Most read articles by the same author(s)