Recovering a Sense of Wonder: Action Research in the Formation of Educators
Cecilia Dobles-Trejos

Universidad Nacional, Costa Rica
Keywords:
Action Research, diversity and education, teacher education.
Abstract
It is essential to promote, in teacher training processes, the recovery of a sense of wonder among university students. A key tool in this paper is action research because it faces the researcher-educator with the challenge of recognizing himself or herself as a subject of his/her own history and, therefore, know that his/her actions have an immediate impact in the construction of a new inclusive education proposal. This paper reflects on the results of two research-outreach projects conducted with the participation of teachers and students from the Basic Education Degree Program from Universidad Nacional de Costa Rica.


References
Belderbos, M., Dobles, C., Torres, N. y Vargas, J. (2012). Informe final del proyecto Praxis y gestión social: Herramientas de cambio en la diversidad. (N° 050920). Universidad Nacional de Costa Rica. Heredia, Costa Rica. Manuscrito inédito.
Dietz, G. y Mateos, L. S. (2008). El discurso intercultural ante el paradigma de la diversidad: Estructuraciones subyacentes y migraciones discursivas del multiculturalismo contemporáneo. En S. Bastos (Ed.), Multiculturalismo y futuro en Guatemala (pp. 23-54). Guatemala: Flacso-Oxfam. Recuperado de http://www.uv.mx/iie/files/2013/01/Capitulo-Santiago.pdf
Dobles, C. y Gómez, S. (2009) Informe final del proyecto Negociación, gestión e intervención interdisciplinaria en los procesos de formación de formadores de las tres carreras de la División de Educación Básica y las Sedes Regionales de la UNA, 2007-2009 (N°050602). Universidad Nacional de Costa Rica. Heredia, Costa Rica. Manuscrito inédito.
Echeita, G. y Sandoval, M. (2002). Educación inclusiva o educación sin exclusiones. Revista de educación, 327, 31-48. Recuperado de http://www.mecd.gob.es/dctm/revista-de-educacion/articulos327/re3270310520.pdf?documentId=0901e72b812598aa
Elliot, J. (2005). La investigación-acción en educación (4ª reimp). Madrid: Ediciones Morata.
Freire, P. (2005a). Pedagogía de la autonomía. Saberes necesarios para la práctica educativa. Argentina: Siglo Veintiuno editores.
Freire, P. (2005b). Pedagogía del oprimido (Trad. J. Mellado). México: Siglo Veintiuno.
Gadamer, H.-G. (1993). El problema de la conciencia histórica (Trad. A D. Moratalla). Madrid: Tecnos.
Gimeno, J. (2006). La construcción del discurso acerca de la diversidad y sus prácticas. En Gimeno, J., Giné, N., Martín, M., Viera, A., López, F., Sentís, F., … Sanmartí, N. (Auts.), Atención a la diversidad. Claves para la innovación educativa (3ª ed., pp. 11-34). Barcelona: Graó.
Montero M. (1987). A través del espejo. Una aproximación al estudio de la conciencia social en América Latina. En M. Montero (Coord.), Psicología política latinoamericana (pp. 163-202). Caracas: Panapo.
Restrepo, B. (2002). Una variante pedagógica de la investigación-acción educativa. OEI. Revista Iberoamericana de Educación (De los Lectores). 1-9. Recuperado de http://www.rieoei.org/deloslectores_Investigacion_Educativa.htm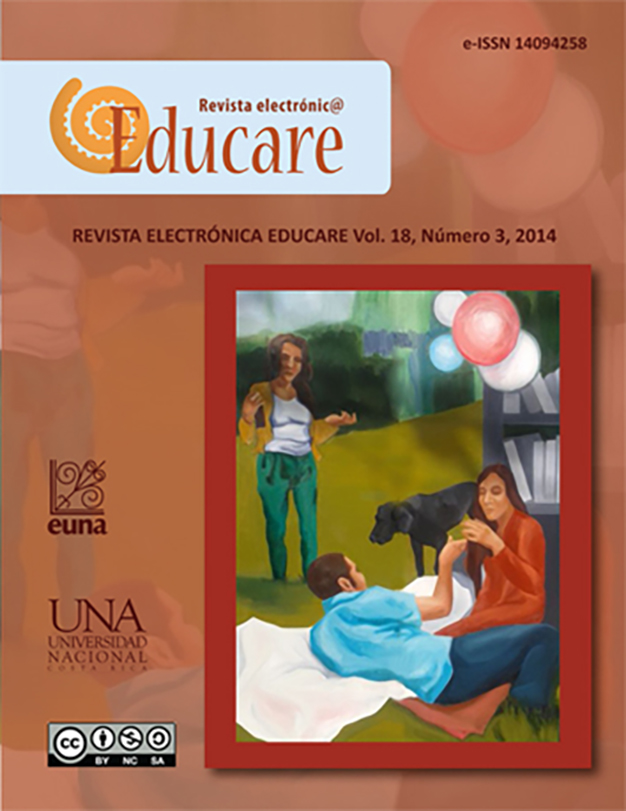 How to Cite
Dobles-Trejos, C. (2014). Recovering a Sense of Wonder: Action Research in the Formation of Educators. Revista Electrónica Educare, 18(3), 285-299. https://doi.org/10.15359/ree.18-3.18
Section
Essays (Peer Reviewed Section)
1. In case the submitted paper is accepted for publication, the author(s) FREELY, COSTLESS, EXCLUSIVELY AND FOR AN INDEFINITE TERM transfer copyrights and patrimonial rights to Universidad Nacional (UNA, Costa Rica). For more details check the Originality Statement and Copyright Transfer Agreement
2. REUTILIZATION RIGHTS: UNA authorizes authors to use, for any purpose (among them selfarchiving or autoarchiving) and to publish in the Internet in any electronic site, the paper´'s final version, both approved and published (post print), as long as it is done with a non commercial purpose, does not generate derivates without previous consentment and recognizes both publisher's name and authorship.
3. The submission and possible publication of the paper in the Educare Electronic Journal is ruled by the Journal's editorial policies, the institutional rules of Universidad Nacional and the laws of the Republic of Costa Rica. Additionally, any possible difference of opinion or future dispute shall be settled in accordance with the mechanisms of Alternative Dispute Resolution and the Costa Rican Jurisdiction.
4. In all cases, it is understood that the opinions issued are those of the authors and do not necessarily reflect the position and opinion of Educare, CIDE or Universidad Nacional, Costa Rica.
5. The papers published by Educare Electronic Journal use a Creative Commons License:
Most read articles by the same author(s)
Cecilia Dobles-Trejos, Luz Emilia Flores-Davis, Pablo Sisfontes-Guilarte, Dialogues and Historical Reconstruction of the Department of Basic Education (División de Educación Básica) , Revista Electrónica Educare: Vol 19 No 1 (2015): Revista Electrónica Educare (enero-abril)
Cecilia Dobles-Trejos, Rafael Esteban Jiménez-Corrales, Lillian Susana Ruiz-Guevara, Marie Claire Vargas-Dengo, Tracking Research Practices within the Elementary Education Division (DEB) at Universidad Nacional: Rupture, Innovation, and Change of Paradigms , Revista Electrónica Educare: Vol 19 No 2 (2015): Revista Electrónica Educare (mayo-agosto)
Cecilia Dobles-Trejos, Patricia Ramírez-Abrahams, Ana Isabel Herrera-Castro, From the Crisis of Questioning: Considerations About Practices and Reflections on Graduation Projects , Revista Electrónica Educare: Vol 24 No 2 (2020): Revista Electrónica Educare (May-August)