LAS INAUDITAS PRETENSIONES DE LA GLOBALIZACIÓN: DE LA ALDEA GLOBAL AL MERCADO MUNDO
Franz Hinkelammert

Departamento Ecuménico de Investigaciones, Costa Rica, Costa Rica

Henry Mora Jiménez

Universidad Nacional, Costa Rica, Costa Rica
Abstract
Los desafíos y amenazas de la globalización afecta no solamente al mundo de las empresas y de los gobiernos. Toda la cultura de la modernidad está en entredicho. No obstante, debemos comenzar por tratar de precisar el concepto, y en especial, diferenciar entre "globalidad" y "globalización". Veremos luego que uno de los nudos centrales de la estrategia neoliberal de la globalización consiste en someter el "trabajo conceptual" a un proceso de "subsunción" similar al que la revolución industrial realizó en el caso del "trabajo directo", estrategia que en el plano ideológico se esconde detrás de la ideología del "capital humano".
De manera similar, la expoliación de la naturaleza que está en curso pretende racionalizarse a partir del concepto de "capital natural". La crítica de esta estrategia es fundamental para hacer visible la urgente necesidad de desarrollar una cultura de la esperanza y de la responsabilidad por el bien común, en la cual el pensamiento crítico juega un papel fundamental. Sólo a partir de esta cultura de la responsabilidad es posible pensar en propuestas y políticas alternativas frente al capitalismo globalizado, articuladas a partir de la reivindicación de los derechos humanos.
Downloads
Download data is not yet available.
References
Kindleberger, Charles (1989); Manias, Panics and Crashes: A History of Financial Crisis. Basic Books, New York.

Gudynas, Eduardo (2002); Ecología, Economía y Ética, UNED/DEI/UBL, San José, Costa Rica.

Hinkelammert, Franz (2001, a); El nihilismo al desnudo. Los tiempos de la globalización. LOM ediciones, Santiago de Chile.

Hinkelammert, Franz (2001, b); Globalización y derechos humanos frente al Estado de bienestar. Conferencia dictada el 18 de abril de 2001 en la Facultad de Ciencias Sociales de la Universidad Nacional, Heredia, Costa Rica.

Hinkelammert, Franz y Henry Mora (2001); Coordinación social del trabajo, mercado y reproducción de la vida humana, DEI, San José, Costa Rica.

Holloway, John (2002); Cambiar el mundo sin tomar el poder. El significado de la revolución hoy. Colección Herramienta, Universidad Autónoma de Puebla, Buenos Aires.

Houtart, François (2000); Las alternativas creíbles del capitalismo mundializado. Revista Pasos No. 89, mayo-junio, San José, Costa Rica.

Mora, Henry (1996); Modernización capitalista y trabajo abstracto: ¿sociedad pos capitalista o subsunción real del trabajo general?, Revista Economía y Sociedad No. 2, Heredia, Costa Rica

Saxe Fernández, John (2001); Globalización, poder y educación pública, Revista Economía y Sociedad No. 15, eneroabril, San José, Costa Rica

Weber, Max (1944); Economía y Sociedad, Fondo de Cultura Económica, México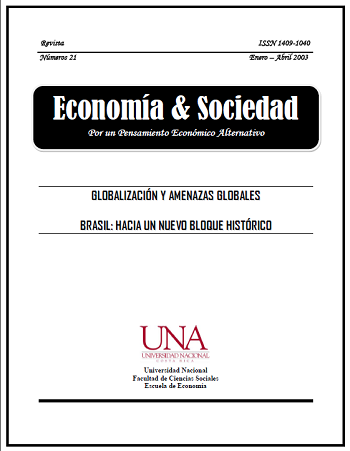 How to Cite
Hinkelammert, F., & Mora Jiménez, H. (2003). LAS INAUDITAS PRETENSIONES DE LA GLOBALIZACIÓN: DE LA ALDEA GLOBAL AL MERCADO MUNDO. Economía Y Sociedad, 8(21). Retrieved from https://www.revistas.una.ac.cr/index.php/economia/article/view/1134
Section
Articles (Arbitrated section)
This publication is subject to the Creative Commons License; therefore, its attributions and restrictions must be respected.
Authors publishing in this Journal accept the following conditions:
Authors retain copyright ownership and give the Journal first publication right of the paper, which is registered with the Creative Commons Attribution-NonCommercial-ShareAlike 4.0 International License. This license allows third parties to use the published work provided it is sourced as firstly published in this Journal.
Authors may enter into other independent and additional contractual agreements for the non-exclusive distribution of the article published in this Journal (e.g., to be included in an institutional repository or published in a book) provided it is clearly stated that the work was published in this Journal for the first time.
Authors are allowed and recommended to publish their work on the Internet (for example, on institutional or personal pages) before and during the review and publication process, as it can lead to productive exchanges and a greater and faster dissemination of work published.
The Economía & Sociedad Journal, published by Universidad Nacional, is licensed under a Creative Commons Reconocimiento-NoComercial-CompartirIgual 4.0 Internacional License. Based on http://www.revistas.una.ac.cr/index.php/economia.
Most read articles by the same author(s)