EFECTOS DEL CRÉDITO EN EL BIENESTAR SOCIOECONÓMICO DE LOS MICROEMPRESARIOS Y LAS MICROEMPRESARIAS
Manuel Chaves Núñez

Escuela de Economía, Universidad Nacional de Costa Rica., Costa Rica

Karla Meneses Bucheli

Escuela de Economía, Universidad Nacional de Costa Rica.

Álvaro Martín Parada Gómez

Escuela de Economía, Universidad Nacional de Costa Rica.
Abstract
Resumen
Este artículo explora el efecto social y económico que causan las políticas de financiamiento orientadas hacia las micro, pequeñas y medianas empresas en el mercado local y regional en Costa Rica. El microcrédito ha sido una valiosa herramienta de desarrollos de las Mipymes en países desarrollados. La experiencia del FIDEICOMISO-IMAS-BANACIO es uno de los más importantes en Costa Rica para apoyar a los pequeños productores localizados en las regiones más vulnerables como el sur, atlántico y norte del país. Este modelo muestra los efectos cuantitativos y cualitativos del microcrédito sobre variables fundamentales como la producción, empleo, ingresos y habilidades humanas. La principal conclusión radica en afirmar que el microcrédito causa efectos positivos en las capacidades competitivas de las Mipymes así como beneficios sociales sobre las familias que han desarrollado microempresas en las regiones más pobres de Costa Rica.
Abstract
This paper explores the social and economic effects of financing policies oriented at small and medium size enterprises in the local and regional market in Costa Rica. The microcredit has been and useful tool to develop SMEs in developing countries. The experience of the FIDEICOMISO-IMAS-BANACIO is one of the most important in Costa Rica to support small producers located in vulnerable regions such as South, Atlantic and North among others. This model show quantity and quality effects of the microcredit on essential variables like production, employment, incomes and human skills. The main conclusion claim that microcredit causes positive effects on the competitive skills of SMEs as well as social benefits on some families that have been developing enterprises in poor regions in Costa Rica.
Downloads
Download data is not yet available.
References
CEPAL. Transformación productiva con equidad. Santiago, Chile. 1990

Esser, Klaus; Hillebrand, Wolfgang; Messner, Dirk y Mayer-Stamer, Jörg. (1996) Systemic Competitiveness: New governance patterns for industrial development". Editorial Frank Cass. Inglaterra, Gran Bretaña. 1996

Gereffi, G. "The organization of Buyer-driven Global Commodity Chain: How U.S. Retailers Shape Overseas Production". In "Commodity Chains and Global Capitalism", Edited by Gereffi and M. Korzeniewicz, Praeger Publishers. 1994

González Vega, Claudio y Miller Sanabria, Tomas. Financiamiento y apoyo a la microempresa. Segunda edición. Academia de Centroamérica. San José, Costa Rica. 1990

INAMU. El perfil de riego de la microempresa de mujeres. INAMU. San José, Costa Rica. 2003

Martinez, Alberto. Microcrédito y pobreza: proyecto de desarrollo de comunidades rurales pobres. Tesis doctoral. Universidad Simón Bolívar. Venezuela. 2004

Mintzberg, Henry y Brian Quinn, James. El proceso estratégico: Conceptos, contextos y casos. Editorial Prentice Hall. México. 1993

Parada, Martin; Chaves, Manuel y Meneses, Karla. Informe Proyecto: Evaluación del Efecto del Crédito en el Bienestar Socioeconómico y en la Formación Empresarial de los Beneficiarios del IMAS a través del Fideicomiso PROCESO SP-002-2006. Proyecto FOCCO-MiPYME, Escuela de Economía, Universidad Nacional de Costa Rica. 2006

Red Aura. Microcrédito contra la exclusión social: experiencias de financiamiento alternativo en Europa y América Latina. FLACSO. San José, Costa Rica. 2005

Fichas de Información Social (FIS) de los (as) beneficiarios (as) bajo análisis.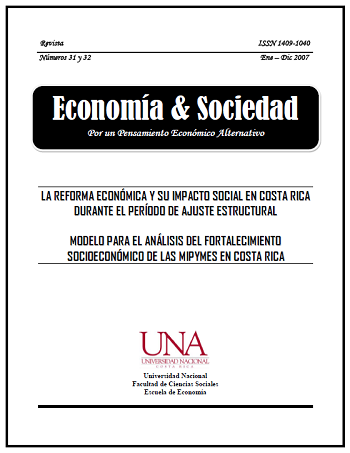 How to Cite
Chaves Núñez, M., Meneses Bucheli, K., & Parada Gómez, Álvaro M. (2007). EFECTOS DEL CRÉDITO EN EL BIENESTAR SOCIOECONÓMICO DE LOS MICROEMPRESARIOS Y LAS MICROEMPRESARIAS. Economía Y Sociedad, 12(31-32), 117-134. Retrieved from https://www.revistas.una.ac.cr/index.php/economia/article/view/177
Section
Articles (Arbitrated section)
This publication is subject to the Creative Commons License; therefore, its attributions and restrictions must be respected.
Authors publishing in this Journal accept the following conditions:
Authors retain copyright ownership and give the Journal first publication right of the paper, which is registered with the Creative Commons Attribution-NonCommercial-ShareAlike 4.0 International License. This license allows third parties to use the published work provided it is sourced as firstly published in this Journal.
Authors may enter into other independent and additional contractual agreements for the non-exclusive distribution of the article published in this Journal (e.g., to be included in an institutional repository or published in a book) provided it is clearly stated that the work was published in this Journal for the first time.
Authors are allowed and recommended to publish their work on the Internet (for example, on institutional or personal pages) before and during the review and publication process, as it can lead to productive exchanges and a greater and faster dissemination of work published.
The Economía & Sociedad Journal, published by Universidad Nacional, is licensed under a Creative Commons Reconocimiento-NoComercial-CompartirIgual 4.0 Internacional License. Based on http://www.revistas.una.ac.cr/index.php/economia.
Most read articles by the same author(s)