Una reflexión introductoria sobre la naturaleza de la actual crisis global y los límites del capitalismo
Henry Mora Jiménez

Escuela de Economía, Universidad Nacional de Costa Rica., Costa Rica
Abstract
Resumen
La actual crisis económica mundial puede ciertamente caracterizarse como de carácter sistémico y global, conjugándose a la vez con una crisis de civilización que pone en jaque no solo al sistema económico, sino al sistema de vida. Que no se trata de una crisis cíclica más es un hecho reconocido, pero necesitamos precisar su carácter, al menos de manera inicial y preliminar. En este ensayo apoyamos la tesis de una crisis sistémica global (o civilizatoria), pero sin dejar de advertir que los fundamentos del capitalismo también están mostrando sus límites históricos y exacerbando las amenazas globales sobre las condiciones de existencia de la vida; sin que por ello se trate, necesariamente, de una crisis terminal; y tanto las opciones capitalistas como las postcapitalistas y las anticapitalistas están a la orden del día.
Abstract
The current global economic crisis can certainly be characterized as a systemic and global one, combined with a crisis of civilization that puts in check not only the economic system, but the whole system of life. That it is not a simple cyclical crisis is widely acknowledged, but we need to specify the nature of it, at least in an initial and preliminary manner. In this essay we support the thesis of a global systemic crisis, but still warned that the foundations of capitalism are also showing its historical limits and exacerbating the global threats on the conditions of existence of life without it is required of a terminal crisis, and both options capitalists, post-capitalist and anti-capitalists are on the agenda.
Downloads
Download data is not yet available.
References
Arrigí, Giovanni (1987). "Costumbre e innovación: ondas largas y estadios de desarrollo capitalista". Zona Abierta 43/44, abril-septiembre.

Bartra, Armando (2008). El hombre de hierro. Los límites sociales y naturales del capital. Editorial Ítaca, México D.F.

Beinstein, Jorge (2009). "Las crisis en la era senil del capitalismo. Esperando inútilmente el quinto Kondratieff". ALAI. En: http://alainet.org/active/29366.

Hinkelammert, Franz y Henry Mora (2005). Hacia una economía para la vida. Preludio a una reconstrucción de la economía. Editorial Tecnológica, San José, Costa Rica.

Mandel, Ernest (1979). El capitalismo tardío. Ediciones ERA, México.

Marx, Karl (1981). El Capital. Editorial Siglo XXI, 8 volúmenes, México.

Marx, Karl (1979). El capital libro I capítulo VI (inédito). Editorial Siglo XXI, México.

Mora, Henry (1996). "Modernización capitalista y trabajo abstracto: ¿sociedad post capitalista o subsunción real del trabajo general?". Economía y Sociedad, No. 2, septiembrediciembre.

Observatorio Internacional de la Crisis Mundial. Crisis Mundial. Causas, Impacto y Alcances Geopolíticos.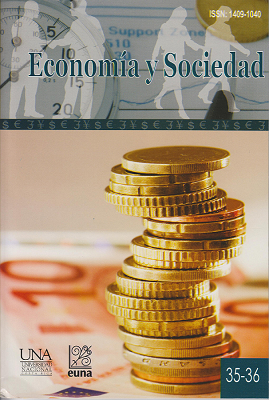 How to Cite
Mora Jiménez, H. (2009). Una reflexión introductoria sobre la naturaleza de la actual crisis global y los límites del capitalismo. Economía Y Sociedad, 14(35-36), 29-37. Retrieved from https://www.revistas.una.ac.cr/index.php/economia/article/view/37
Section
Articles (Arbitrated section)
This publication is subject to the Creative Commons License; therefore, its attributions and restrictions must be respected.
Authors publishing in this Journal accept the following conditions:
Authors retain copyright ownership and give the Journal first publication right of the paper, which is registered with the Creative Commons Attribution-NonCommercial-ShareAlike 4.0 International License. This license allows third parties to use the published work provided it is sourced as firstly published in this Journal.
Authors may enter into other independent and additional contractual agreements for the non-exclusive distribution of the article published in this Journal (e.g., to be included in an institutional repository or published in a book) provided it is clearly stated that the work was published in this Journal for the first time.
Authors are allowed and recommended to publish their work on the Internet (for example, on institutional or personal pages) before and during the review and publication process, as it can lead to productive exchanges and a greater and faster dissemination of work published.
The Economía & Sociedad Journal, published by Universidad Nacional, is licensed under a Creative Commons Reconocimiento-NoComercial-CompartirIgual 4.0 Internacional License. Based on http://www.revistas.una.ac.cr/index.php/economia.
Most read articles by the same author(s)