VARIACIONES SRAFFIANAS: HOMENAJE A ERNEST LLUCH
Alfons Barceló

Universidad de Barcelona, Spain
Abstract
No era Ernest Lluch individuo propenso a adoptar un singular libro de cabecera, ni a seguir con fidelidad las huellas de un único maestro. Pero, por supuesto, tenía su personal esquema de
valores y sus escalas de preferencias. Y uno de los autores que sin discusión estaba presente en su galería privada de economistas ilustres fue Piero Sraffa (1898-1983). Creo que también habría
colocado en esa división de honor a François Quesnay, Adam Smith, David Ricardo, Karl Marx, Knut Wicksell, John M. Keynes, Joseph A.
Schumpeter, Maurice H. Dobb, Wassily Leontief, John K. Galbraith, Paolo Sylos Labini y Albert O. Hirschman.
Downloads
Download data is not yet available.
References
Barceló, A. (1972): "El desplante teórico de Piero Sraffa". Anales de economía. Vol. 15 (julsept 1972), 29-52.

Barceló, A. (1974): "História y teoría económica". Recerques, 4, 93-113.

Barceló, A. (1981): Reproducción económica y modos de producción. Barcelona, Serbal.

Barceló, A. (1990): "Are there economic laws?", en P. Weingartner & G. J. W. Dorn, Studies on Mario Bunge's Treatise. Amsterdam, Rodopi, 379¬396.

Barceló, A. (2003): "Objetivo: cuantificar la reproducción". Investigación económica. Vol. 62, n. 245, 71-106.

Barceló, A.; Sánchez, J. (1988): Teoría económica de los bienes autorreproducibles. Barcelona, Oikos tau.

Leontief, W. W. (1947): "Introduction to a theory of the internal estructure of functional relationships". Econométrica, 15, 361-373.

Lluch,E. (1974): "Teoría económica y economía crítica". Serra d'or, Vol. 16, n. 178 (julio), 23-24.

Lluch,E. (1985): "Pròleg" en Sraffa, 1985: 5-32

Lluch,E. (2001): "Sraffa en España", en E. Fuentes Quintana (Dr.), Economía y economistas españoles, vol. 5: Las críticas a la economía clásica, págs. 841-858.

Morishima, M. (1973): Teoría económica de la sociedad moderna. Barcelona, Bosch, 1981.

Robinson, J. (1962): Ensayos sobre la teoría del crecimiento económico. México, Fondo de Cultura Económica, 1965.

Roncaglia, A. (1999): Sraffa. La biografia, l'opera, le scuole. Roma-Bari, Laterza.


Sraffa, P. (1960): Production of Commodities by Means of Commodities. Cambridge, Cambridge University Press.

Sraffa, P. (1966): Producción de mercancías por medio de mercancías. Barcelona, Oikostau. (Traducción de Luis Ángel Rojo Duque).

Sraffa, P. (1985): Producció de mercaderies per mitjà de mercaderies. Barcelona, Edicions 62. (Traducción, edición y prólogo a cargo de Ernest Lluch).

Sweezy, P. M. (1953): El presente como historia. Ensayos sobre capitalismo y socialismo. Madrid, Tecnos, 1968.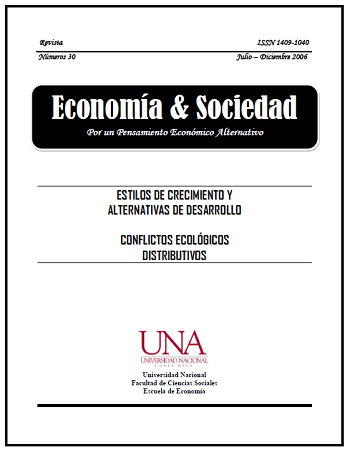 How to Cite
Barceló, A. (1). VARIACIONES SRAFFIANAS: HOMENAJE A ERNEST LLUCH. Economía Y Sociedad, 11(30), 55-66. Retrieved from https://www.revistas.una.ac.cr/index.php/economia/article/view/435
Section
Articles (Arbitrated section)
This publication is subject to the Creative Commons License; therefore, its attributions and restrictions must be respected.
Authors publishing in this Journal accept the following conditions:
Authors retain copyright ownership and give the Journal first publication right of the paper, which is registered with the Creative Commons Attribution-NonCommercial-ShareAlike 4.0 International License. This license allows third parties to use the published work provided it is sourced as firstly published in this Journal.
Authors may enter into other independent and additional contractual agreements for the non-exclusive distribution of the article published in this Journal (e.g., to be included in an institutional repository or published in a book) provided it is clearly stated that the work was published in this Journal for the first time.
Authors are allowed and recommended to publish their work on the Internet (for example, on institutional or personal pages) before and during the review and publication process, as it can lead to productive exchanges and a greater and faster dissemination of work published.
The Economía & Sociedad Journal, published by Universidad Nacional, is licensed under a Creative Commons Reconocimiento-NoComercial-CompartirIgual 4.0 Internacional License. Based on http://www.revistas.una.ac.cr/index.php/economia.