THE DOUBLE SERPENT: POLITICAL AND ECONOMIC POWER IN THE FORMATION OF CAPITALISM.
Gerardo Cerdas Vega

Universidad Nacional de Costa Rica, Costa Rica

Laeticia Medeiros Jalil

Universidade Federal Rural de Pernambuco (UFRPE), Brazil
Keywords:
State, capitalism, world-system, international political economy
Abstract
This paper analyzes the historical links between political and economic power in the formation of capitalism, from the standpoint of long-time periods and the role that power had in shaping the economy and society in Europe since the sixteenth century. The result of this process is an capitalist interstate system whose expansive dynamic reached the entire globe and whose entanglement we need to solve in order to overcome naturalized readings on the formative process of global economic and political order.
Downloads
Download data is not yet available.
References
Braudel, F. (1987). A dinâmica do capitalismo. Brasil: Editora Rocco.

Elias, N. (1993). O processo civilizador. (Vol. II). Brasil: Zahar Editores.

Fiori, J. (2005). Economia Política Internacional e Teoria das Relações Internacionais. Retirado de http://chacombolachas.wordpress.com/2008/03/08/economia‐politica‐internacional‐e‐teoria‐das‐relacoes‐internacionais/

HHFiori, J. (2007). O Poder Global: a nova geopolítica das nações. Brasil: Boitempo Editorial.

HFiori, J. (2008). O sistema interestatal capitalista no início do século XXI. In: J. Fiori, C. Medeiros y F. Serrano. O mito do colapso do poder americano. Brasil: Editora Record.

Hobsbawn, E. (1995). The Age of Extremes. The Short Twentieth Century. United Kingdom: Abacus.

Marx, K. (1996). O Capital: crítica da economia política (Livro primeiro, Tomo II, Capítulos XIII a XXV). Brasil: Editora Nova Cultura.

Polanyi, K. (2000). A grande transformação. As origens da nossa época. Brasil: Editora Campus.

Strange, S. (1996). The retreat of the State. The Diffusion of Power in the World Economy. United States: Cambridge University Press.

Wallerstein, I. (2000). The Essential Wallerstein. United States: The New Press.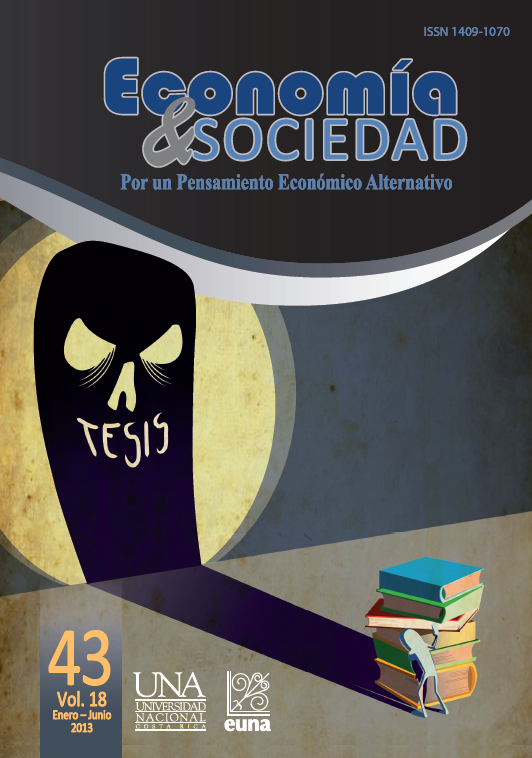 How to Cite
Cerdas Vega, G., & Medeiros Jalil, L. (2013). THE DOUBLE SERPENT: POLITICAL AND ECONOMIC POWER IN THE FORMATION OF CAPITALISM. Economía Y Sociedad, 18(43), 59-77. Retrieved from https://www.revistas.una.ac.cr/index.php/economia/article/view/5123
Section
Article by invitation (non-arbitrated section)
This publication is subject to the Creative Commons License; therefore, its attributions and restrictions must be respected.
Authors publishing in this Journal accept the following conditions:
Authors retain copyright ownership and give the Journal first publication right of the paper, which is registered with the Creative Commons Attribution-NonCommercial-ShareAlike 4.0 International License. This license allows third parties to use the published work provided it is sourced as firstly published in this Journal.
Authors may enter into other independent and additional contractual agreements for the non-exclusive distribution of the article published in this Journal (e.g., to be included in an institutional repository or published in a book) provided it is clearly stated that the work was published in this Journal for the first time.
Authors are allowed and recommended to publish their work on the Internet (for example, on institutional or personal pages) before and during the review and publication process, as it can lead to productive exchanges and a greater and faster dissemination of work published.
The Economía & Sociedad Journal, published by Universidad Nacional, is licensed under a Creative Commons Reconocimiento-NoComercial-CompartirIgual 4.0 Internacional License. Based on http://www.revistas.una.ac.cr/index.php/economia.