GESTIÓN HÍDRICA LOCAL
Rocío Hartley Ballestero

Escuela de Economía, Universidad Nacional de Costa Rica., Costa Rica
Abstract
Resumen
La Evaluación Múlticriterio (EMC), integra las diferentes dimensiones de una realidad en un sólo marco de análisis, para brindar un acercamiento de la gestión del recurso hídrico en los cantones Barva, Santa Bárbara y San Rafael de Heredia, con el objetivo de generar las políticas hídricas locales adecuadas. Esta estructura metodológica presenta una gran transparencia como herramienta en la toma de decisiones, identificando claramente los diferentes actores involucrados, describiendo, al mismo tiempo los problemas de gestión del recurso hídrico en la zona; a la vez que permite delimitar los conflictos sociales y mostrar diferentes posibilidades para su solución a través de compromisos y diálogo entre las partes.
De éste diálogo emergen soluciones concretas, estructuradas como políticas locales hídricas, tales como: Planes de Gestión Hídrica, Inversión Pública y Privada, Coordinación Institucional, Reforma Institucional/legal.
La zona presenta una atmósfera conflictiva alrededor de la gestión del agua y por tanto en la estructuración de políticas hídricas locales. Esta conflictividad 'sectorial'(es decir por cantón) se superpone a una extraordinaria conflictividad 'territorial'. La escasez o competencia sobre el agua se fundamenta en unas demandas crecientes que son expresión de un proceso de desarrollo urbano y turístico acelerado y desordenado.
Abstract
The Evaluation Multi-criteria analysis (EMA), integrates the different dimensions of a reality in an analysis mark, to offer an approach of the administration of the hydric resources in the Heredia´s cities of Barva, Santa Bárbara and San Rafael, with the objective of generating the local adequate hydrics policies. This methodological structure presents a great transparency like tool in the taking of decisions, identifying the different involved actors clearly, describing, at the same time, the problems of administration of the hydric resources in the area; and at the same time, it allows to define the social conflicts, as showing different possibilities for their solution through commitments and dialogue among the parts.
Of this dialogue concrete solutions they emerge, structured as hydrics local policies, such as: Plans of hydric management, Public and Private Investment, Institutional Coordination, Institucional/legal reforms.
The area presents a conflicting atmosphere around the administration of the water and therefore in the structuring of local hydrics policies. This conflict 'sectorial' (to say for canton) it is superimposed to an extraordinary 'territorial' conflict. The shortage or competition for water are based in some growing demands that are expression of a process of quick and disordered urban and tourist development.
Downloads
Download data is not yet available.
References
Barrantes, Gerardo y Leidy Jiménez. (2004).Elestado de las Aguas Continentales enCosta Rica: superficial ysubterránea.Décimo Informe sobre el Estado de la Nación en Desarrollo Humano Sostenible.San José, Costa Rica.

Comité de Consejo Técnico de la Asociación Mundial para el Agua (GWP). (2000). Manejo Integrado de Recursos Hídricos.TAC Background Papers, Nro. 4.Estocolmo, Suecia, Septiembre.

Contraloría General de la República. (2002).Auditoriaoperativa sobre el uso, manejo yexplotacióndel Recurso Hídrico entérminosde cantidad. DFOE-AM-41/2002.San José, Costa Rica, Diciembre.

Corral Quintana,S., Funtowicz, S. y G. Munda(2000).Planificación y Gestión Hídrica.Un Ejemplo de Evaluación MulticriterialParticipativa. Documento de Trabajo,Barcelona-España UAB) y Ispra, Italia(ISIS).

Foro Ambiental CR-USA.Avances del ForoAmbiental (2001-2002). San José, CostaRica, Febrero 2003.

Grupo Técnico del Agua (CEDARENA). (2004).El Proceso Hacia Una Nueva Ley DeAguas En Costa Rica. San José, CostaRica, Febrero.

Grupo Técnico del Agua (CEDARENA).MemoriadelTaller NacionaldeParticipación Pública. (2002).Formulación de un Plan Estratégico deAcción para la Gestión Integrada de losRecursos Hídricos y el DesarrolloSostenible de la Cuenca Del Río San Juany su Zona Costera.Pococí, Costa Rica,Abril.

Hartley B., Rocío (2002).Aplicación de unAnálisis de Múltiples Criterios en elDistrito La Guácima, para una GestiónIntegral de su Recurso Hídrico. Tesis deGrado de Magister. Posgrado en PolíticaEconómica para Centro América y elCaribe con Énfasis en Economía Ecológicay Desarrollo Sostenible. UniversidadNacional.

Hartley B., Rocío (2002)."Estudio Piloto Sobrela Evaluación Cualitativa de losProblemas y Propuestas de Solución parael Uso del Recurso Hídrico en laSubcuenca del Río Virilla". Escuela deEconomía. UNA. 2002

Hartley B., Rocío (2005).Informe Final."Proyecto Interinstitucional deInvestigación Aplicada. EvaluaciónMulticriterio para la Gestión Integrada delas Microcuencas Río Ciruelas y RíoSegundo". Escuela de Economía. UNA.

Hartley,Rocío. (2005)."ProyectoInterinstitucional de Investigación Aplicada. Evaluación Multicriterio para la Gestión Integrada de las Microcuencas Río Ciruelas y Río Segundo". Escuela de Economía. UNA

Ministerio de Salud. Política Nacional de Salud.(2003).San José, Costa Rica, Marzo.

Munda, G. (1994).Fuzzy Information in Multi-criteria Evaluation EnvironmentalModels. EC JRC.EUR 14087 EN, Ispra.Italy.

Reyes Virginia, Segura Olman y Gámez Luis.(2003).Régimen Del Recurso Hídrico: ElCaso Costa Rica. Centro Internacional de Política Económica, para el Desarrollo Sostenible (CINPE).San José, Costa Rica,Abril.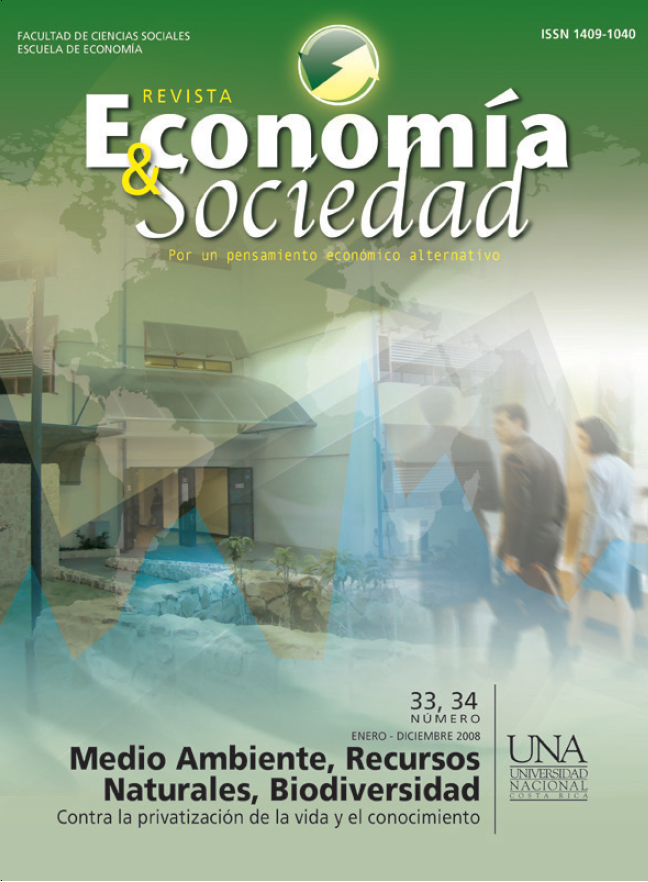 How to Cite
Hartley Ballestero, R. (2008). GESTIÓN HÍDRICA LOCAL. Economía Y Sociedad, 13(33-34), 67-81. Retrieved from https://www.revistas.una.ac.cr/index.php/economia/article/view/78
Section
Articles (Arbitrated section)
This publication is subject to the Creative Commons License; therefore, its attributions and restrictions must be respected.
Authors publishing in this Journal accept the following conditions:
Authors retain copyright ownership and give the Journal first publication right of the paper, which is registered with the Creative Commons Attribution-NonCommercial-ShareAlike 4.0 International License. This license allows third parties to use the published work provided it is sourced as firstly published in this Journal.
Authors may enter into other independent and additional contractual agreements for the non-exclusive distribution of the article published in this Journal (e.g., to be included in an institutional repository or published in a book) provided it is clearly stated that the work was published in this Journal for the first time.
Authors are allowed and recommended to publish their work on the Internet (for example, on institutional or personal pages) before and during the review and publication process, as it can lead to productive exchanges and a greater and faster dissemination of work published.
The Economía & Sociedad Journal, published by Universidad Nacional, is licensed under a Creative Commons Reconocimiento-NoComercial-CompartirIgual 4.0 Internacional License. Based on http://www.revistas.una.ac.cr/index.php/economia.