Reporte de caso clínico Primer diagnóstico de Rhodococcus equi confirmado, laboratorialmente, en un potrillo de Costa Rica
Roberto Estrada

Universidad Nacional, Escuela de Medicina Veterinaria, Hospital Equino

Carla Murillo

Universidad Nacional, Escuela de Medicina Veterinaria, Hospital Equino

Patricio Razquin

Universidad Nacional, Escuela de Medicina Veterinaria, Hospital Equino

Elías Barquero-Calvo

Universidad Nacional, Escuela de Medicina Veterinaria, Programa de Investigación en Enfermedades Tropicales

Carlos Chacón-Díaz

Universidad de Costa Rica, Facultad de Microbiología, Centro de Investigación en Enfermedades Tropicales

Manuel Estrada

Universidad Nacional, Escuela de Medicina Veterinaria, Hospital Equino
Palabras clave:
Rhodococcus equi, 16SrRNA, bronconeumonía potrillos, impacto monetario, Costa Rica
Resumen
Neumonía por Rhodococcus equi es importante causa de morbilidad y mortalidad en potrillos de todo el mundo. La prevalencia y/o virulencia de la bacteria es, aparentemente, baja en Costa Rica, pues nunca han sido reportados brotes. Los casos sospechosos muestran solamente signos clínicos de leves a moderados. Sin embargo, un diagnóstico definitivo de la enfermedad nunca ha sido hecho anteriormente en caballos costarricenses. R. equi es una bacteria G (+) facultativa intracelular que causa neumonía en potrillos jóvenes (hasta 4-5 meses de edad). Este caso corresponde a un potrillo Frisón de cuatro semanas de edad que fue referido para cirugía al Hospital Equino, Universidad Nacional de Costa Rica, con una fractura de húmero y onfaloflebitis. En el período postoperatorio, el paciente presentó: signos de secreción nasal bilateral moderada, tos, fiebre, linfocitosis y neutrofilia. La evaluación radiológica del tórax mostró un patrón bronquialveolar en el aspecto ventrocraneal de los pulmones. La citología del aspirado transtraqueal confirmó un cuadro de bronconeumonía supurativa. Las muestras fueron cultivadas aeróbicamente en agar Columbia + 5% sangre a 37°C por 24h. Las características macroscópicas, microscópicas, bioquímicas y la identificación, por medio de la secuenciación parcial del gen "16SrRNA", de la bacteria aislada fueron compatibles con R. equi. El potrillo fue eutanasiado debido a re-fractura del húmero antes de que el diagnóstico de R. equi fuera confirmado. R. equi tiene el potencial de causar un severo impacto monetario a la industria de cría equina, por lo cual, es importante hacer el diagnóstico y tratamiento precisos para evitar el surgimiento de cepas resistentes. Son necesarios más estudios para determinar la prevalencia local del patógeno y evaluar su impacto.
Citas
Al Akhrass, F., Al Wohoush, I., Chaftari, A.M., Reitzel, R., Jiang, Y., Ghannoum, M., Tarrand, J., Hachem, R. & Raad, I. 2012. Rhodococcus bacteremia in cancer patients is mostly catheter related and associated with biofilm formation. PLOS ONE 7(3): e32945. doi: 10.1371/journal.pone.0032945
Alhariri, M., Azghani, A. & Omri, A. 2013. Liposomal antibiotics for the treatment of infectious diseases. Expert Opin. Drug Del. 10(11): 1515-1532. doi: 10.1517/17425247.2013.822860

Álvarez, M., Güiris, D.M., Samayoa, Y.Y., Cruz, E. & Lira, I. 2001. Identification of aerobic bacteria from internal organs of Tapirus bairdii. Proceedings from First International Tapir Symposium, San José, Costa Rica, November 3-8, 2001. Abstract number 32. Instituto de Historia Natural y Ecología del Estado de Chiapas (IHNE) Apdo. Postal N°6, C.P. 29000, Tuxtla Gutiérrez, Chiapas, México.

Baptista, P.V., McCusker, M.P., Carvalho, A., Ferreira, D.A., Mohan, N.M., Martins, M. & Fernandes, A.R. 2018. Nano-Strategies to fight multidrug resistant bacteria - "A battle of the titans". Front. Microbiol. 9: 1441. doi: 10.3389/fmicb.2018.01441

Chaffin, M.K., Cohen, N.D., Martens, R.J., O'Connor, M. & Bernstein, R. 2011. Evaluation of the efficacy of gallium maltolate for chemoprophylaxis against pneumonia caused by Rhodococcus equi infection in foals. Am. J. Vet. Res. 72(7): 945-957. doi: 10.2460/ajvr.72.7.945

CLSI. 2015. M02-A12 Performance Standards for Antimicrobial Disk Susceptibility Tests; Approved Standard – Twelfth Edition, 12th Edition. Clinical and Laboratory Standards Institute, Wayne, Pennsylvania.

Cohen, N.D., Carter, C.N., Scott, M., Chaffin, K., Smith, J.L., Grimm, M.B., Kuskie, K.R., Takai, S. & Martens, R.J. 2008. Association of soil concentrations of Rhodococcus equi and incidence of pneumonia attributable to Rhodococcus equi in farms of central Kentucky. Am. J. Vet. Res. 69 (3): 385-395. doi: 10.2460/ajvr.69.3.385

Cohen N.D., Kuskie, K.R., Smith, J.L., Slovis, N.M., Brown, S.E., Stepusin, R.S., Chaffin, M.K., Takai, S. & Carter, C.N. 2012. Association of airborne concentration of virulent Rhodococcus equi with location (stall versus paddock) and month (January through June) on 30 horse breeding farms in central Kentucky. Am. J. Vet. Res. 73(10): 1603-1609. doi: 10.2460/ajvr.73.10.1603

Cohen N.D., Chaffin, M.K., Kuskie, K.R., Syndergaard, M.K., Blodgett, G.P. & Takai, S. 2013. Association of perinatal exposure to airborne Rhodococcus equi with risk of pneumonia caused by R. equi in foals. Am. J. Vet. Res. 74(1): 102-109. doi: 10.2460/ajvr.73.10.160

Cohen, N.D., Slovis, N.M., Giguére, S., Baker, S., Chaffin, M.K. & Bernstein, L.R. 2015. Gallium maltolate as an alternative to macrolides for treatment of presumed Rhodococcus equi pneumonia in foals. J. Vet. Intern. Med. 29(3): 932-939. doi: 10.1111/jvim.12595

Cohen, N.D., Giguère, S., Burton, A.J., Rocha, J.N. Berghaus, L.J., Brake, C.N., Bordin, A.I. & Coleman, M.C. 2016. Use of liposomal gentamicin for treatment of 5 foals with experimentally induced Rhodococcus equi pneumonia. J. Vet. Intern. Med. 30(1): 322-325. doi: 10.1111/jvim.13810.

Cywes-Bentley, C., Rocha, J.N., Bordin, A.I., Vinacur, M., Rehman, S., Zaidi, T.S., Meyer, M., Anthony, S., Lambert, M., Vlock, D.R., Giguère, S., Cohen, N.D. & Pier, G.B. 2018. Antibody to Poly-N-acetyl glucosamine provides protection against intracellular pathogens: Mechanism of action and validation in horse foals challenged with Rhodococcus equi. Plos Pathog. 14(7): e1007160. doi: 10.1371/journal.ppat.1007160

Dixon, P.M. 1997. Ancillary diagnostic techniques for the investigation of equine pulmonary disease. Equine Vet. Educ. 9(2): 72-80. doi: 10.1111/j.2042-3292.1997.tb01281.x

Dixon, P.M., Railton, D.I. & McGorum, B.C. 1995. Equine pulmonary disease: a case control study of 300 referred cases. Part 1: Examination techniques, diagnostic criteria and diagnosis. Equine Vet. J. 27(6): 416-421 https://doi.org/10.1111/j.2042-3306.1995.tb04421.x

Forbes, B., Sahm, D. & Weissfeld, A. 1998. Nocardia, Streptomyces, Rhodococcus, Oerskovia and similar organisms. Bailey & Scott's Diagnostic Microbiology, 10th Edition. Mosby, Estados Unidos.

Giguère, S., Lee, E., Williams, E., Cohen, N.D., Chaffin, M.K., Halbert, N., Martens, R.J., Franklin, R.P., Clarck, C.C. & Slovis, N.M. 2010. Determination of the prevalence of antimicrobial resistance to macrolide antimicrobials or rifampin in Rhodococcus equi isolates and treatment outcome in foals infected with antimicrobial-resistant isolates of R equi. JAVMA-J. Am. Vet. Med. A. 237(1): 74-81. doi: 10.2460/javma.237.1.74

Guiguère, S. 2010. Infecciones por Rhodococcus equi. En: Smith, B.P. (Ed.). Medicina Interna de Grandes Animales. Elsevier España S.L, Barcelona, p. 510-520.

Giguère, S. 2017. Treatment of infections caused by Rhodococcus equi. Vet. Clin. North Am. Equine Pract. 33(1): 67-85. doi: 10.1016/j.cveq.2016.11.002

Gressler, L.T., de Vargas, A.C., da Costa, M.M., Sutili, F.J., Schwab, M., Pereira, D.I., Sangioni, L.A. & Botton, S. 2015. Biofilm formation by Rhodococcus equi and putative association with macrolide resistance. Pesq. Vet. Bras. 35(10): 835-841. doi: 10.1590/S0100-736X2015001000003

Grimm, M.B., Cohen, N.D., Slovis, N.M., Mundy, G.D., Harrington, J.R., Libal, M.C., Takai, S. & Martens, R.J. 2007. Evaluation of fecal samples from mares as a source of Rhodococcus equi for their foals by use of quantitative bacteriologic culture and colony immunoblot analyses. Am. J. Vet. Res. 68(1): 63-71. doi: 10.2460/ajvr.68.1.63

Herrera, M.L., Vargas, A. & Campos, M. 2000. Primer aislamiento clínico de Rhodococcus equi en Costa Rica. Rev. Méd. Hosp. Nac. Niños (Costa Rica) 35(1-2): 49-53.

Hooper-McGrevy, K.E., Giguere, S., Wilkie, B.N. & Prescott, J.F. 2001. Evaluation of equine immunoglobulin specific for Rhodococcus equi virulence-associated proteins A and C for use in protecting foals against Rhodococcus equi-induced pneumonia. Am. J. Vet. Res. 62(8): 1307-1313. doi: 10.2460/ajvr.2001.62.1307

Hugues, K.J., Malikides, S.N., Hodgson, D.R. & Hodgson, J.L. 2008. Comparison of tracheal aspirates and bronchoalveolar lavage in racehorses 1. Evaluation of cytological stains and the percentage of mast cells and eosinophils. Aust. Vet. J. 81(11): 681-684. doi: 10.1111/j.1751-0813.2003.tb12538.x

Kelly, B.G, Wall, D.M., Boland, C.A. & Meijer, W.G. 2002. Isocitrate lyase of the facultative intracellular pathogen Rhodococcus equi. Microbiology 148(3): 793-798. doi: 10.1099/00221287-148-3-793.

Kumar, S., Stecher, G., Li, M., Knyaz, C. & Tamura, K. 2018. MEGA X: Molecular evolutionary genetics analysis across computing platforms. Mol. Biol. Evol. 35(6): 1547-1549. doi: 10.1093/molbev/msy096

Kuskie, K.R., Smith, J.L., Wang, N., Carter, C.N., Chaffin, M.K., Slovis, N.M., Stepusin, R.S., Cattoi, A.E., Takai, S. & Cohen, N.D. 2011. Effects of location for collection of air samples on a farm and time of day of sample collection on airborne concentrations of virulent Rhodococcus equi at two horse breeding farms. Am. J. Vet. Res. 72(1): 73-79. doi: 10.2460/ajvr.72.1.73

Lasky, J., Pulkingham, N., Powers, M.A. & Durack, D.T.1991. Rhodococcus equi causing human pulmonary infection: review of 29 cases. South Med. J. 84(10): 1217-1220.

Letek, M., Ocampo-Sosa, A.A., Sanders, M., Fogarty, U., Buckley, T., Leadon, D.P., González, P., Scortti, M., Meijer, W.G., Parkhill, J., Bentley, S. & Vázquez-Boland, J.A. 2008. Evolution of the Rhodococcus equi vap pathogenicity island seen through comparison of host-associated vapA and vapB virulence plasmids. J. Bacteriol. 190(17): 5797-5805. doi: 10.1128/JB.00468-08

Losinger, W.C., Traub-Dargatz, J.L., Sampath, R.K. & Morley, P.S. 2000. Operation-management factors associated with early-postnatal mortality of US foals. Prev. Vet. Med. 47(3): 157–175. doi: 10.1016/S0167-5877(00)00173-2

Malikides, S.N., Hughes, K.J., Hodgson, D.R. & Hodgson, J.L. 2003. Comparison of tracheal aspirates and bronchoalveolar lavage in racehorses 2. Evaluation of the diagnostic significance of neutrophil percentage. Aust. Vet. J. 81(11): 685-687. doi: 10.1111/j.1751-0813.2003. tb12540.x.

Nachimuthu, N., Manohar, P., Shanthini, T., Gothandam, K.M., Karthikeyan, S. & Bulent, B. 2017. Nano-antibiotics: A Therapeutic Future. Nanoscience and Nanotechnology - Asia. 7(1): 3-25. doi: 10.2174/2210681207666170215151010

Markey, B., Leonard, F., Archambault, M. & Cullinane, A. 2013. Clinical Veterinary Microbiology, 2nd Edition. Elsevier, Estados Unidos. 920p.

Muscatello, G, Leadon, D.P., Klayt, M., Ocampo-Sosa, A., Lewis, D.A., Fogarty, U., Buckley, T., Gilkerson, J.R., Meijer, W.G. & Vazquez-Boland, J.A. 2007. Rhodococcus equi infection in foals: the science of 'rattles'. Equine Vet. J. 39(5): 470–478. doi: 10.2746/042516407X209217

Prescott, J.F. 1987. Epidemiology of Rhodococcus equi infection in horses. Vet. Microbiol. 14(3): 211–214. doi: 10.1016/0378-1135(87)90107-6

Prescott, L., Harley, J. & Klein, D. 1997. The Bacteria: The Actinomycetes. Microbiology, 2nd Edition. McGraw-Hill Education, Estados Unidos.

Rossi, H., Virtala, A.M., Raekallio, M., Rahkonen, E., Rajamaki, M.M. & Mykkanen, A. 2018. Comparison of tracheal wash and bronchoalveolar lavage cytology in 154 horses with and without respiratory signs in a referral hospital over 2009-2015. Front. Vet. Sci. 5(61). doi: 10.3389/fvets.2018.00061

Sharma, A., Kumar, D., Dua, M., Chhatwal, G.S. & Johri, A.K. 2012. Nano-technologies for targeted drug delivery to combat antibiotic resistance. Expert Opin. Drug Del. 9(11): 1325-1332. doi: 10.1517/17425247.2012.717927

Singh, R., Smitha, M.S. & Singh, R. 2014. The role of nanotechnology in combating multi-drug resistant bacteria. J. Nanosci. Nanotechnol. 14(7): 4745-4756. doi: 10.1166/jnn.2014.9527

Sturgill, T.L. & Horohov, D.W. 2006. Interferon-Gamma expression in young foals when treated with an immunostimulant or plasma. P. Annu. Conv. Am. Equin. 52: 237-241.

Takai, S, Hines, S.A., Sekizaki, T., Nicholson, V.M., Alperin, D.A., Osaki, M., Takamatsu, D., Nakamura, M., Suzuki, K., Ogino, N., Kakuda, T., Dan, H. & Prescott, J.F. 2000. DNA sequence and comparison of virulence plasmids from Rhodococcus equi ATCC 33701 and 103. Infect. Immun. 68(12): 6840-6847. doi: 10.1128/iai.68.12.6840-6847.2000

Zachary, J.F. 2017. Pathological basis of Veterinary Disease, 6th Edition. Elsevier, St. Louis, Estados Unidos. 526p.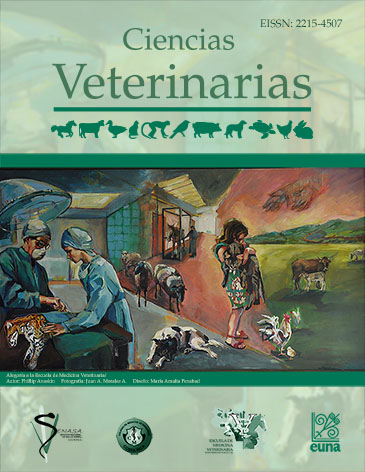 Cómo citar
Estrada, R., Murillo, C., Razquin, P., Barquero-Calvo, E., Chacón-Díaz, C., & Estrada, M. (2020). Reporte de caso clínico Primer diagnóstico de Rhodococcus equi confirmado, laboratorialmente, en un potrillo de Costa Rica. Ciencias Veterinarias, 38(1), 43-52. https://doi.org/10.15359/rcv.38-1.4
Sección
Artículos -sección arbitrada, pares doble ciego-
Licenciamiento de los artículos
Todo artículo se publicará con una licencia:

Licencia Creative Commons Atribución-NoComercial-SinDerivadas 3.0 Costa Rica.
El acceso a esta revista es gratuito, solo se debe citar en forma completa el artículo y la revista.
Los derechos de propiedad intelectual son del autor. Una vez aceptado el artículo para su publicación el autor cede a la Revista los derechos de reproducción.
La Revista de Ciencias Veterinarias autoriza la impresión de artículos y fotocopias para uso personal. También, se promueve el uso para fines educacionales. Especialmente: instituciones podrán crear enlaces a artículos específicos que se encuentren en el servidor de la revista a fin de conformar paquetes de cursos, seminarios o como material de instrucción.
El autor puede colocar una copia de la versión definitiva en su servidor aunque se recomienda que mantenga un enlace al servidor de la revista donde está el artículo original.
Las violaciones de propiedad intelectual recaen sobre quien la realizó. No es responsable la empresa o institución que da acceso a los contenidos, ya sea porque actúa sólo como transmisora de información (por ejemplo, proveedores de acceso a Internet) o porque ofrece servicios públicos de servidores.
Artículos más leídos del mismo autor/a