Transversalidad y valores: una propuesta metodológica para incorporarlos en los programas de estudio de ciencias y biología
Enrique Bogantes Vílchez

Profesional Independiente

Luciana Delgado Conejo

Profesional Independiente

Sandry Jiménez Arias

Profesional Independiente

María Elena Murillo Arias

Profesional Independiente

Graciela Rojas Chaves

Profesional Independiente

Geovanny Rojas Miranda

Profesional Independiente

Adriana Zúñiga Meléndez

Profesional Independiente
Abstract
Gender mainstreaming and values are tools that allow for social change; they are essential elements in an individual's education. When dealing whit aspects of society and values, this theory provides the teacher whit the possibility of experiencing social reality from a more human, supportive, and tolerant point of view. For this reason, the incorporation of these elements in the course outline is essential.
References
Celorio, M. (1996). Desde una transversalidad de trámite a una
transversalidad renovadora. En línea: www.Fuhem.es/CIP/EDUCA/
art4hego.htm.
Guier, E., Rodríguez, M. y Zúñiga, M. (2002). Educación Ambiental en
Costa Rica. San José, Costa Rica: Editorial UNED.
Lucini, F. (2000). Temas transversales y educación en valores. (7a. ed.). Madrid, España: Editorial Grupo ANAYA.
Ministerio de Educación Pública. (2001).Programas de estudio. San José, Costa Rica.
Tuvilla, J. (2000). Reformas educativas, transversalidad y derechos
humanos. Asociación Mundial para la Escuela Instrumento de Paz. En línea: http://www.eip-cifedhop.org/.
Marín, R. (1998). Elementos de nutrición humana (la. ed.). San José, Costa Rica: Editorial Universidad Nacional Estatal a Distancia.
Rodríguez, J. (2002). Biología JO y 11 año (5a. ed.). San José, Costa Rica: Editorial Mundo Gráfico.
Sandí, R. (2002). Biología: un enfoque práctico 11 º (la. ed.). San José, Costa Rica: Editorial Géminis.
Asociación para el bienestar y amparo animal. A.E.A.A. (2003).
Planificador Mensual. San José, Costa Rica.
Tyler, G. (1994). Ecología y medio ambiente. México: Grupo Editorial
Iberoamérica.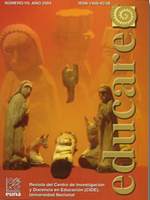 How to Cite
Bogantes Vílchez, E., Delgado Conejo, L., Jiménez Arias, S., Murillo Arias, M., Rojas Chaves, G., Rojas Miranda, G., & Zúñiga Meléndez, A. (2004). Transversalidad y valores: una propuesta metodológica para incorporarlos en los programas de estudio de ciencias y biología. Revista Electrónica Educare, (7), 221-240. https://doi.org/10.15359/ree.2004-7.13
Section
Articles (Peer Reviewed Section)
1. In case the submitted paper is accepted for publication, the author(s) FREELY, COSTLESS, EXCLUSIVELY AND FOR AN INDEFINITE TERM transfer copyrights and patrimonial rights to Universidad Nacional (UNA, Costa Rica). For more details check the Originality Statement and Copyright Transfer Agreement
2. REUTILIZATION RIGHTS: UNA authorizes authors to use, for any purpose (among them selfarchiving or autoarchiving) and to publish in the Internet in any electronic site, the paper´'s final version, both approved and published (post print), as long as it is done with a non commercial purpose, does not generate derivates without previous consentment and recognizes both publisher's name and authorship.
3. The submission and possible publication of the paper in the Educare Electronic Journal is ruled by the Journal's editorial policies, the institutional rules of Universidad Nacional and the laws of the Republic of Costa Rica. Additionally, any possible difference of opinion or future dispute shall be settled in accordance with the mechanisms of Alternative Dispute Resolution and the Costa Rican Jurisdiction.
4. In all cases, it is understood that the opinions issued are those of the authors and do not necessarily reflect the position and opinion of Educare, CIDE or Universidad Nacional, Costa Rica.
5. The papers published by Educare Electronic Journal use a Creative Commons License: