La enseñanza de la religión en el sistema educativo costarricense: dificultades actuales y posibles soluciones en el marco de una sociedad plural
Antonio Pizarro B

Universidad de Costa Rica
Keywords:
religion, religious education, religious Pluralism, cultural relativism
Abstract
This article seeks to be a contribution to the debate on the theaching of the religion in the Costa Rican educational system. This debate has become public starting from the publication May 1º 2005 of a Pronouncement of the University Council (CU) of UNA (National University).First the teaching of the religion is located in the concrete context of the country, he offers a pertinent definition of religion and its implications like premises to understand the polemic, the reactions are analyzed that the Official statement has generated and finally coinciding and supporting the CU and the EECR (Ecumenical school of sciences of the religion) intends some measures that could contribute to find inclusive, democratic solutions, chords with the effective confesional pluralism of the Costa Rican society.
References
Barrantes C., V. J. (2005). "Una teología al servicio de la gente". CAMPUS/ Mayo 2005, p. 7 Actualidad.
Bataille, G. (1981). Teoría de la religión. Madrid. Taurus.
Berger, P. L. (2005). "Pluralismo religioso en una era pluralista". La Nación. 01/05/05, p. 42A.
Bueno, G. (1996). El animal divino. Ensayo de una filosofía materialista de la religión. Oviedo (España). Pentalfa Ediciones (Grupo Helicón, s.a.).
Cicerón. (2000). Sobre la naturaleza de los dioses. Madrid. Editorial Gredas, s.a.
Consejo Universitario. (2005). Pronunciamiento de la Universidad Nacional sobre la manera en que se organiza, dirige y orienta la educación religiosa en el Sistema Educativo Costarricense. La Nación, 01/05/05, p. 17 Viva.
Dengo, M. E. (2002). Nuevos paradigmas para la educación. Colección Ideario XXI, nº. 15. San José. EUNED.
Elíade, M. (1974). "Lo sagrado y lo profano: naturaleza de la religión (1956)". Tratado de historia de las religiones. Tomo I. Aproximaciones: estructura y morfología de lo sagrado. Pp. 23-64. Madrid. Ediciones Cristiandad.
Engels, F. Anti Düring. En: Obras (en ruso). Tomo 20. Moscú. Institut Marxizma leninizma.
E.E.C.R. (2005). "Recuperar el futuro". Diario Extra, 27/06/05, p. 9.
Gallino, L. (2001). Diccionario de Sociología. Madrid. Siglo XXI editores, s.a.
Golcher B., R. (2005). "Crece conflicto entre Iglesia Católica y UNA." La Nación, 17/06/05,p. 12A.
Kepel, G. (1991). La revancha de Dios. Cristianos,judíos y musulmanes a la reconquista del mundo. Madrid. Anaya & Mario Muchnik.
Kolakowsky, L. (1985). Si Dios existe ... Sobre Dios, el diablo, el pecado y otras preocupaciones de la llamada filosofía de la religión. Madrid. Editorial Tecnos, s.a.
Kottak, C. Ph. ( 1999). Antropología: una exploración de la diversidad humana. Con temas de cultura hispánica. Madrid. McGraw-Hill.
Lenin, V.I. (1915). Acerca de la Dialéctica. En: Cuadernos filosóficos. Obras completas (en ruso). Tomo 29, 5" edición. Moscú. Politizdát.
Marlasca, L. A. et. al. (1994) Por Dios, contra Dios. San José, Guayacán, s.a.
MEP. (2005). Educación religiosa. llI Ciclo. Programa de Estudios 2005.
MEP. (2005). Educación religiosa. Educación Diversificada. Programa de Estudios 2005.
Molina R., X. (2004). "Discurso religioso perjudica a niñez". CAMPUS/Mayo 2004, p. 6 Actualidad.
Molina R., X. (2005). "UNA solicita al MEP cambios inmediatos". Enseñanza de la religión discriminatoria. CAMPUS/ Mayo 2005, p. 7 Actualidad.
Otto, R. (1925). Lo santo. Madrid. Revista de Occidente. Picado, M, (1989). La iglesia costarricense: entre Dios y el César. San José. Editorial DEI.
Picado G., M. (2005). "¿Enseñanza aconfesional de la religión?" La Nación, 08/05/05, p. 28A.
Puente Ojea, G. (1995). Elogio del ateísmo. Los espejos de una ilusión. Madrid. Siglo XXI editores, s.a.
Puente Ojea, G. (1997). Ateísmo y religiosidad. Reflexiones sobre un debate. Madrid. Siglo XXI de España editores, s.a.
Robles, A. (2001). Repensar la religión. De la creencia al conocimiento. Heredia, C. R.
EUNA.
Russell, B. (1912/1973). La esencia de la religión. En: Escritos básicos, 1903-1959. pp. 829-845. México, D.F. Aguilar Editor, s.a.
Sáenz V., G. (2005). "Se oponen a criterio de la UNA. Obispos dicen que ellos deben escoger profesores de religión". Diario Extra, 17 /06/05, p. 4.
Sánchez de las Matas, M. (2004). "El mejor de los mundos". En: Hoja Filosófica. Revista Latinoamericana de Filosofía. Nº 11. Heredia, C.R. UNA. Dpto. de Filosofía.
Sánchez de las Matas, M. (en prensa). La creación de la imperfección o mal metafísico.
Saramago, J. (2005). "El factor dios". Suplemento Los Libros. Revista mensual del Semanario Universidad nº. 173, junio de 2005.
Weber, M. (1977). Economía y sociedad. Esbozo de sociología comprensiva. Tomo l. México. FCE.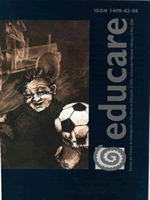 How to Cite
Pizarro B, A. (2006). La enseñanza de la religión en el sistema educativo costarricense: dificultades actuales y posibles soluciones en el marco de una sociedad plural. Revista Electrónica Educare, 10(1), 57-76. https://doi.org/10.15359/ree.10-1.3
Section
Articles (Peer Reviewed Section)
1. In case the submitted paper is accepted for publication, the author(s) FREELY, COSTLESS, EXCLUSIVELY AND FOR AN INDEFINITE TERM transfer copyrights and patrimonial rights to Universidad Nacional (UNA, Costa Rica). For more details check the Originality Statement and Copyright Transfer Agreement
2. REUTILIZATION RIGHTS: UNA authorizes authors to use, for any purpose (among them selfarchiving or autoarchiving) and to publish in the Internet in any electronic site, the paper´'s final version, both approved and published (post print), as long as it is done with a non commercial purpose, does not generate derivates without previous consentment and recognizes both publisher's name and authorship.
3. The submission and possible publication of the paper in the Educare Electronic Journal is ruled by the Journal's editorial policies, the institutional rules of Universidad Nacional and the laws of the Republic of Costa Rica. Additionally, any possible difference of opinion or future dispute shall be settled in accordance with the mechanisms of Alternative Dispute Resolution and the Costa Rican Jurisdiction.
4. In all cases, it is understood that the opinions issued are those of the authors and do not necessarily reflect the position and opinion of Educare, CIDE or Universidad Nacional, Costa Rica.
5. The papers published by Educare Electronic Journal use a Creative Commons License: