Diversidad y educación especial
Maritza Marín Cabrera

Universidad Nacional, Costa Rica
Keywords:
Diversity, special education, equal opportunities, inclusive education, Down Syndrome, human rights
Abstract
This article discusses diversity and special education, emphasizing the relevance of respect for equal opportunities as well as for values and attitudes within the school context. In spite of the fact that schools have improved in these aspects throughout the years, there is still lot of work to do in order to transform our schools in inclusive institutions.
Special attention is given to people with Down Syndrome who are integrated to the Regular System; students with dreams and illusions who participate in different integrated programs providing an example of tenacity. Furthermore, several pre-school integration centers were visited and a lot of necessities of attention to the general population were detected. This article presents different methodological strategies designed to produce meaningful and functional learning processes, respecting student's diversity. Accordingly, this is a useful article to educators, especially those who work with pre-schooled children.
References
Aguilar, L. (2000) De la integración a la inclusividad. Buenos Aires, Argentina.
Editorial Espacio.
Agüero, R. y otros. (2003) Integración del Niño con Síndrome de Down en el Sistema
Educativo Regular: La experiencia de un grupo de Padres de Familia del Centro Nacional de Educación Especial Fernando Centeno Güell. Universidad
Nacional. Heredia. Costa Rica.
Asamblea Legislativa (1996). Ley 7600. Igualdad de Oportunidades para las personas con discapacidad en Costa Rica. San José, Costa Rica: Editorial Imprenta
Nacional.
López, N. y Lou, M. (1998) Bases Psicopedagógicas de la Educación Espeáal. Madrid, España: Editorial Pirámide.
Meléndez, L. (2002) La inclusión escolar del alumno con discapacidad intelectual. Bogotá, Colombia: Editorial GLARP.
Ministerio de Educación Pública. (2000) Programa de estudio del Ciclo Materno Infantil. San José, Costa Rica: Editorial Ministerio.
Stainback, S. y Stainback, W. (1999) Aulas Inclusivas. Madrid, España: Editorial Narcea.
UNESCO. (1991) La integración de niños discapacitados a la educación común. Santiago, Chile.
UNESCO. (1994) Conferencia Mundial sobre Necesidades Educativas Especiales, Acceso y Calidad. Declaración de Salamanca y Marco de Acción sobre Necesidades
Educativas Especiales. Salamanca, España: Ministerio de Educación
y Ciencia.
UNESCO. (2000) Marco de Acción de Dakar. Educación para Todos. Dakar, África.
Vegá, A. (2001) La educación de los niños con Síndrome de Down. Principios y prácticas. Salamanca, España: Editorial Amarú.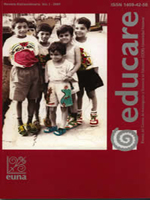 How to Cite
Marín Cabrera, M. (2007). Diversidad y educación especial. Revista Electrónica Educare, 1, 91-102. https://doi.org/10.15359/ree.1-Ext.5
Section
Articles (Peer Reviewed Section)
1. In case the submitted paper is accepted for publication, the author(s) FREELY, COSTLESS, EXCLUSIVELY AND FOR AN INDEFINITE TERM transfer copyrights and patrimonial rights to Universidad Nacional (UNA, Costa Rica). For more details check the Originality Statement and Copyright Transfer Agreement
2. REUTILIZATION RIGHTS: UNA authorizes authors to use, for any purpose (among them selfarchiving or autoarchiving) and to publish in the Internet in any electronic site, the paper´'s final version, both approved and published (post print), as long as it is done with a non commercial purpose, does not generate derivates without previous consentment and recognizes both publisher's name and authorship.
3. The submission and possible publication of the paper in the Educare Electronic Journal is ruled by the Journal's editorial policies, the institutional rules of Universidad Nacional and the laws of the Republic of Costa Rica. Additionally, any possible difference of opinion or future dispute shall be settled in accordance with the mechanisms of Alternative Dispute Resolution and the Costa Rican Jurisdiction.
4. In all cases, it is understood that the opinions issued are those of the authors and do not necessarily reflect the position and opinion of Educare, CIDE or Universidad Nacional, Costa Rica.
5. The papers published by Educare Electronic Journal use a Creative Commons License: