La investigación etnográfica, un reto para comprender el acontecer del aula
Grace Rojas Alvarado

Ministerio de Educación Pública, Costa Rica
Abstract
These comments center on the area of education and educational research. The latter is a practice which should be part of our daily activities and course programs. The research was conducted using an ethnographic approach with the intention of comprehending the reality of rural areas holistically and reconstructing phenomena in their different contexts as they take place day by day in the classroom. The importance of this type of research is in including protagonist subjects among the main actors of research processes.
References
Fornet-Betancourt, R. ( 1994) Hacia una filosofía intercultural latinoamericana. Editorial DEI, San José
Goetz, J. P. y Lecompte, M. D. ( 1983) Etnografta y diseño cualitativo en investigación educativa. Ed. MORATA, Madrid.
Rockwell, Elsie (1994) La etnografía como conocimiento local en La etnografía en Educación. Panorama. Prácticas y Problemas. Centro de Investigaciones y Servicios Educativos UNAM, México.
Rojas, G. (2002) Creencias que construyen los sujetos que participan en el desarrollo de los procesos de aprendiz.aje y enseñanza en una escuela de primaria. Tesis presentada en la Universidad de Costa Rica.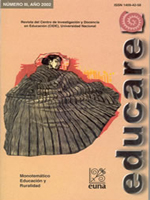 How to Cite
Rojas Alvarado, G. (2002). La investigación etnográfica, un reto para comprender el acontecer del aula. Revista Electrónica Educare, (3), 47-53. https://doi.org/10.15359/ree.2002-3.4
Section
Articles (Peer Reviewed Section)
1. In case the submitted paper is accepted for publication, the author(s) FREELY, COSTLESS, EXCLUSIVELY AND FOR AN INDEFINITE TERM transfer copyrights and patrimonial rights to Universidad Nacional (UNA, Costa Rica). For more details check the Originality Statement and Copyright Transfer Agreement
2. REUTILIZATION RIGHTS: UNA authorizes authors to use, for any purpose (among them selfarchiving or autoarchiving) and to publish in the Internet in any electronic site, the paper´'s final version, both approved and published (post print), as long as it is done with a non commercial purpose, does not generate derivates without previous consentment and recognizes both publisher's name and authorship.
3. The submission and possible publication of the paper in the Educare Electronic Journal is ruled by the Journal's editorial policies, the institutional rules of Universidad Nacional and the laws of the Republic of Costa Rica. Additionally, any possible difference of opinion or future dispute shall be settled in accordance with the mechanisms of Alternative Dispute Resolution and the Costa Rican Jurisdiction.
4. In all cases, it is understood that the opinions issued are those of the authors and do not necessarily reflect the position and opinion of Educare, CIDE or Universidad Nacional, Costa Rica. It is also understood that, in the exercise of academic freedom, the authors have carried out a rogorous scientific-academic process of research, reflection and argumentation thar lays within the thematic scope of interest of the Journal.
5. The papers published by Educare Electronic Journal use a Creative Commons License: