THE TRIPOD OF STAGNATION IN SOCIAL SCIENCES: INADEQUATE TEACHING METHODOLOGY, POOR DEVELOPMENT OF RESEARCH COMPETENCE AND ALL BUT DISSERTATION SYNDROME
Willy Soto Acosta

Universidad Nacional de Costa Rica, Costa Rica
Keywords:
Social research culture, Thesis/Dissertation, University teaching
Abstract
Three closely interrelated elements in the Social Studies teaching and learning process are addressed in this paper: inadequate teaching strategies in methodology courses; poorly developed research skills in students, and the growing "All But Dissertation" (ABD) syndrome. As a final result, universities are preparing professionals who do not know how research. The above results from the objectification of the design methodology and the bureaucratic concept of research. The solution lies in having a research culture pervade the university curricula and in rethinking the teaching methodology.
Downloads
Download data is not yet available.
References
Ander‐Egg, E. (1983). Técnicas de investigación social. Argentina: Humanitas.

Berger, P. (1976). Introducción a la sociología. México: LIMUSA.

HComisión de Alto Nivel del Proyecto RLA/96/001. (1999). Los retos educativos del futuro. Estado de la educación en América Latina y el Caribe. Costa Rica: PNUD.

Ferrer, Y. y Malaver, M. (2000). Factores que inciden en el síndrome todo menos tesis (TMT) en las maestrías de la Universidad del Zulia. Opción, (16)31, 112‐119. Recuperado de dialnet.unirioja.es/descarga/articulo/2474955.pdf

García‐Márquez, G. (1996). Noticia de un secuestro. Argentina: Editorial Sudamericana.

Gascón, Y. (2008). El síndrome de todo menos tesis TMT como factor influyente en la labor investigativa. Revista COPÉRNICO, (5)9, 46‐57. Recuperado de http://copernico.uneg.edu.ve/numeros/c09/c09_art05.pdf
Lévy‐Leboyer, C. (1997). Gestión de competencias. España: Gestión 2000.

Ontoria, A. (1997). Mapas conceptuales. Una técnica para aprender. España: Narcea.
Ir a este libro
Soto‐Acosta, W. (2004). Globalización y universidad: Los estudios humanísticos. Revista Comunicación, 13(2), 73‐77. Recuperado de http://www.tec‐digital.itcr.ac.cr/servicios/ojs/index.php/comunicacion/article/view/1135/1047

Soto‐Acosta, W. (2007). Globalización y formación de profesionales: Capital humano y competencias laborales. Revista Rhombus, (3)8. Recuperado de:
(http://www.ulacit.ac.cr/revista/rhombus12/AI.pdf).

Valarino, E., Yáber, G. y Cemborain, S. (2011). Diseño curricular por competencias, postgrado y TMT (todo menos tesis). Recuperado de http://apps.ucab.edu.ve/nap/recursos/Ponencia‐Nucleo‐Autoridades‐PG.pdf

Wright‐Mills, C. (1971). La imaginación sociológica. México: Fondo de Cultura Económica.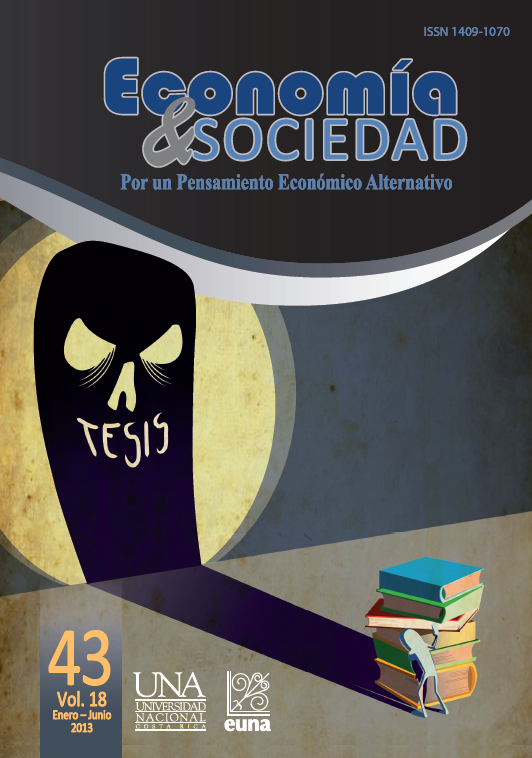 How to Cite
Soto Acosta, W. (1). THE TRIPOD OF STAGNATION IN SOCIAL SCIENCES: INADEQUATE TEACHING METHODOLOGY, POOR DEVELOPMENT OF RESEARCH COMPETENCE AND ALL BUT DISSERTATION SYNDROME. Economía Y Sociedad, 18(43), 1-17. Retrieved from https://www.revistas.una.ac.cr/index.php/economia/article/view/5114
Section
Articles (Arbitrated section)
This publication is subject to the Creative Commons License; therefore, its attributions and restrictions must be respected.
Authors publishing in this Journal accept the following conditions:
Authors retain copyright ownership and give the Journal first publication right of the paper, which is registered with the Creative Commons Attribution-NonCommercial-ShareAlike 4.0 International License. This license allows third parties to use the published work provided it is sourced as firstly published in this Journal.
Authors may enter into other independent and additional contractual agreements for the non-exclusive distribution of the article published in this Journal (e.g., to be included in an institutional repository or published in a book) provided it is clearly stated that the work was published in this Journal for the first time.
Authors are allowed and recommended to publish their work on the Internet (for example, on institutional or personal pages) before and during the review and publication process, as it can lead to productive exchanges and a greater and faster dissemination of work published.
The Economía & Sociedad Journal, published by Universidad Nacional, is licensed under a Creative Commons Reconocimiento-NoComercial-CompartirIgual 4.0 Internacional License. Based on http://www.revistas.una.ac.cr/index.php/economia.
Most read articles by the same author(s)