THE ROLE OF INTERNATIONAL DOCUMENTARY PAYMENT INSTRUMENTS IN COMMODITY CIRCULATION
Martín Murillo Córdoba

Con experiencia laboral en banca y comercio internacional por más de 30 años., Costa Rica
Keywords:
Banking, circuit of capital, world trade, globality.
Abstract
Countless transactions take place on a daily basis at a global level. Nations exchange their products according to their production purpose; however, this usually happens within the circuit of capital model. In one of this model´s stages, i.e. commodity circulation, international documentary payment instruments (IDPI) have a crucial role. Even though these instruments do not carry commercial value, they represent completely the will of the economic agents who use them to achieve the incremental value they expect. This article is aimed at addressing the role of IDPIs in commodity circulation.
Downloads
Download data is not yet available.
References
Cámara Comercio, I. (2010). Cámara de comercio internacional. París: ICC Publishing.
Eiteman, D., Stonehill, A. y Moffett, M. (2011). Las finanzas en las empresas multinacionales (12a ed.). México: Pearson. Ir a libro

Greg, M. (2011). Trading with the trend in forex. (S. B. Media, Ed.), News, Analysis & Strategies for futures, Options & derivatives Traders, 36 ‐ 38.

Krishanan, R. M. (2009). Impact of currency Pairs. Time Frames and Technical Indicators On Trading Profit in Forex Spot Market. Journal of Business insights & Transformation, 34 ‐ 51.

Maijoor, S., Ross, V. y Tavares, C. (2011). European Securities and Markets Authority (ESMA). Recuperado de http://www.esma.europa.eu/page/Whos‐who

Marx, k. (1978). El capital. Crítica de la economía política. México: Editorial Fondo de Cultura Económico.

Mora, H. (octubre‐noviembre, 1993). Costos de circulación, trabajo improductivo y empresa capitalista. Un enfoque de la economía política de los costes de transacción y de almacenaje (inventario). Aportes al debate, (3), 22‐31.

Murillo, M. (2007). Bolero: un artefacto para la subsunción de la banca, globalidad y poder (Tesis doctoral inédita). Universidad de Costa Rica, Costa Rica.

Paris., C. (2009). Contratación y medios de pago internacionales. La Hulpe. Paris.: ICC PUblication.

Rivera, J. (2003). Contratación y medios de pago internacionales. Costa Rica: Investigaciones Jurídicas S.A.

USA Goverment. (01 de 2012). US Securities and Exchange Commission. Recuperado de http://www.sec.gov/answers/savingsbond.htm

Zunino, C. (2002). Instrumentos de pago en el comercio internacional. Recuperado de http://www.scribd.com/doc/6813608/10‐instrumentos‐de‐pago‐del‐comercio‐internacional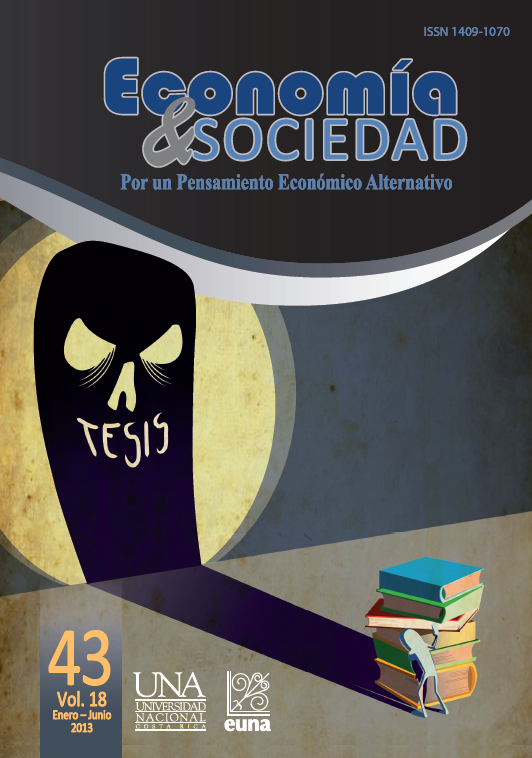 How to Cite
Murillo Córdoba, M. (2013). THE ROLE OF INTERNATIONAL DOCUMENTARY PAYMENT INSTRUMENTS IN COMMODITY CIRCULATION. Economía Y Sociedad, 18(43), 19-32. Retrieved from https://www.revistas.una.ac.cr/index.php/economia/article/view/5121
Section
Articles (Arbitrated section)
This publication is subject to the Creative Commons License; therefore, its attributions and restrictions must be respected.
Authors publishing in this Journal accept the following conditions:
Authors retain copyright ownership and give the Journal first publication right of the paper, which is registered with the Creative Commons Attribution-NonCommercial-ShareAlike 4.0 International License. This license allows third parties to use the published work provided it is sourced as firstly published in this Journal.
Authors may enter into other independent and additional contractual agreements for the non-exclusive distribution of the article published in this Journal (e.g., to be included in an institutional repository or published in a book) provided it is clearly stated that the work was published in this Journal for the first time.
Authors are allowed and recommended to publish their work on the Internet (for example, on institutional or personal pages) before and during the review and publication process, as it can lead to productive exchanges and a greater and faster dissemination of work published.
The Economía & Sociedad Journal, published by Universidad Nacional, is licensed under a Creative Commons Reconocimiento-NoComercial-CompartirIgual 4.0 Internacional License. Based on http://www.revistas.una.ac.cr/index.php/economia.