Evaluación del ciclo de vida: una opción para la competitividad agroindustrial
Rafael A. Díaz Porras

Universidad Nacional de Costa Rica, Costa Rica

Russbel Hernández

Universidad Nacional de Costa Rica, Costa Rica

Cesar Romero Padilla

Universidad Nacional de Costa Rica, Costa Rica

Yolanda Carolina Salazar

Universidad Nacional de Costa Rica, Costa Rica
Abstract
En este artículo se postula que técnica denominada Evaluación del Ciclo de Vida (LCA)[1], proveniente del desarrollo de la gestión ambiental empresarial, es un instrumento útil para el desarrollo de políticas sectoriales, en el contexto de las cadenas productivas[2]. El proceso de formulación de políticas de competitividad implica un espacio de interacción social en el cual participan el sector productivo, el sector institucional y el gubernamental[3], con la creciente incidencia de otros sectores de la sociedad que interactúan espacialmente con los procesos productivos, y con las externalidades ambientales generadas por estos.
[1] Siglas de su denominación en inglés Life Cycle Assessment.
[2] Seguimos en este sentido el argumento de  Pelupessy, 1998:13-14.
[3] Ver Chaves, Johanna et al en este mismo número.
Downloads
Download data is not yet available.
References
Agne, Stefan. 1995. Economic analysis of crop protection policy in Costa Rica. GTZ/CATIE. Institute of Horticultural Economics. Hannover.

Blanco R. J.M. y Perera H. Carlos editores. 1999. Dilemas de la reconversión del beneficiado de café en Centroamérica. Biomass Users Network-Centroamérica. San José, Costa Rica.

Boyce, James K., et al. 1994. Café y Desarrollo Sostenible: del cultivo agroquímico a la producción orgánica en Costa Rica. EFUNA. Heredia, Costa Rica.

Foy, G. Y H. Daly. 1989. Allocation, distribution and scale as determinants of environmental degradation: case studies of Haiti, El Salvador y Costa Rica. Environment Department Working Paper Nº 19. Banco Mundial. Washington

Fullana, Pere; Puig, Rita. 1997. Análisis del ciclo de vida. RUBES, España

González, L. Ana Karina. (Compiladora). 1998. Conclusiones del Seminario Internacional sobre Comercio y Medio Ambiente: La Perspectiva Latinoaméricana. 22-23 sept.1998. www.inca.or.cr/publicaciones.

Heijungs, R. Et al. 1992. Environmental life cycle assessment of products: Guide, B&G, LeidenNetherland.

Hilje, L. 1987. El uso de plaguicidas en Costa Rica. EUNED, San José. Costa Rica.

International Federation of Organic Agriculture Movements. 1999. Ecology and Farming. No.20. IFOAM. Germany.

INCAE/CLACDS:HIID. 1999. Centroamérica en el Siglo XXI: Una Agenda para la Competitividad y el Desarrollo Sostenible: bases para la discusión sobre el futuro de la región. Alajuela, Costa Rica.

Larach, María Angélica. 1998. Comercio y Medio Ambiente en la Organización Mundial del Comercio. CEPAL. http://eclac.org/espanol/investigación/dcitf/lcl1 127/indice.htm

Madrid, A. 1999. Tecnología quesera, AMV Ediciones y Mundi-Prensa, segunda edición, Madrid-España.

Martínez, Alier. 1998. Curs d'econ.ecologica., Universidad Autónoma de Barcelona, España.

Pelupessy Wim. 1998. La Cadena Internacional del Café y el Medio Ambiente, en: Revista Economía y Sociedad, No.7. EFUNA. Heredia, Costa Rica.

PNUD. 1994. Cooperación internacional en relación con los programas de ecoetiquetado y ecocertificación y oportunidades de mercado para los productos no perjudiciales para el medio ambiente, Doc. TD/B/WG.6/2 del 6 de octubre de 1994.

Porter, M. y van der Linde, C. 1996. Green and Competitive: Ending the Stalemate. En Business and Environment, Editado por R. Welford y R. Starkey,Earthscan Publications, Ltd. London.

--------------. 1990. The Competitive Advantage of Nations. The Free Press. New York.

--------------. 1998. The Microeconomic Foundations of Economic Development, in: Global Competitiveness Report. Geneva. World Economic Forum.

Pujol, Rosendo, et al. 1998. Estudios de impacto ambiental del cultivo y procesamiento del café, en: Promoviendo un cambio de actitud hacia el desarrollo sostenible. SINADES/MIDEPLAN/BID. San José, Costa Rica.

Reynolds Jenny S. 1991. Soil nitrogen dynamics in relation to groundwater contamination in The Valle Central, Costa Rica. Tesis. University of Michigan.

Schuldt, Jürgen. 1992. Revolución Tecnológica, Relaciones Norte-Sur y Desarrollo, en: ALOP/ Nueva Sociedad (eds.), América Latina: opciones estratégicas de desarrollo. Caracas.

Seoanez, Mariano et al. 1998. Medio ambiente y desarrollo: manual de gestión de los recursos en función del medio ambiente, Ediciones Mundi-Prensa, España.

SIECA. 1998. Integración económica e inserción internacional de Centroamérica: comercio y medio ambiente, Guatemala

Van Assouw, Rikkert. 1998. Alternative strategies for Bolivian coffee: a socioeconomic and environmental assessment. Tilburg University. Netherlands.

Walley, N. y Whitehead, B. 1996. It's no Easy Being Green. En Business and Environment, Editado por R. Welford y R. Starkey,Earthscan Publications, Ltd. London.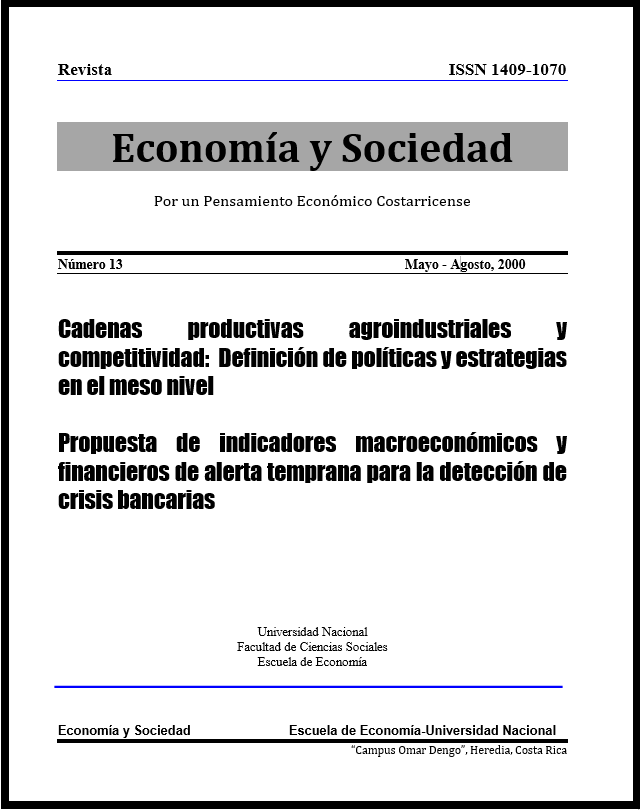 How to Cite
Díaz Porras, R. A., Hernández, R., Romero Padilla, C., & Salazar, Y. (2000). Evaluación del ciclo de vida: una opción para la competitividad agroindustrial. Economía Y Sociedad, 5(13), 19-36. Retrieved from https://www.revistas.una.ac.cr/index.php/economia/article/view/6833
Section
Articles (Arbitrated section)
This publication is subject to the Creative Commons License; therefore, its attributions and restrictions must be respected.
Authors publishing in this Journal accept the following conditions:
Authors retain copyright ownership and give the Journal first publication right of the paper, which is registered with the Creative Commons Attribution-NonCommercial-ShareAlike 4.0 International License. This license allows third parties to use the published work provided it is sourced as firstly published in this Journal.
Authors may enter into other independent and additional contractual agreements for the non-exclusive distribution of the article published in this Journal (e.g., to be included in an institutional repository or published in a book) provided it is clearly stated that the work was published in this Journal for the first time.
Authors are allowed and recommended to publish their work on the Internet (for example, on institutional or personal pages) before and during the review and publication process, as it can lead to productive exchanges and a greater and faster dissemination of work published.
The Economía & Sociedad Journal, published by Universidad Nacional, is licensed under a Creative Commons Reconocimiento-NoComercial-CompartirIgual 4.0 Internacional License. Based on http://www.revistas.una.ac.cr/index.php/economia.
Most read articles by the same author(s)